https://www.heraldandnews.com/news/local_news/off-season-irrigation-could-pause-as-reclamation-pays-back-pacificorp-reservoirs/article_0a868675-e0f9-5231-a170-fb7bac473471.html

Off-season irrigation could pause as Reclamation 'pays back' PacifiCorp reservoirs
by Alex Schwartz Herald and News December 4, 2021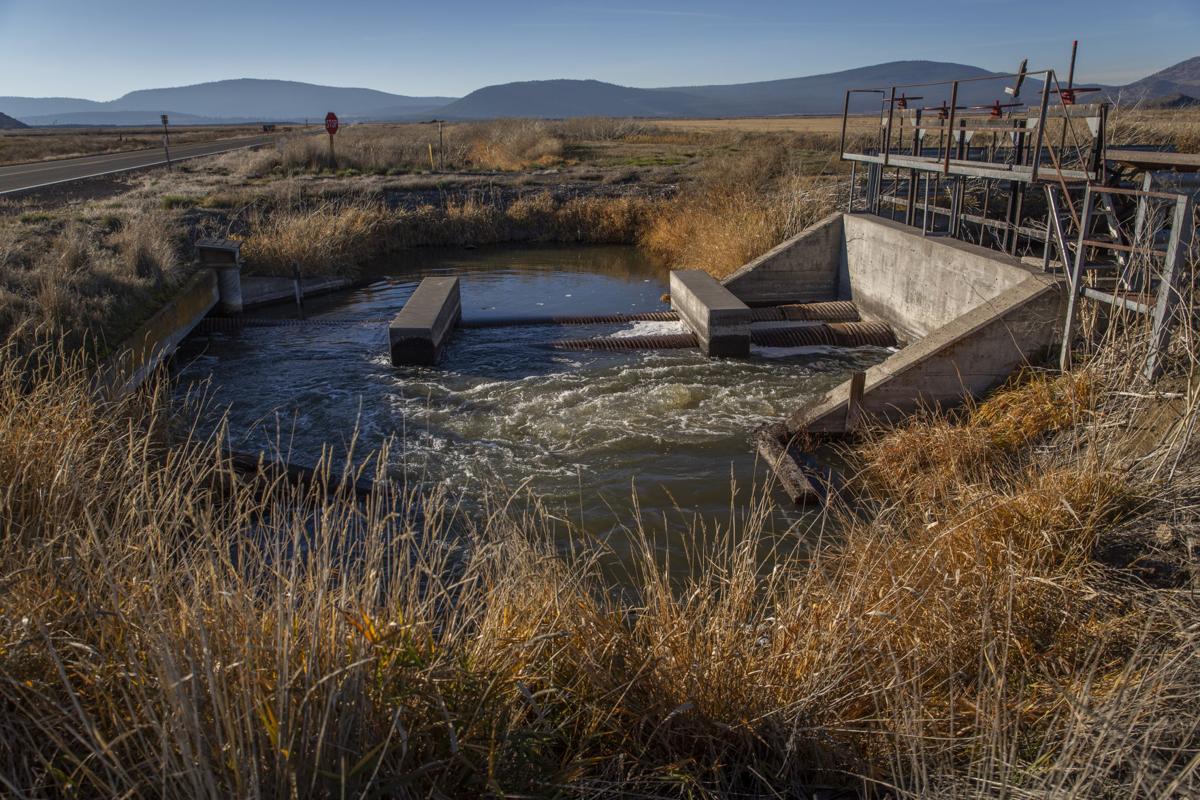 < Water flows into Lower Klamath National Wildlife Refuge through the Ady Canal on Friday.Staff photo by Arden Barnes / Report for America
After a summer spent drying up, Lower Klamath National Wildlife Refuge finally began receiving a measurable flow of water, thanks to the start of the winter irrigation season on December 1. The refuge can receive up to 11,000 acre-feet of water between December and February depending on how Upper Klamath Lake is filling.
Water began flowing into the refuge's Unit 2 wetland through the Ady Canal on Wednesday and was flowing at around 60 cubic feet per second at 5 p.m. Friday. It was the only significant inflow to the refuge since last winter other than roughly 750 acre-feet transferred from the Wood River Valley by the California Waterfowl Association in September.
However, 2021's disaster of a water year continues to wreak havoc on Water Year 2022. In August, the Bureau of Reclamation had to 'borrow' 9,300 acre-feet from the flow of the Klamath River to stabilize the only remaining wetland unit on Tule Lake National Wildlife Refuge. The agency must now pay that water back to Iron Gate and Copco Reservoirs, which were drawn down to facilitate the transfer while keeping lake levels and Klamath River flows in line with Endangered Species Act requirements.
Reclamation says that means water must once again stop flowing to Lower Klamath (and to the adjacent Klamath Drainage District, where farmers flood irrigate their fields during the winter) — at least temporarily. The agency has directed all diversions from the Klamath and Lost rivers to cease by December 6, according to a statement posted on the Klamath Basin Area Office's website Friday.
At the same time, Reclamation has increased flows out of Link River Dam above 1,200 cfs to deliver that 9,300 acre-feet from Upper Klamath Lake to the PacifiCorp reservoirs. The statement said the agency expects to ramp that flow down until they recover the borrowed water by early January. However, Upper Klamath Lake must refill by that much before diversions can resume.
"Reductions are expected to occur over a longer period than the immediate deliveries from Upper Klamath Lake and will occur until supplies presently being delivered to PacifiCorp have been restored in Upper Klamath Lake," the statement read.
The biological opinion for threatened Coho salmon in the Klamath River allows the National Marine Fisheries Service to request elevated flows out of Iron Gate Dam in tandem with winter storms that would naturally swell the river in the dam's absence. Iron Gate Reservoir must be full enough to provide those flows.
In a Friday letter to Reclamation, KDD General Manager Scott White and Tulelake Irrigation District General Manager Brad Kirby asserted that at least half the approximately 40,000 acre-feet of surplus water in Upper Klamath Lake this October was "call" water: anything that would have been used by users above the lake who were regulated off by the Klamath Tribes' senior water rights.
"Since 2014 there has been an understanding between federal agencies, tribes, and irrigators that additional water that reached UKL resulting from regulation in the Upper Basin was above and beyond biological requirements and available for project use regardless of "call" source," Kirby and White wrote.
The managers said Reclamation should release part of that surplus water, along with contributions from the Lost River Diversion Channel, to pay back the PacifiCorp reservoirs and direct the rest to Tule Lake Sump 1B to benefit birds and a small population of suckers.
"It is my assumption that this will suffice and there is absolutely no reason there should be any impacts to deliveries," White said.
It's unclear whether Reclamation will choose to release more water out of Upper Klamath Lake to keep diversions going. Despite Upper Klamath Lake clocking in above the minimum ESA level at the end of Water Year 2021, the agency did not release the surplus volume to Lower Klamath, KDD or other fall water users in the Klamath Project as it had customarily done in recent years.
A coalition of conservation groups, including the California Waterfowl Association, Ducks Unlimited, the Klamath Basin Audubon Society and Bird Ally X, wrote to Reclamation in October asking them to continue the "well-established practice" of releasing the lake's surplus water for fall migration and irrigation purposes. Reclamation declined to do so, citing concerns about meeting higher minimum lake elevations come spring, especially following two extremely dry years.
"We urge you, in the strongest way possible, to continue this much-needed action in order to maintain the health of the Pacific Flyway over the long-term," the groups wrote in their letter.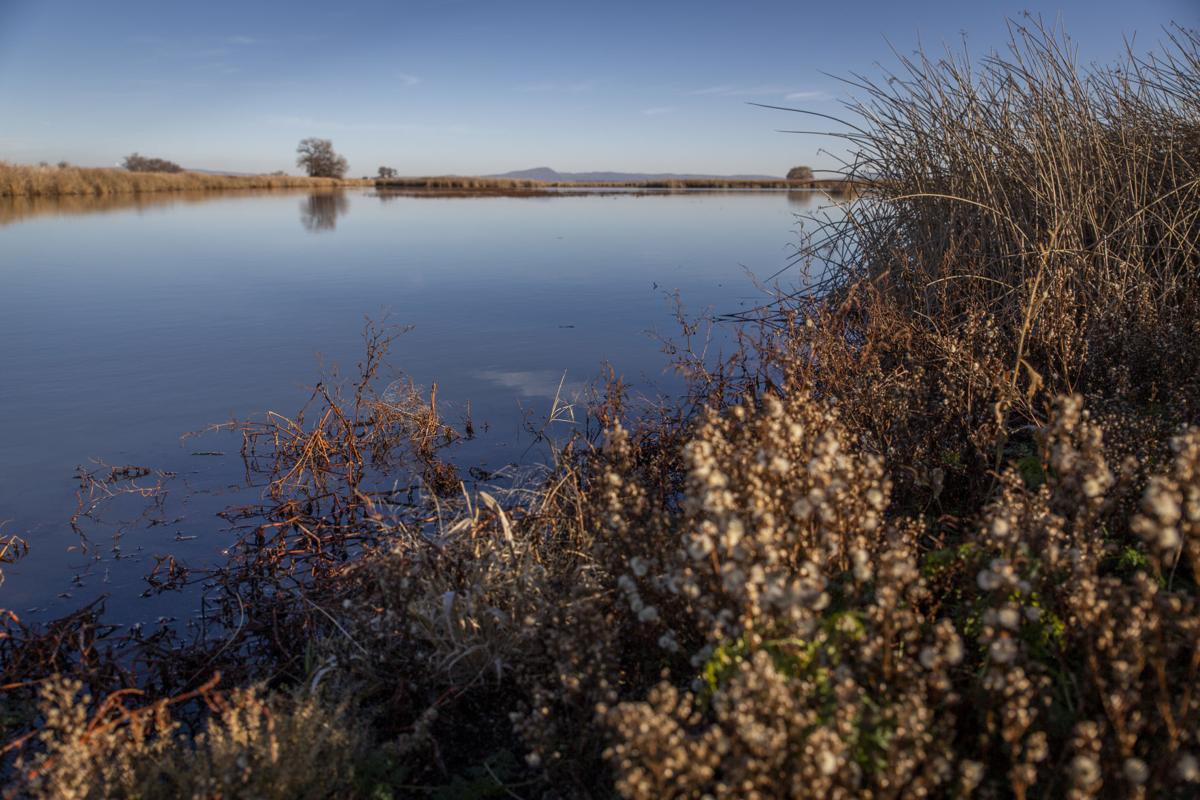 <
Water flows into Lower Klamath National Wildlife Refuge through the Ady Canal on Dec. 3, 2021. Staff photo by Arden Barnes / Report for America
Klamath Basin Refuge Complex Supervisory Biologist John Vradenburg told the Herald and News last month that, while the lack of water on Lower Klamath and Tule Lake refuges this summer may have helped stave off an avian botulism outbreak, not having winter water to produce food and habitat for birds migrating north in the spring is a much more serious problem.
Millions of birds already skipped the Klamath Basin, once the single most important wetland complex on the Pacific Flyway, for the 2021 fall migration, and their wintering grounds in the Central Valley are producing less food due to drought. When they return in the spring, they'll be extra hungry and in need of a rest stop. The Klamath refuges can't provide that without water.
"This is uncharted waters for continental waterbird management," Vradenburg said last month.
If Lower Klamath has to once again shut its connection to the Ady Canal on Monday, it could be in an even worse position to provide waterfowl food and habitat come spring. Mary Hyde, a wildlife photographer and advocate for the Klamath Basin refuges, said beyond that, Reclamation not delivering water to Lower Klamath as it normally does in the fall sets a concerning precedent.
"That's not good, because then they'll never do it again," she said. "They need to release that water."
====================================================
In accordance with Title 17 U.S.C. section 107, any copyrighted material herein is distributed without profit or payment to those who have expressed a prior interest in receiving this information for non-profit research and educational purposes only. For more information go to: http://www.law.cornell.edu/uscode/17/107.shtml