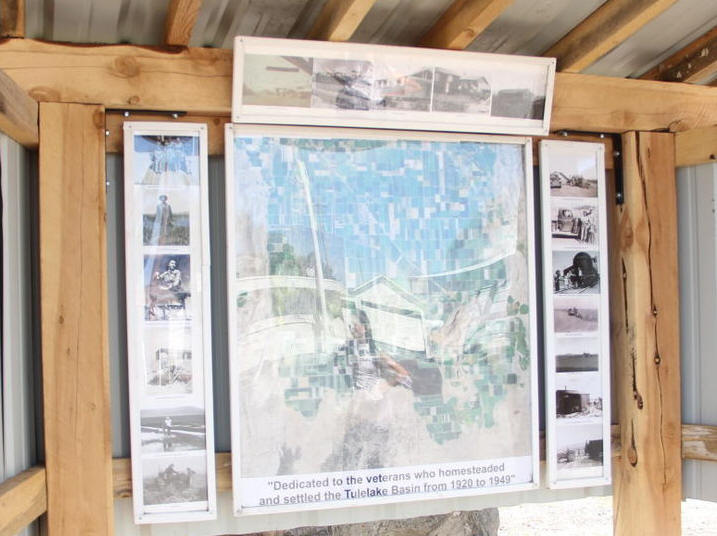 TULE LAKE – The roots of Tulelake area homesteaders run deep, and now there is a monument to honor their legacies.
The monument — erected in August next to the Tulelake visitor kiosk at the north entrance to town along Highway 139 — displays photographs of World War I and II veterans and their families who came to Tulelake between 1920 and 1949 to farm the area's fertile soil.

Veterans of both wars were given the opportunity during that time period to farm a piece of land and start a new life through a lottery system.

Photographs of homestead families at the monument tell the stories of veterans from both world wars who came to Tulelake to start new lives.

U.S. Army veteran Jack Newkirk, like many others, drew the opportunity from a pickle jar, according to Jacqui Krizo, Newkirk's daughter.

Developing the monument

Krizo, and her husband, David, live south of Tulelake and helped develop the monument from concept to construction, a process about 15 years in the making.

Jack and his wife, Helen, settled south of town along Highway 139 in 1949, in what was known as the area's "panhandle," after he won the opportunity. He farmed potatoes and later horseradish and grains.

"They just pretty much re-routed the water so they could farm here," Krizo said, of early settlers.

"It was sort of like (a) gold rush town," Krizo added, of the time period. "It was like the American dream."

Just in time for the fair

Krizo emphasized she and her husband, David, are elated the monument can share stories like her parent's and just in time for the Tulelake-Butte Valley Fair, which continues today and through the weekend.

"So many people come down for the fair," Krizo said. "I think it means a lot to the families."

Justin Mann, of Bonanza, built the monument, with permission from Brad Staub to utilize the property.

"He used fresh-cut Juniper for those posts," Krizo said, of Mann's construction of the project. "He came down and had it up in three days."

Krizo welcomes additional photographs from descendants of settlers in the Tulelake area to be included in the monument display, and can be reached at 530-664-3862 for more information.