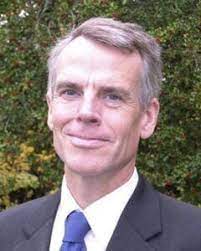 Richard Whitman, forced to resign from Director of Oregon DEQ, IS BACK
Whitman's destructive historical presence in the Klamath Basin, including links and articles
Whitman was Oregon's key negotiator for the Klamath Basin Restoration "Agreement"/Klamath dam removal, was Governor John Kitzhaber's Natural Resources Policy Director for Klamath "stability," acknowledged downriver has no water right, stated OWRD will not interfere with sending irrigator's stored water downriver in Whitman/Yurok agreement, while working for DEQ praises Klamath Dam destruction (which will put 20 million cubic yards of toxic sediment down Klamath River exterminating any hint of fish, water quality, deep cold water reservoirs, economy, or the successful salmon hatchery). Yurok Tribe has filed an amended motion to curtail and take control of the Klamath Reclamation Project undermining the Klamath Adjudication.
Whitman's historical presence in the Klamath Basin:
Richard Whitman was a key negotiator for the State of Oregon in the Klamath Basin Restoration Agreement (KBRA) which failed to get U.S. Congressional approval. Read Mr. Whitman's 2014 testimony to the U.S. Senate here...
In Klamath Water Users Association December 2022 newsletter, "Mr. Simmons noted that Richard Whitman has been brought back to work for the state, to focus on Klamath and work through a contract with the Oregon Water Resources Department." Read KWUA December 2022 Newsletter here...
Mr. Whitman attended the 21 March 2023 Klamath Basin Workshop with Federal Agencies in Ashland and the 22 March 2023 discussions with the Department of Interior for the Yurok Water Rights Assessment team.
Klamath Irrigation District's 22 February 2023 Newsletter notes:
The Klamath Adjudication issued its initial finding of fact to water-rights claims on 7 March 2013. The Klamath Adjudication water-rights identified water rights for the Klamath Tribes, Klamath Project irrigators, the Federal Agencies, and a number of others. However, no claims were presented to the Klamath Adjudication by the Yurok tribe as required under the McCarren Amendment and argued in the Ninth U.S. Circuit Court.
By 17 June 2013, Richard Whitman, (appointed by Oregon Governor Kitzhaber) had drafted a dispute resolution with the Yurok Tribe which acknowledges Oregon Water Resources Department does not recognize flows downstream in the Klamath River is required by Reclamation. However, Whitman signs a document, on behalf of the Oregon Governor, that states OWRD will not interfere with releases of water to the Klamath River by Reclamation unless directed otherwise by order of a court with proper jurisdiction.
Since learning of this action by Richard Whitman, Klamath Irrigation District has attempted to get a court to issue OWRD an order to this effect. OWRD resisted all efforts by K.I.D. to insist OWRD perform its legal duties. The District was successful in 2021 in having the Oregon court direct OWRD to perform its lawful duty in accordance with Oregon law. The District was hopeful this would break the Whitman / Yurok agreement. In 2021, OWRD issued a letter to Reclamation that it had released stored water from Upper Klamath Lake without a water-right to do so. However, the Oregon Supreme Court overturned this decision based upon an administrative action which claims the trial judge precluded Reclamation from being a party to the case..
https://www.einnews.com/pr_news/587976930/klamath-dam-removal-project-moves-forward

Klamath dam removal project moves forward, Comments by Richard Whitman, Director Oregon DEQ

NEWS PROVIDED BY

August 26, 2022


Statewide, OR—Earlier today, the Federal Energy Regulatory Commission released a Final Environmental Impact Statement (FEIS) that

recommends approval to remove four dams on the Kla…

The recommendation by FERC staff is another key milestone in progress toward restoring the Klamath to its former free-flowing condition, work that has been undertaken collectively by PacifiCorp, which owns the dams, Oregon, California and the Klamath River Renewal Corporation. FERC is likely to make a final decision later this fall.

Statement by Richard Whitman, Director of the Oregon Department of Environmental Quality:

"This is an encouraging step forward. DEQ appreciates the thorough and comprehensive review by FERC staff. Along with significant federal funding for agricultural infrastructure and habitat improvement provided by the Bipartisan Infrastructure Law and the recent Inflation Reduction Act, these actions set the stage for addressing many of the underlying causes of conflict over water, water quality, and fisheries in the Klamath. We look forward to working with all of our partners to help put resource management back on a sustainable footing."

Media contact:
Harry Esteve, DEQ Communications Manager, 503-951-3856, harry.esteve@deq.oregon.gov
---------------- --------
Former Oregon DEQ director Richard Whitman forced out over relationship with employee

https://www.opb.org/article/2023/03/29/oregon-department-of-environmental-quality-deq-workplace-relationship-whitman/

The Oregon Department of Environmental Quality's former director was forced to resign after agency leaders learned he had a relationship with a direct report.

DEQ's former director Richard Whitman announced last summer he would retire from the agency at the end of 2022. But in September, Whitman abruptly resigned three months ahead of schedule citing "personal reasons" and that he was leaving the agency in a position of strength.

The Oregonian/OregonLive first reported Whitman's relationship with an employee he directly supervised led to his resignation. After learning of the relationship, department leaders consulted with attorneys from the Oregon Department of Justice out of concern Whitman may have violated state ethics laws. DEQ then forced Whitman to resign.

DEQ's spokesperson Harry Esteve said when agency leaders learned about Whitman's relationship, then-Deputy Director Leah Feldon alerted the chair of the Environmental Quality Commission Kathleen George, which is responsible for hiring and firing the director.

"After discussions between Mr. Whitman and EQC Chair George, Mr. Whitman submitted his resignation," Esteve said in an emailed statement to OPB. "This happened over the span of about two weeks as Chair George and Deputy Feldon worked with the governor's office and Oregon Department of Justice to ensure DEQ was taking appropriate action."

Feldon has since gone on to become DEQ's new director.

Esteve said DEQ leadership told Whitman he may have violated state ethics standards that require self-reporting. But according to The Oregonian/Oregon Live, DEQ has no rules prohibiting consensual relationships between supervisors and their direct reports.

"The circumstances of Mr. Whitman's leaving DEQ are a troubling departure from the way DEQ works," Esteve said. "It does not reflect the high standards we set for ourselves in our mission to protect and enhance Oregon's environment and public health."

DEQ did not disclose when the relationship occurred, for how long or who it was with.

OPB has reached out to Whitman for comment.

Esteve said all DEQ employees are required to take regular training on how to maintain a professional workplace and what constitutes a hostile work environment. Esteve did not state whether DEQ will be changing the agency's rules prohibiting consensual relationships between managers and their direct reports.
====================================================
In accordance with Title 17 U.S.C. section 107, any copyrighted material herein is distributed without profit or payment to those who have expressed a prior interest in receiving this information for non-profit research and educational purposes only. For more information go to: http://www.law.cornell.edu/uscode/17/107.shtml