Calif. wolf comments due Sept 31
National Sheepdog Finals Sept 29 and 30th, Lower Klamath Road 15 miles from Klamath Falls. Saturday semifinals, Sunday finals. Food booths and shops
Basic American Rights Series 9/29/12
Jerry Brown signs bill banning open display of unloaded rifles, Sac Bee 9/28/12.
Soros donates $1.5 million to pro-Obama super PACs, Washington Post 9/28/12. HERE for KBC's Soros page - Soros ties to KBRA / Klamath Basin Restoration Agreement movement by helping fund the litigation behind the lawsuits against Klamath resource users, Earthjustice, and groups it represents.
New Proposed Perpetual Tax on 85,000 Oregon Water Rights Holders And Potential Significant Regulations, Senator Doug Whitsett 9/27/12
Columbia Basin Bulletin Fish and Wildlife news 9/27/12: projected chinook return strong, sea lion legal briefs, wolf packs targeting livestock being eliminated in Wash., steelhead, cougars, fish consumption, ...
U.S. Congressman Greg Walden; KBRA (Klamath Basin Restoration Agreement) not going anywhere, H&N 9/26/12. "Without great public support locally, he said, it would be difficult to champion its passage and it's unlikely to succeed. "It's a pretty big elephant in the Basin," said Walden. "But you either keep running into the same wall or you find a way around it. When three-quarters of the population says no to dam removal, that's a problem you can't skip over."
HERE for KBRA Page
NORTH COAST REGIONAL WATER QUALITY CONTROL BOARD DRAFT Agricultural Lands Discharge Program Scope and Framework, September 2012
North Coast Stakeholder Advisory Group Meeting Schedules, posted to KBC 8/26/12.
Sonoma_Oct 15, Humboldt Oct.18, Tulelake/Butte Valley Oct. 23 and tour, Scott/Shasta Oct 24 Yreka.
Siskiyou County's letter to the Fish and Game Commission on the proposed wolf listing posted to KBC 9/26/12.
Plea deal in works for Raymond in $1M embezzlement case; no federal charges yet for LeValley, McAllister, times Standard 9/26/12. "Raymond and biologists Sean McAllister and Ron LeValley are accused of using an elaborate system of fake invoices, false purchase requests and electronic bank transfers to embezzle more than $870,000 in federal funds from the Yurok Tribe during a three-year period of wildlife preservation studies (includes spotted owl studies)." HERE for Klamath Science Misconduct page
UPDATE! *** James Buchal will be broadcasted live at Elmers for brunch in Klamath Falls at 1 pm today, Sunday Sept 23. His pilot is ill so can't be here in person.
Oregon Attorney General candidate James Buchal In Klamath Falls Sunday 9/23
Galatians 6:9 "And let us not lose heart and grow weary and faint in acting nobly and doing right, for in due time and at the appointed season we shall reap, if we do not loosen and relax our courage and faint." sent by Frank Tallerico 9/23/12
Letter to Siskiyou County Board of Supervisors from Siskiyou ranchers Re: Petition to List Gray Wolf Under California's Endangered Species Act, posted to KBC 9/22/12
Soon-to-be former Siskiyou Supervisor Cook insults ranchers of "big bad wolf hysteria", preceded by response by local ranchers Woodson and Young, 9/20/12. "
Washington Wolf Attacks Mount, Capital Press, posted to KBC 9/20/12. "The wolves in the Wedge Wolf Pack are now dining almost exclusively on beef...They've taken all the game in this area and are just living on these cattle. McIrvin estimated the cost to his operation is approaching $100,000 in cattle kills, weight loss, injuries, extra labor and low conception rate. The department has $50,000 allotted for compensation to ranchers, $5,000 per ranch."
JAMES BUCHAL for Oregon Attorney General 9/20/12
Oregon Attorney General candidate James Buchal itinerary. Join Buchal for Brunch in Klamath Falls at Elmers Sunday Sept 23, 12:30 p.m.
Constitutional Sheriffs in Grants Pass 9/22/12
Tulelake Irrigation District well water levels 9/20/12.
Fishing the North Coast: Kings continue to run up the Klamath, My Outdoor Buddy 9/20/12.
Wage increase could cost jobs, Capital Press, posted to KBC 9/20/12.
Oregon net farm income, labor costs jumps in 2011, Capital Press, posted to KBC 9/20/12. "The cost to pay farm employees -- largely because we have so many specialty crops that require hand-harvesting -- is the single largest expense for Oregon farmers,...The average farmer in Oregon last year earned $27,000..."
Oregon Attorney General candidate James Buchal itinerary. Join Buchal for Brunch in Klamath Falls at Elmers Sunday Sept 23, 12:30 p.m. Hear how he plans to put Oregonians back in charge of Oregon
Meeting on Introducing wolves in Siskiyou County: There will be a meeting Thursday Sept. 20 at 6 PM at the Dorris City Hall. John Williams OSU county extension agent from Wallowa County will have a slide presentation and discuss the dire conditions in dealing with introduced wolves. Here is a video from Wallowa Co. about the wolves and their damage, including the speaker coming, John Williams and also Fred Steen, Wallowa Co. Sheriff

Wallawa County Wolves video
Talk host Lars Larson and James Buchal, Oregon AG candidate, on Government Accountability, posted to KBC 9/17/12. Audio - "Oregon AG candidate James Buchal speaks with KXL radio talk host Lars Larson about the interim Attorney General's decision not to disclose how a multi-million dollar refund card was fraudulently issued to a young woman who filed a fraudulent tax return."
Wild coho season on coastal rivers opens Sept. 15, DFG, posted to KBC 9/17/12. "...almost 300,000 wild coho are expected to return to coastal rivers and lakes, and that means anglers will be able to harvest even more fish than last year...coastal coho continue to be listed under the federal Endangered Species Act...On some rivers, like the Umpqua and Siuslaw, the quotas are almost double what they were a year ago."
Barry Point Fire - Extreme loss of timber, grazing, wildlife and watershed resources, Senator Doug Whitsett 9/10/11.
Wolf Collateral Damage, by Jess Carey, County Wolf Interaction Investigator, posted to KBC 9/9/12.
Psychological Impact Study of wolf introduction by James S. Thal, Ph.D., posted to KBC 9/9/12.
,

Group hopes to keep animals off California endangered species list,
H&N 9/9/12.
"The meeting will be at 6 p.m. Tuesday at the Dorris City Hall"
Blue-green algae study on Klamath reservoirs frustrates tribes; PacifiCorps says treatment is safe, Times Standard 9/9/12.
Basic American Rights Series 9/29/12. Today is the last day for early discounted registration.
On-Project Advisory Committee (OPPAC)Meeting 9/10/12.
California Farm Bureau Federation Friday Review, legislative and governmental update, 9/4/12. "This is the final recap of legislation acted upon in the final hours of the legislative session on Friday evening and early Saturday morning. Other issues acted on during the final month of the legislative session were included in previous issues of the Friday Review." KBC Editor: Calif. farmworker overtime failed, converting thousands of acres of farmland to solar facilities failed, allowing CDFG to fine Fish and Game "believed" violations up to $10,000 failed...more
Farm Bureau and state officials blast 'heavy handed' federal labor investigations, The Oregonian, posted to KBC 9/4/12. Followed by: "EXTORTION" Why did the labor department drop the hammer on Oregon farmers, The Blaze
Obama and Reagan had different approaches to recessions, Senator Doug Whitsett 9/4/12.
The incredible stretching Endangered Species Act, by Siskiyou County Supervisor Marcia Armstrong 9/4/12--coho, wolf, spotted owls. HERE for Armstrong Page
Gray wolves in California; an evaluation of historical information, current information, current conditions, potential natural recolonization and management implications, Cal. Dept. of Fish and Game Dec. 2011, posted to KBC 9/2/12.
Petition to the Calif. Fish and Game Commission by CBD / Center For Biological Diversity to list grey wolves as endangered in Calif, March 2012. KBC Editor: One wolf strayed into Calif. this past year, so CBD attorneys and CDFG are gearing up with models, wolf habitat, studies and planting wolves by our children, livestock and puppies.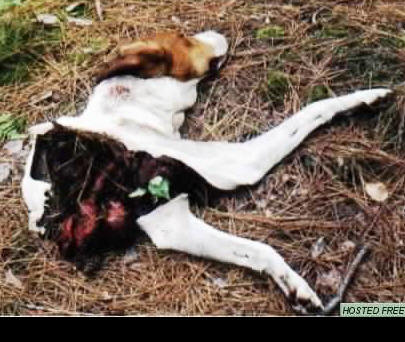 Why ranchers and pet/livestock owners oppose wolf protection, re-posted to KBC 9/2/12.
Oregonians In Action Defeats New Tax on Rural Property Owners, OIA, posted to KBC 9/2/12
LaMalfa Applauds Defeat of Fish and Game Administrative Fine Measure; Bipartisan Group of Senate Legislators Defeats AB 2179, LaMalfa Press Release 8/30/12
9/2/12 sent by Frank Tallerico, Romans 8:36-39: As it is written: " 'For your sake we are killed all day long: We are accounted as sheep for the slaughter.' Yet in all these things we are more than conquerors through Him who loved us. For I am persuaded that neither death nor life, nor angels nor principalities nor powers, nor things present nor things to come, nor height nor depths, nor any other things created thing, shall be able to separate us from the love of God which is Jesus Christ our Lord."
* From the Desk of Gary LeBlanc, Mercy Chefs, in Louisiana, 9/1/12. "We are re-stocking and will be ready to feed 800 people for dinner...I can't even express to you what it means to serve a hot meal to a victim of a natural disaster who is homeless or without power and has literally no place to turn...you can help."
Agenda On-Project Advisory Committee (OPPAC) Sept 10, 2012 Meeting
Impacts of Klamath River Dam Removal by Dr. Richard Gierak, for 9/1/12