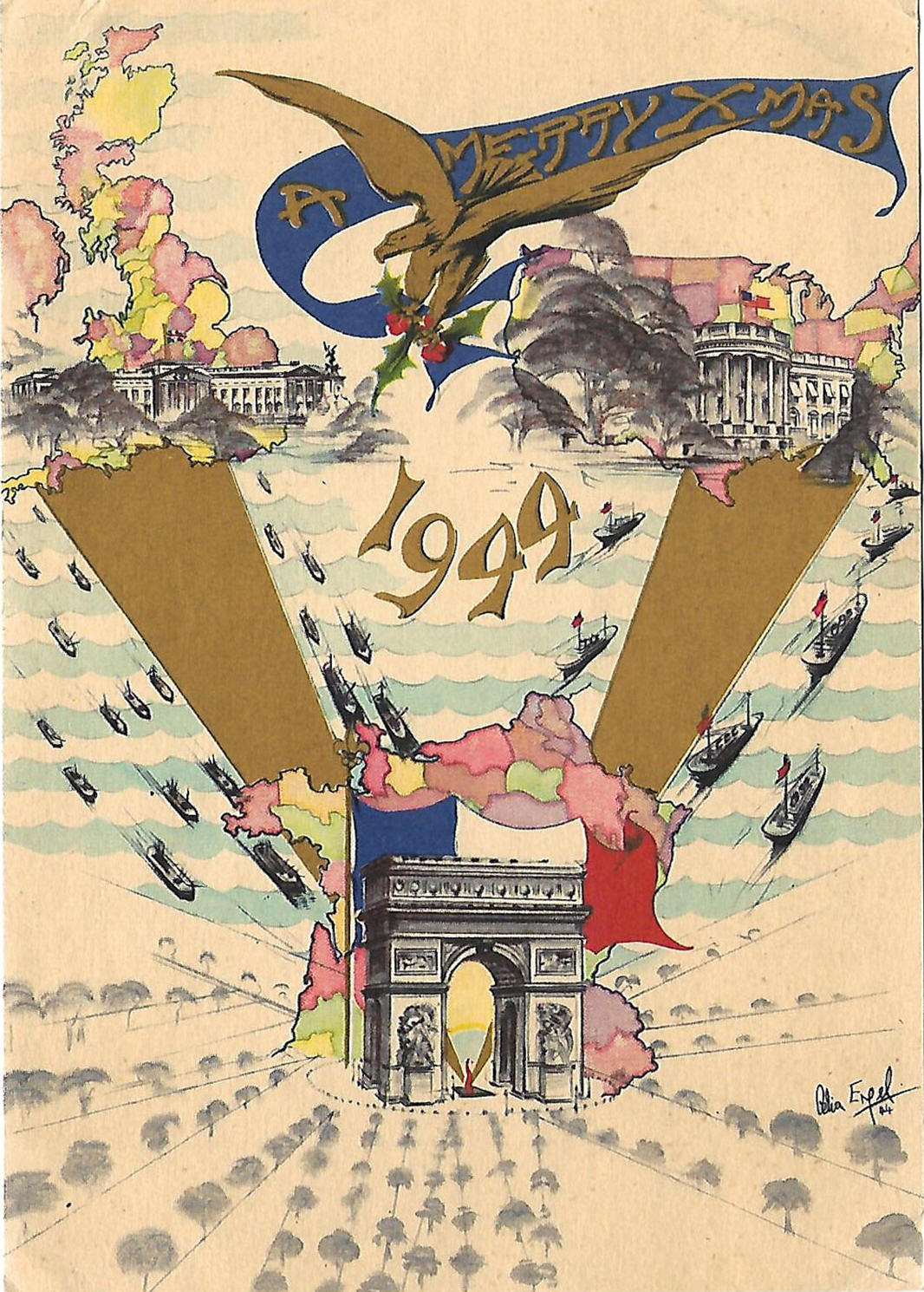 < A Merry Christmas card, December 25, 1944, to a soldier's parents in California. He was 18, WWII, in Paris, later to win a Tulelake, Klamath Project, homestead with water rights forever, for his service in the war. He was lonesome and homesick, trying to be optimistic and give his family hope, but not knowing if he'd survive to return home. Veterans, we appreciate your service!
COMMENTS DUE Feb. 26 - Public comment sought on Klamath dam report for draft EIS from Cal Water Resources Control Board, H&N 12/27/18. "The license surrender is one step toward the proposed decommissioning and removal of four PacifiCorp dams on the Klamath River, three of which are in California."
MEETINGS:
***(Klamath Falls: ZERO meetings)
*Tuesday, Feb. 5, 5 to 8 p.m., Best Western Miner's Inn, 122 E. Miner St., Yreka
* Wednesday, Feb. 6, 5 to 8 p.m., D Street Neighborhood Center, 1301 D St., Arcata, Calif.
* Thursday, Feb. 7, noon to 3 p.m., Karuk Tribe Council Chambers, 37960 Highway 96, Orleans, Calif.
* Friday, Feb. 15, 1 to 4 p.m., CalEPA Building, Sierra Hearing Room, 1001 I Street, Second Floor, Sacramento
Rogue wolf pack kills seventh cow, Medford Mail Tribune 12/24/18.
Reclamation's guiding water document, Biological Assessment, released, H&N 12/23/18
Water talks to continue in Medford, Redding. Mikkelsen to stay the course in wake of Zinke departure. H&N 12/19/18. "At some point we may be getting into a public meeting situation where we would have public meetings..."
THE GREAT EXPERIMENT
Contractors prepare for Klamath dam removal, H&N 12/16/18. "We work as a team with KRRC...It's a really good way to deliver a complex project with this since there may be a lot of unknowns. It removes some of the risk and uncertainties to both sides.... If it works, more water could become available for irrigators."
Water issues group making some headway, H&N 12/14/18. "The meetings are by invitation only and the press is not permitted to attend."
Back in August Mikkelson said in article: Mikkelson continues (Klamath) water talks; details vague:"We believe that it will be a process that will be open and will lead to public discussion and involvement across the board,"
2018 Farm Bill: Agriculture Improvement Act of 2018: https://docs.house.gov/billsthisweek/20181210/CRPT-115hrpt1072.pdf
Congress approves $400 billion for farmers, forests, poor, H&N, posted to KBC 12/15/18. "the bill doesn't include: tighter work requirements for food stamp recipients...the White House asked Congress to make changes to the forestry section in response to deadly wildfires in California, giving more authority to the Agriculture and Interior departments to clear forests and other public lands. The final text doesn't significantly increase the agencies' authority..."
New Farm Bill a Win for Conservation, The Nature Conservancy 12/11/18, "...increase the flexibility and direct resources going toward public-private partnerships and easements. It also extends the Collaborative Forest Landscape Restoration program..."
5 reasons senate farm bill is a conservation powerhouse, Environmental Defense Fund June 2018
What you need to know about the new farm bill, Sierra Club 12/14/18. "The new farm bill doesn't make any significant changes to SNAP (food stamps, about $70Billion)...The House was forced to drop nearly all of its demands for increased logging of national forests...Overall funding for conservation programs remained almost even with prior levels, at around $60 billion...more funding for the Agricultural Conservation Easement Program...Several new animal rights measures are in place...allowed family farms to add extended family members—like cousins, nephews, and nieces—in order to increase the size of their farm subsidies, even if those relatives do not do any physical labor..."
CFBF / California Farm Bureau Federation Friday Legislative Review 12/14/18. "The Commission formally accepted a petition to list Northern California summer steelhead under CESA and formally received the Department of Fish and Wildlife's (DFW) petition evaluation of a petition to list the 2 Klamath-Trinity river spring Chinook salmon under CESA. DFW determined that the request for listing may be warranted in its evaluation of the spring Chinook petition. This determination means there is little doubt that the Commission will vote to make that run of Chinook salmon a candidate in the near future."
Wildfires amplify concerns over forest management, Capital Press 12/13/18. "There have been numerous multi-thousand acre wildfires in several western states in the past decade, the most recent being the Camp Fire in northern California that burned and destroyed the community of Paradise and killed 85 residents. 'People are taking this issue much more seriously now...They are looking in earnest at the recovery of forests after catastrophic fires and now are also talking about making forests more fire resilient.' "
Congress OKs bill to allow killing sea lions to help salmon, H&N 12/12/18. "...sea lions...dramatically increased from about 30,000 in the 1960s to about 300,000 following enactment of the 1972 Marine Mammal Protection Act."
DeFazio wolf comments uncalled for, H&N by Capital Press 12/7/18. "...Rep. Peter DeFazio, a Democrat who represents Oregon's 4th District, in defense of keeping federal protections on wolves. He called the bill "a talking point for a few idiots..."
House wolf debate features OR-7, WSU, 'idiots," Capital Press 11/20/18