Ninth Circuit Court decision could benefit many Oregon ranchers, H&N 6/24/2020
'Takings' case closed, H&N 6/23/2020. "After nearly two decades, the takings case stemming from the water shutoff to the Klamath Reclamation Project in 2001 is closed. The U.S. Supreme Court made the announcement on Monday that it has denied a petition to review a lower federal court's decision that ruled that Project irrigators of about 175,000 acres on the Oregon and California border are not entitled to compensation for the re-allocation of water under the Endangered Species Act in 2001..."
SCOTUS Blog Coverage: Baley v. United States 6/22/2020.
Judge in Seattle to rule on wolf removal, Capital Press 6/22/2020. "The Wedge pack has attacked at least four calves in Stevens County between May 11 and June 17, but the department has not opted for lethal removal. The calves belonged to two different producers."
Jesus' brother James 1:5 - "If any of you lacks wisdom, you should ask God, who gives generously to all without finding fault, and it will be given to you."
Walden, LaMalfa, Bentz: Supreme Court must prevent uncompensated theft of Western water, Pens Op-ed in Washington Examiner, 6/18/2020. "
Wolf call: Oregon ranchers frustrated by criteria of state investigators, Capital Press 6/18/2020. " 'You can go murder somebody and be convicted quicker than you would convict a wolf, with the criteria they have...' Oregon Department of Fish and Wildlife released its annual wolf report documenting 158 wolves statewide in 2019 — a 15% increase from the previous year..."
Klamath Project, Siskiyou Daily News by Liz Bowen 6/17/2020. "The saga of the government taking away legal water right allocations to 1,200 farmers in the government-encouraged Klamath Project continues...But, last month, federal agencies said the project's water allotments would be reduced – again – meaning no water for July, August and September...A rally called "Shut down and Fed Up" was held on May 29, 2020 with more than 2,000 people showing-up with tractors, log trucks, hay trucks, pick-ups and cars rolling from Merrill, OR. into Klamath Falls, OR. and down through the basin to Midland, OR. It was over 20 miles long..."
6/14/2020 - We just received this message from Rex Cozzalio, from Hornbrook on the Klamath River, after the flood last week: "Just found out about it (extreme high water) when the flood occurred. 1780 cubic feet per second, or the equivalent of the top 10-20% WETTEST years on record. No idea yet why, other than assuming the 'triggering' spore count is above 5 spores/liter, though the OSU report site doesn't support that, so it is likely a 'behind closed doors' special interest arrangement. The 'flushes' are insane on their own, ESPECIALLY in a drought year, considering the already 'confounding' (their words) results from prior 'experiments' (last year REALLY didn't fit their modeled 'profile'). Since Copco and Iron Gate lakes are already way down from 'borrowed' water to support the prior waste, I can only imagine where the water is coming from, beyond possible programmatic UKL sucker fish reduction of lake level, more from the irrigators, or tapping possible unexpected input flows. Ironic and worst part is, their 'collaborators' already acknowledge that under their (defective) scenario, due to the studies that prove the environmental benefits the deep water lakes provide, that once the dams are destroyed, the required 'pulses' using confiscated 'unnatural' artificially stored water will INCREASE in 'programmatic' perpetuity.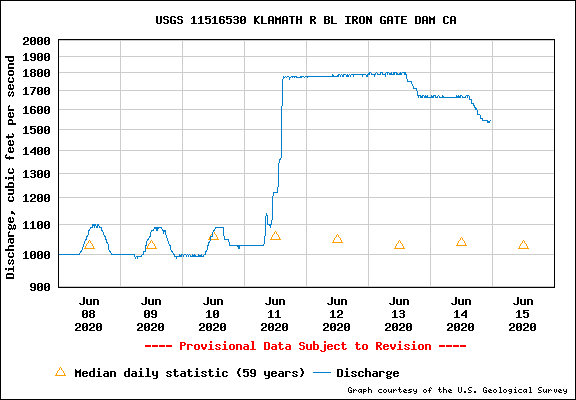 Fairness and Justice For Farmers, by Oregon Rep E. Werner Reschke, 6/14/2020. "For far too long farmers have been stereotyped as environment-trashing know-nothings. The Endangered Species Act (ESA) is the favored tool of litigious-happy, urban environmental groups who attack rural America and are rewarded with court-ordered attorneys' fees. In the Klamath Basin of southern Oregon and northernmost California, farmers and ranchers using water from a federal water project are on the bleeding edge of the onslaught..."
Earthjustice plays fast and loose with the truth about the Klamath Project, SDFU / Shut Down and Fed UP 6/13/2020. "One of the biggest challenges about Klamath Basin agriculture are the false narratives that get treated as fact. Maybe it's accidental, but in most cases it's calculated misinformation to push an agenda. When these bits of fiction get pushed out to the public, it creates an atmosphere that makes it hard for everyone up and down the Klamath River to find a solution to save fish and farms...."
! Klamath Irrigation District requests a temporary restraining order against OWRD, Director Byler and Watermaster Watson, filed 6/12/2020. Bureau Of Reclamation, with an agreement with PacifiCorp, is presently diverting an extreme amount Klamath Irrigators' stored water into Klamath River, and Upper Klamath Lake elevation is rapidly lowering: "...enough to supply one acre foot of water to at least the 10,342 acres of land in Klamath Basin Improvement District, 3,911 acres of land in Shasta View Irrigation District, 2,981 acres of land within Enterprise Irrigation, and 904 acres of land in Pine Grove Irrigation District, which are shut-off and not receiving any water from UKL reservoir..."
The Deep State destruction of rural America, (the Klamath Crisis), American Greatness 6/12/2020. "On May 29, in Klamath County, Oregon, thousands of farmers and community supporters showed up to protest reduced water allocations, announced earlier this year, which threaten to destroy the region's agricultural economy. The protesters formed a convoy of more than 2,000 vehicles that passed through downtown Klamath Falls and ended up at a rally site in Midland, Oregon. This convoy, with a majority of the vehicles either farm tractors or semi rigs, was over 30 miles long."
PRESS RELEASE: LaMalfa Applauds Trump Administration for Restoring Water to Klamath Basin Farmers, Congressman Doug LaMalfa June 9, 2020. "While Basin farmers are still only receiving 40% of their legal water right from Upper Klamath Lake, it will help to get them through the remainder of the growing season with the crops they currently have in the ground. I was pleased to partner with my colleague from Oregon, Congressman Greg Walden, in this fight to restore water to our farmers on both sides of the border."
Water Users React to Restored Project Allocation, KWUA PRESS RELEASE 6/9/2020
BOR PRESS RELEASE: Reclamation secures 2020 water supply for Klamath Project, 6/9/2020. "...Reclamation will deliver approximately 140,000 acre-feet to the Klamath Project from Upper Klamath Lake in 2020..."
BLM names state director for Oregon/Washington. Farmer and agriculture policy professional Barry Bushue named to oversee more than 16 Million acres of public land, BLM 6/8/2020. "...Bushue was the President of the Oregon Farm Bureau Federation for nearly 20 years, where he advocated on behalf of the Federation's farming and ranching members. He also served as the Vice President of the American Farm Bureau, based in Washington, D.C."