Feds affirm opposition to breaching Snake River dams, Capital Press 7/31/2020. " (breaching the dams) would damage the federal system's other uses, such as flood control, irrigation, navigation, recreation and electricity generation...If the four dams were gone, greenhouse gas emissions would increase, according to the government report. Natural gas-fired power plants would have to ramp up, unless more expensive and less reliable wind and solar power sources were built.Farmers would be forced to move crops, mostly wheat, by trucks and trains. Transportation costs for wheat farmers would increase 10% to 33%, the report estimates. Irrigation water would be cut off for 48,000 acres, costing farmers $460 million a year in lost sales and their employees $232 million in lost wages, according to the report..."
Siskiyou County Water Users Association letter to CPUD regarding FERCs directive to PacifiCorp and Klamath dam removal 7/30/2020. "The FERC in its wisdom and with a great deal of public input wisely decided that PacifiCorp could not shed the license and liability for the destruction that will result from removal of these hydro- electric clean energy facilities...We are requesting that the CPUC immediately suspend the transfer of rate payer funds to KRRC (the Klamath dam destruction group).
***KID / Klamath Irrigation District vs OWRD/Oregon Water Resources Department 7/30/20: "...respondents are ordered to stop releasing Stored Water from the UKL (Upper Klamath Lake) without determining that the release is for a permitted purpose by users with an established right, license, or permit to use the Stored Water in the UKL"
Reclamation invests in new science updates for Klamath Project, BOR News Release 7/29/2020.
DOI secretary makes rare appearance at Klamath Project Says Trump will "expect results" Western Livestock Journal 7/16/2020. "The Hoopa and Yurok tribes never made a claim to a water right in the Klamath adjudication," he said. "Under law, if you don't make a claim, you don't have a right." ...a briefing filed by the state of Oregon in 2018 made the same point, stating "the Yurok and Hoopa Tribes have no rights to the waters of Upper Klamath Lake." "As for the Klamath tribe," Rietmann (KID attorney) added, "they were effectively granted a 1908 water right, which is junior to the farmers' 1905 water right and can't curtail that senior right."
7/30/2020 - Siskiyou County Sheriff's Office: EVACUATION ORDER UPDATE - MEDICINE LAKE
The evacuation order for the Medicine Lake cabins has been lifted and residents may return. Please be cautious of fire apparatus on the roadways. The Medicine Lake Campground remains closed to the public and continues to be occupied with fire personnel and equipment.
Caldwell Fire grows to 70,000 acres, H&N 7/29/20. "A mandatory evacuation remained in place for the Medicine Lake Recreation Area. The Lava Beds National Monument remains closed..."
Wolves kill steer near Fort Klamath 7/24/20.
Jesus: "Always treat others as you would like them to treat you; that is the Law and the prophets." Matthew 7:12
Interior Secretary Bernhardt came to Klamath Falls to help find water solutions, Liz Bowen Column in Siskiyou Daily News, 7/15/2020
Jesus: "This is my commandment to you: love one another." John 15:17
Submitted photos taken off of Tingley Lane here in Klamath Falls July 12, 2020. The pasture is KID "A" land west of Tingley Lane. One is KBID land at the NW corner of Tingley Lane and Cross Road.

"I never saw Tingley Lake like this growing up here in the 70s and 80s.

There are a good number of KBID and Warren Act lands upstream from Tingley Lake which are not receiving water…in addition to my requirements to reduce flows, minimize spill, and otherwise constrain farming practices, there is not enough return flow into Tingley Lake to keep it healthy."
Interior Secretary Bernhardt and Reclamation Commissioner Burman travel to Klamath Basin at LaMalfa's Request, Congressman Doug LaMalfa News Release 7/12/2020. "After Congressman LaMalfa continuously engaged with the Trump Administration, water allocations were restored to the April commitment, and the tens of thousands of acres of already planted crops would be able to survive the growing season. Congressman LaMalfa and Congressman Greg Walden (OR-02) extended the invitation to Secretary Bernhardt and Commissioner Burman to visit the Basin for today's events..."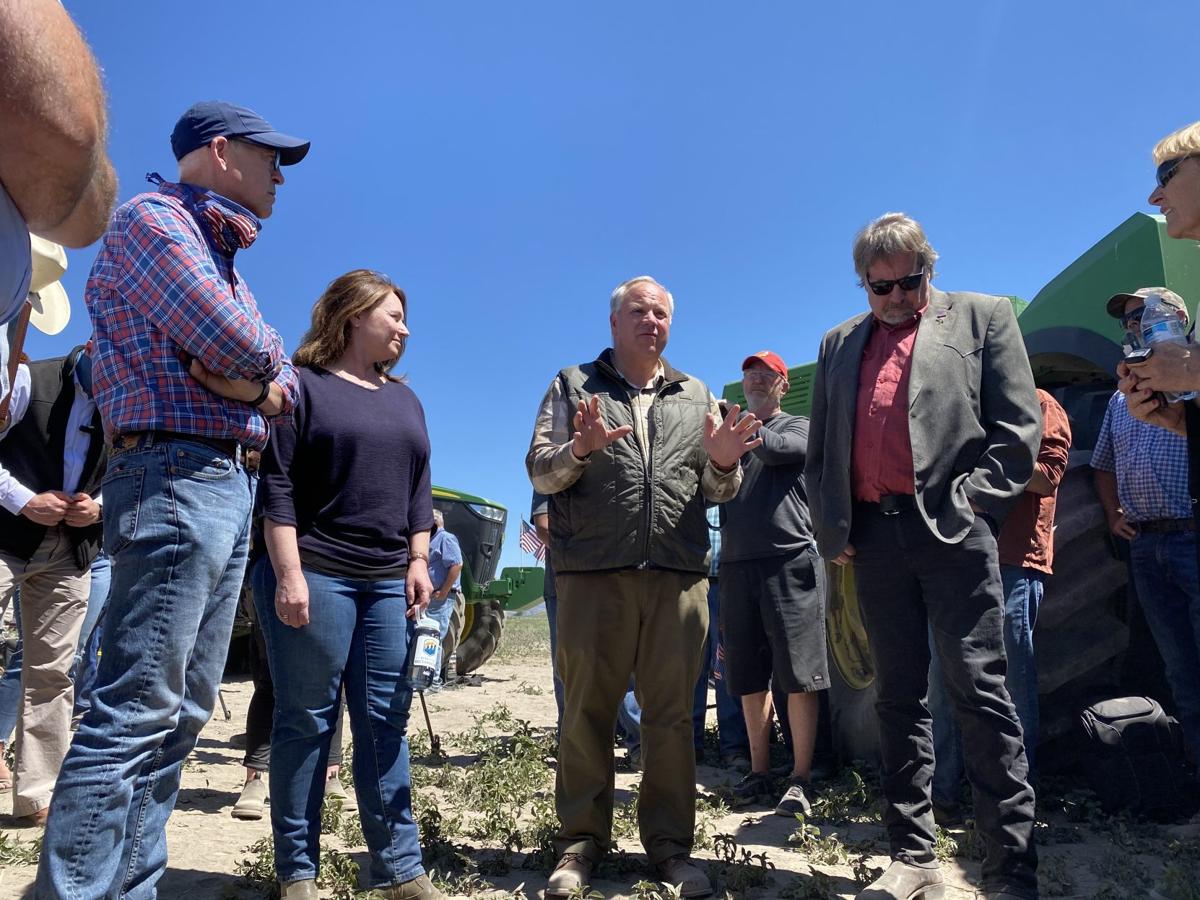 < From left to right: Congressman Greg Walden, BOR Brenda Burman, Secretary of Interior David Bernhardt, and Congressman Doug LaMalfa speak Thursday on a field in Midland
Secretary of Interior Bernhardt tours Midland field of crosses, H&N 7/10/2020. "Gasser said Bernhardt is responsible for returning the Project to receive 140,000 acre feet of irrigation water. 'He saved this community … even though there are still a lot of farmers out there who have no water. There's a lot of hurt still going on, but if he wouldn't have done what he did, it really would've been horrific because a lot of investments were made planning on the (140,000 acre feet) … millions of dollars would've been lost and a lot of growers would've been lost.' "
Interior officials tour Klamath Basin, promise solutions, Western Farm Press 7/10/2020. "U.S. Interior Secretary David Bernhardt and Bureau of Reclamation Commissioner Brenda Burman promised to seek a resolution to the decades-long water conflicts in the basin after meeting with growers, local water officials and other affected parties.
Congressional Delegation pushes flexibility in $10M water relief, H&N 7/3/20.