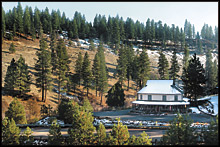 The historic Pinehurst Inn is nestled in the hills a couple dozen miles southeast of Ashland on Highway 66.
Mail Tribune / Jim Craven
---
'Cooking without compromise'
Gourmet dining offered at a local historic resort
By JOHN DARLING
for the Mail Tribune, Medford, November 10, 2005
The new owners of the Pinehurst Inn have brought in an upscale gourmet dining experience to complement the historic resort's rustic hunting lodge atmosphere — and at prices designed to make the 30- to 40-minute drive up the Greensprings worthwhile.
Far from the chili-and-burger fare you might expect at an outback eatery, chef-owner Ira Krizo, trained at the Culinary Institute of America in New York, has created a menu studded with items worthy of Ashland's best — a lobster strudel appetizer, with choice of entrees: Muscovy duck breast, seafood paella, rack of lamb, rib-eye steak, served at fixed prices, mostly in the mid-$20s.
The White Pine Restaurant is open Wednesday through Sunday. Starting at 5 p.m., Wednesday evenings are all-you-can-eat night, rotating between the food of various ethnicities — Asian, French, Italian and Scandinavian — and costing $12, with kids at one dollar per year of their age. With those prices, the dining hall is understandably packed. A regular prime rib special on Friday evenings has the same effect.
Sunday Brunch from 10 a.m. to 2 p.m. is $12 and "Café" is 11 a.m. to 4 p.m., Wednesday through Saturday, with sandwiches, soups and baked goods made on site. Rooms come with full breakfast and rent for $75 to $90, with pricing geared to deeply undercut Ashland, Krizo said, so as to make up for the drive on winding roads.
Everything — stocks, soups, croissants — is made in the Inn's fully equipped commercial kitchen, said Krizo.
"My vision here is to cook food without compromise and to do all we can to make it from scratch, including rolling out the pasta and making the bread," said Krizo, adding that he'd put Pinehurst in the same class with Ashland's noted Chateaulin and New Sammy's. "We want to set ourselves apart from everyone else, not just opening a can and adding salsa and calling it our sauce."
Krizo's wife, Susanna, said the couple's goal is to "make people happy with an atmosphere that's like going to a friend's house."
"It's like a fancy, gourmet, downtown New York meal in a very relaxed, beautiful, creative country atmosphere for a lot less than Ashland or any big city — and you have to love the retreat feel, away from everything," said Margaret Bradley of Ashland.
The familiar, two-story frame building, perched on 23 acres above a broad curve on Hwy. 66, has been a fixture in the south Cascades for more than 80 years.
The Krizos bought it earlier this year and have put a lot of work into decorating the five upstairs rooms — canopy beds, clawfoot tubs, quilts, antiques — to harmonize with the early 20th-century architecture.
The lobby and dining room have open pine beams and varnished pine walls and floors with cozy fireplaces. The front presents a wide, covered sitting porch, with a screened-in porch off the rear.
"The rooms are delightfully decorated in the old-fashioned way, the young couple was very welcoming and the food was the best we'd ever eaten," said Pat Harris of Klamath Falls. "We absolutely loved it. The prices were reasonable. They probably should charge more, but they clearly were doing this as a dream and passion for them to own and fix up, not for the money."
Although Krizo has worked as a chef in many big cities of the U.S. — including a couple years in Europe — he's a local product, raised in nearby Tule Lake, Calif., the son of turnip farmers originating in Slovakia. He met his wife, a Swede, while traveling in Europe. They have a 17-month-old son, Jonathan, whose romping delights guests.
The inn was built of nearby timbers by Charles and Lulu DeCarlow in the 1920s, shortly after the highway was paved for motor vehicle traffic. They originally ran a stage stop at Brown Prairie, but relocated when bypassed by the new road. They operated it as a lodge, restaurant, store and post office till 1945, said Carol Samuelson of the Southern Oregon Historical Society. It went through a succession of owners and stood empty for many years in the 1970s till restored by Box R Ranch owners Don and Jean Rowlett, who finally sold it to the Krizo family.
The Inn can host conferences, weddings and retreats of up to 85 people, with spill-over lodging at the Box R Ranch across the road and the Greensprings Inn a few miles west. It offers access to lots of outdoor recreation — alpine skiing, hiking, fishing, hunting, trail riding at the Box R and water sports at Hyatt and Howard Prairie lakes. The Pacific Crest Trail is just west.
The Inn, on Highway 66 between mileposts 23 and 24 at Jenny Creek southeast of Ashland, plans to put on special events, such as Thanksgiving dinner for $20, a Winemakers Dinner for $60 with Del Rio Vineyards on Dec. 2, and a series of Scandinavian Christmas "smorgasbord dinners." Reservations can be made by calling 488-1002. Visit www.pinehurstinn.us for more information.
John Darling is a freelance writer living in Ashland. E-mail him at jdarling@jeffnet.org.