http://www.heraldandnews.com/articles/2004/08/25/news/agriculture/ag1.txt
Cabbage crop faces field and market tests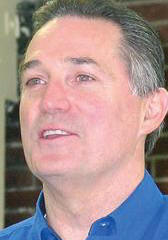 Rick Walsh, a local farmer, is testing out cabbage production in the Basin. His five acre experimental plot is located on Henley Road near Homedale Drive.
Published August 25, 2004

By DD BIXBY
Something fresh is rising a head in the Basin.

Nestled among fields of more common Klamath Basin crops on Henley Road near Homedale Drive is a new crop that Rick Walsh is experimenting with.
The local potato farmer is testing the cabbage plants in Basin soils to see if the vegetable is a commercially viable option.

"At this point it's just a big experiment," he said. "Got to figure out if it's even going to grow here. Then we'll have to find out if its going to harvest well and be marketable."
Klamath County Extension Agents Rodney Todd and Kerry Locke said the largest agricultural products in the Klamath Basin are potatoes, alfalfa and beef, with 12,000 acres of potatoes being the most sizable row crop.

"We have a somewhat limited climate," said Todd, the forages, cereal crops and natural resources extension agent. "Crops in general are somewhat limited too."
"When you look at San Joaquin Valley our growing season is much shorter," Locke, the row crop extension agent, said. "I don't think we'd have any advantage over other areas growing cabbage. We'd be locked into a short growing season."

In June, Walsh planted five acres with six different varieties of cabbage to see which variety will produce the best in the local climate.
And though the appearance of the new crop is very different from his regular one, he hasn't run into too many production curves in his cabbage patch.

"It's the same as potatoes. I've found it's just like potato crops."
Walsh is growing six different varieties of cabbage to see which will grow best here. He expects to harvest the plot in about a week.
Born and raised in the Basin, Walsh hasn't heard of too many cabbage operations.

"Just in gardens," he said.
Both Todd and Locke said cabbages are a fairly viable crop here. However, they agreed that production viability isn't the thing to worry about.

"We can grow good root crops, carrots and cabbage," Locke said. "We can produce any number of crops, the trick is to survive your bottom line.
"If there's not a market, a contract for it, there's not much incentive for different things."

Locke recalled that sugar beets were an experimental alternative crop a few years ago.
"That started in the late '80s, early '90s and lasted for about 10 years," he said. "There were about 6,000 acres of sugar beets grown. But the plant closed," and that Basin market folded.

Locke added that producers had to factor distance into their budget as well.
"Gas and diesel prices," he said. "That's a huge part of the expense to produce a crop and getting it to sales."

So far Walsh hasn't started worrying about the market end of his new crop.
"Just kind of out there to see what we can find out," he said. "Just taking it step by step."

In about a week he expects to harvest the small plot with his work crew, but isn't sure what he'll do with the crop once it's out of the ground.
Walsh's main crop is potatoes and he operates about 250 acres for the fresh market, but says he's open to diversifying his operation.

"I'm always looking for alternative crops," he said.
Some of the other crops he's tried over the years have been organic potatoes and asparagus.

Other experimental Basin crops Locke has noticed are garlic, chip potatoes, specialty potatoes and mint. He said one of producers' largest obstacles is gaining public attention for new products.
"It comes down to educating the consumers."

+++++++++++++++++++++++++++++++++++++++++++++++++++++++++++
NOTE: In accordance with Title 17 U.S.C. section 107, any copyrighted
material herein is distributed without profit or payment to those who have
expressed a prior interest in receiving this information for non-profit
research and educational purposes only. For more information go to:
http://www.law.cornell.edu/uscode/17/107.shtml