http://www.heraldandnews.com/articles/2005/12/15/news/agriculture/ag1.txt
Co-op seeks to lower supply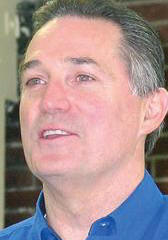 'We grow more potatoes. Potatoes that no man, woman or child will ever eat. Consumption continues to decline and as an industry we've been asleep.'
— Jerry Wright,
interim chief executive officer of United Potato Growers of America
December 15, 2005 by HOLLY OWENS
MERRILL - Members of a new potato cooperative have seen a 485 percent return on their investment in the past nine months, according to Jerry Wright, interim chief executive officer with United Potato Growers of America.

Wright met Tuesday with about 35 fresh market potato growers from the co-op's regional group, United Potato Growers of the Klamath Basin, to talk about new developments for the co-op and plans for 2006.
A CEO for the national group, Julia Cissel, has been hired, and United's national headquarters should be operating in Salt Lake City by March. Wright, who is CEO for United Potato Growers of Idaho, has been serving as interim CEO for the national group that was formed in March.

The group's main focus has been on uniting farmers to reduce an oversupply of potatoes that gluts the market and drives down prices.

So far, it's working.

About 35,000 fewer acres were planted in fresh market russet variety potatoes in 2005 in the United States, which United estimates removed 16 million hundredweight of excess potatoes from the market.

The average grower return index from September to November was $6.67 per hundredweight, compared to $2.69 last year, according to sales statistics from United.

"We created this market by not planting this year," Wright said.
Yields have gone up 70 percent in the last 40 years from 200 to 350 hundred weight per acre, Wright said, and United estimates that growers produce 13 million hundredweight of extra potatoes each year.
"We grow more potatoes. Potatoes that no man, woman or child will ever eat," Wright said. "Consumption continues to decline and as an industry we've been asleep."

In the Klamath Basin, potato acreage this year was down by 11 percent, according to Ed Staunton, chairman of United Potato Growers of the Klamath Basin. Fourteen local growers took part in an acreage buy-down program through the co-op.

In 2006, United is encouraging growers to reduce acreage even more, from 10 to 15 percent from their 2004 level. This year the national goal was 8 percent. Klamath Basin growers are planning to maintain their 2005 level next year.
"We're going to shoot for the 10 percent from 2004," Staunton said.

And for those who don't want to cut back, or for young farmers wanting to get into the potato business, United is giving growers the option to buy or rent the right to farm more acres, or a production base, from another member anywhere in the country. This way potato acreage isn't increased, just realigned.
United Growers in Idaho are creating a Web page where growers can post acreage they're interested in renting from another grower.

Even though potato acreage is shrinking, the co-op is growing.
Nationwide, the United represents more than 1,000 growers in state and regional cooperatives in Colorado, the Klamath Basin, Idaho, Nebraska and Kansas, Washington and Oregon. Other states discussing joining include North and South Carolina, New Jersey, Pennsylvania, New York, California and Arizona. A sister cooperative is being formed among the provinces of Canada, United Potato Growers of Canada.

"We now represent 70 percent of russet acreage nationally," Wright said.
Wright, who has in the past marketed products for General Mills, Heinz and ConAgra, has been helping growers change their marketing strategy, showing potato growers how buyers think.

"I'm the guy on the other side of the table who knows those strategies," Wright said. "We knew farmers weren't organized. That's exactly why we picked them off."

United is using a three-phase supply management program that includes preplanting acreage reduction, post planting/preharvest acreage reduction, and post-harvest supply management.

Not only are there fewer potatoes grown, growers also are removing excess potatoes from the market.

"They would have crashed this year's crop," Wright said.

Keeping track of data in order to control the flow of potatoes to the market is key. Each week co-op members go online and input information about their inventory, including variety, size, and actual average price.

"The No. 1 problem we've got right now as we're working with the data is people don't tell you the truth," Wright told the group Tuesday. "Full disclosure of your information gives us power. We can raise it higher if we have more data."

And there is more to the potato market than just fresh russets.

A United Frozen Process Grower Division also was created this year and a chip process division and a seed division are being developed. United also is looking at supply management for round varieties such as reds and whites.

And as the co-op grows and prepares to open its national headquarters, dues are increasing.

Klamath Basin co-op members paid dues of $5 an acre in 2005. With the increasing costs of doing business, Staunton estimates that dues could go up to $8 an acre. Wright noted that the figure will more likely be closer to $10 per acre.

The increase in dues will generate about $1.7 million, which will cover wages and salary, office furniture, insurance, marketing and advertising, professional services, travel, meetings, and working capital for the Salt Lake City headquarters.

A meeting to discuss a 2006 plan for Klamath Basin co-op growers will be scheduled within the next few weeks.

For more information, call Ed Staunton at 892-5263.