Best of the blues
Published June 9, 2004

The world's best cheese comes from Central Point
Editor's Note - This is the second of two stories about the world's best blue cheese made at the Rogue Creamery in Central Point using milk from the Bonanza View Dairy. This week's story examines the creamery's hand-milled cheese-making process.

Story and photos
by Lee Juillerat

CENTRAL POINT - It doesn't look like much from the outside, but inside its cinder block buildings, yummmmmm.

The Rogue Creamery in Central Point isn't much to look at. But it's here that cheese makers, using traditional hand-milling processes, have been producing exceptional cheeses since 1935.

Even at a place where exceptional cheeses are the historic norm, last year was genuinely exceptional. The creamery's Rogue River Blue Cheese, made from milk from the Bonanza View Dairy, was named the world's best blue cheese for 2003 at the 16th annual World Cheese Awards in London.
Fastidious tasters liked Rogue River Blue better than blue cheeses from elsewhere in the world, including France, Spain, England, Italy, Denmark and Australia. The decision, based on taste, texture and aroma, marked the first time an American blue cheese has won a world title.

David Gremmels, the creamery's co-owner, says the success begins with fresh milk.
"The quality of milk is very important. We believe half the reason for our excellent cheese is the milk from the DeJongs," says Gremmels, referring to Elso and Arie DeJong. Elso started the Bonanza View Dairy, while Arie has overseen its operations the past two-plus decades.

Each morning about 7,000 gallons of chilled milk collected in the previous 24 hours from the dairy's 900 Holstein cows is loaded into Farmers Cooperative Creamery refrigerated tankers. Many days it goes direct to the Rogue Creamery, where a team of cheese makers led by Cary Bryant are crafting an expanding variety of world-renowned hand-milled blue, cheddar and other cheeses.
Bryant and Gremmels knew their cheeses were good, but the world title came as a pleasant shock."

We didn't think we had a shot at it," admits Gremmels. "It's the most prestigious international competition in the world. We had no belief our cheese would even rank. We are still excited. It was a historic moment for our creamery."
David Gremmels peeks through bricks of aging blue cheeses.
Rogue River Blue cheese is based on a recipe that creamery founder Thomas Vella retrieved from Roquefort, France, in 1956, with modifications.

"We actually discovered Rogue River Blue by accident," says Gremmels.
At the suggestion of a friend, he and Bryant wrapped the cheese in grape leaves from Rogue Valley vineyards that were macerated with pear brandy made from Rogue Valley picked pears and, "to our surprise it enhanced the flavor."

Thomas Vella emigrated to the U.S. from Italy and produced cheese in Sonoma, Calif. With World War II looming, Vella, with the backing of Kraft, bought a defunct cheese plant in Central Point and began making cheese from milk bought from local dairies. When war broke out, Vella produced 5 million pounds of cheese annually.
Cheese curds are carefully packed into containers.
The creamery's operations were later taken over by his son, Ignazio "Ig," known as the "Godfather of Artisan Cheese."

In 2002, just months before he planned to close the Central Point creamery, he coaxed Bryant and Gremmels into taking ownership and continuing its hand-milling cheese traditions.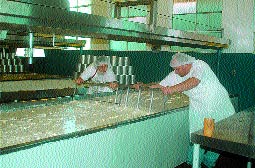 Special tools are used in hand-milling blue cheese.
Those traditions are kept alive several days a week, when fresh milk from the Bonanza View Dairy is pumped into either of two vats. A 7,000 pound vat is used for blue cheese while a 10,000 pound vat is for various cheddars. When reduced, the smaller vat will produce 700 pounds of cheese, the larger 1,000 pounds.

During the cheese making process, the mixture of raw milk, cultures and mold is variously stirred, allowed to coagulate and cut into curds, which are raked, shoveled, turned, salted and poured into hoops. Cured cheeses are placed in aging "caves," where they are turned, waxed and, depending on the type of cheese, aged up to two years.
The Rogue River Blue has earned international recognition, but several other Rogue Creamery cheeses have earned world, national and regional honors. Their creamery's Pesto Cheddars all won medals from the American Cheese Society and other competitions.

"Part of our concern is to keep a hands-on' attitude. We want to be true artisans," says Gremmels, who believes the creamery is now also "creating the best cheddars I think the Northwest has experienced."
Gremmels oversees the marketing and sales, while Bryant monitors all phases of cheese making.

"This gives you a way to have quantifiable records for the future," explains Bryant of the record-keeping. "You can answer, 'What happened differently with this vat?' You really rely on taste and feel, but the records help you determine what's going on. You can't see all the bacteria growing."
Bryant and Gremmels have watched the Rogue Creamery's reputation grow in just two years, but they plan to follow a slower pace when it comes to growing the size of their business.

"We do want to increase our size, but do it slowly," emphasizes Gremmels. "We want to continue making the world's best cheese. We want to please the judges, but that's secondary. We want to please our customers - that's our primary goal."
The Rogue Creamery is located at 311 N. Front St. in Central Point. For information call (541) 665-1155 or toll-free at (866) 665-1155, or visit their Web site at www.RogueCreamery.com for an event calendar or to join their mailing list. An Artisan Cheese Club membership provides people with 1-1/2 pounds of cheese, a newsletter and recipes four times a month. Cheese tasting is offering during regular business hours, 9 a.m. to 5 p.m., Monday through Saturday with free cheese and wine pairings Saturdays from 1 to 3 p.m.