https://www.heraldandnews.com/basin_ag_news/
https://www.heraldandnews.com/basin_ag_news/secretary-of-interior-deb-haaland-meets-with-klamath-project-farmers/article_deee8ab4-d33a-11ed-9225-6bc0ac048d5b.html
Klamath Irrigation District Manager Gene Souza speaks to Interior Secretary Haaland and Senator Merkley at A Canal April 4, 2023, Klamath Basin Crisis Facebook page.
followed by Secretary of Interior Deb Haaland meets with Klamath Project farmers, Basin Ag News by MOSS DRISCOLL KWUA April 4, 2023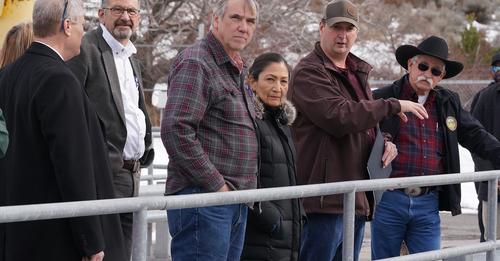 Klamath Irrigation District Manager Gene Souza speaks to Interior Secretary Haaland and Senator Merkley at A Canal April 4, 2023, Gene Souza, Klamath Basin Crisis Facebook page.

"Following up on my post from a couple weeks ago.
Investment in Klamath Irrigation District's A Canal maintains the viability of some of the richest agricultural lands in the world, maintains our regional economies, supports food security which promotes national security, allows for water to be placed back onto its natural location of reclaimed lakes and marshlands, and promotes health and public safety.
The Department of Interior captured a number of photos during Secretary Haaland and Senator Merkley's visit to Oregon. In this photo
------------ ------------------------------------
Secretary of Interior Deb Haaland meets with Klamath Project farmers, Basin Ag News
by MOSS DRISCOLL KWUA April 4, 2023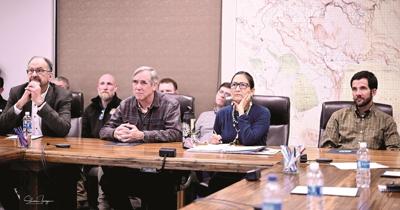 < Left to right: Ernest Conant, Regional Director, BOR, Jeff Merkley, Oregon U.S. Senator, Interior Secretary Deb Haaland, Matt Strickler, Deputy Assistant Secretary, Fish and Wildlife and Parks. Photo by Chelsea Shearer
As part of an unannounced visit to central and southern Oregon, Secretary of the Interior Deb Haaland met with farmers in the Klamath Project on March 18, touring the headworks of the Klamath Project "A" Canal and learning firsthand what Klamath Irrigation District is doing to ensure the canal's safety.
Water users met for over an hour with Secretary Haaland at their downtown office. "It is an big deal to host Secretary Haaland," said Paul Simmons, executive director of Klamath Water Users Association. "We weren't expecting the visit but we're very grateful of the time she gave to listen to us."
"Getting to speak to the people in Washington D.C. that make the decisions that affect the Klamath Basin is important to farmers. Too often recently, farmers' advice has been ignored only to later be proven right," Simmons said. "The need to include water users in the consultation process is the only way it will ever be successful."
While in the Basin, Secretary Haaland also met with the Klamath Tribes, visited U.S. Fish and Wildlife Service's Agency Lake-Barnes Ranch project on Upper Klamath Lake, and toured the Klamath Falls National Fish Hatchery, also known as "Gone Fishing".
Tracey Liskey, newly elected president of Klamath Water Users Association, was one of the first to greet Secretary Haaland. He used the opportunity to provide some perspective for the Secretary, who had never visited the Klamath Basin previously. "The lands in the Klamath Project were mostly underwater, including the marshes, when the Klamath Project was authorized. What is happening to the Klamath Project current in terms of the lack of water is unnatural and at odds with the way water naturally moved in the Basin. I wanted Secretary Haaland to understand that."
Water was flooding over the spillway at Iron Gate Dam while Secretary Haaland visited with some farmers who have not received any water under their contracts with the federal government in the last three years. This winter the Bureau of Reclamation, which is part of the Department of the Interior, openly debated temporarily reducing flows in the Klamath River in order to meet water levels in Upper Klamath Lake that are deemed necessary for suckers. Several times Reclamation announced anticipated decisions, before eventually directing an 11 percent reduction in flows at Iron Gate Dam in mid-February. At no point has Reclamation proposed cuts that would have also helped provide some water for farms and refuges.
Notwithstanding their frustration with the current management of the Klamath Project, water users were grateful for the opportunity to speak to the Secretary. "For me and my family, it is personal," said Tricia Hill, "For instance, my family like many others in the community struggle with health complications associated with dust blowing off our farms and refuges due to lack of surface water from the Klamath Project. These issues don't mean the same when you are sitting in an office in Washington D.C."
"I appreciate Secretary Haaland taking time to meet with us and listen to our perspective," Liskey added, "We hope she'll use her current influence, particularly with respect to federal funding, in a manner that can move the Klamath Project and the Basin as a whole in a new direction."
====================================================
In accordance with Title 17 U.S.C. section 107, any copyrighted material herein is distributed without profit or payment to those who have expressed a prior interest in receiving this information for non-profit research and educational purposes only. For more information go to: http://www.law.cornell.edu/uscode/17/107.shtml