http://www.theworldlink.com/articles/2007/02/07/news/news01a020707.txt
Salmon numbers better than expected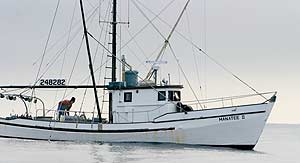 Fall Chinook returns on the Klamath River were higher than expected last year, but the preliminary total of 30,400 still fell below the 35,000 minimum threshold to allow for a full commercial salmon fishing season. World File Photo
Fall Chinook return tops predictions by 8,000; coho also are up sharply

February 7, 2007 By Susan Chambers, Staff Writer

It's February - and the time of year commercial salmon trollers start thinking about prepping their boats for another season of bringing in Chinooks to sell.

Or maybe not.

Last year's disastrous season of no fishing for much of the Southern Oregon Coast already has prompted a few fishermen to leave the fishery altogether - and the ones who remain are wary.

No federal money has drifted this way. State money is gone. Moorage and boat insurance bills are coming due.
Yet the estimates, the data, the meetings continue like clockwork. Planning for the upcoming season is getting started and one of the key numbers fishermen and managers look at is the Klamath River fall Chinook returns to the river.

A base of 35,000 adult natural fish must return to the river in order meet the requirements of the fishery management plan - and therefore allow future fishing.

Last fall, the escapement was only about 30,400 fish, but those are preliminary numbers. It's the third year in a row that returns have fallen below the 35,000-fish floor.

But it's also more than managers predicted in April. During a grueling season-setting meeting in Sacramento, managers tried to allow some fishing north of Florence while estimating that about 22,000 fish would return.
The higher actual returns put fishermen and fishery managers in a quandary.

Fishery managers see improvement in the population of fish.

Fishermen see salmon left on the table that could have been caught.

"It's still below the 35,000 floor, but better than we expected," Oregon Department of Fish and Wildlife Assistant Fish Division Administrator Curt Melcher said Tuesday.

Crafting estimates of fish returns while trying to account for several variables such as fishing effort, natural predation and ocean conditions, is an inexact science.

"We don't know how the fishery catch played into it," Pacific Fishery Management Council salmon staff officer Chuck Tracy said, "or whether it was something else."

The good news is that Oregon Coast natural coho forecasts are high, Tracy said. The returns of jacks - 2-year-old Klamath fall Chinook - also was very good, managers said.

"About 21,000 total, which is a lot," Tracy said. "That's the most since the mid-1980s."

Calls for change

Charleston salmon troller and Oregon Salmon Commission member Jeff Reeves said Tuesday that the increase of returns is good news, but had fishermen been able to catch another 8,000 fish - the difference between the projected returns and the actual returns - the fleet would not have had to struggle so much in 2006. The 8,000 Chinook would have meant several thousands of dollars to fishermen and communities.

"It's missed fishing opportunity," Reeves said.

Nonetheless, Reeves and other fishermen are planning to request a change in the season structure at a series of meetings to be held at various locations through April (see sidebar, Page A1).

Reeves hopes fishery managers will allow at least 100 fish a week, with no restrictions on what days can be fished, between the Florence south jetty and Humbug Mountain or between Florence and Cape Arago. The other option would be for 75 fish a week between the Florence south jetty and Cape Arago.

The state also is considering a state waters fishery, if federal managers close the season again, at the request of the salmon commission.

"We're committed to providing state waters fisheries in waters where there are healthy stocks," Melcher said.

Melcher said that much work still has to be done, such as evaluating the September and October fisheries and getting results from coded wire tag returns.

Hopes for better seasons

Federal fishery managers will be compiling data and information from several sources over the next few weeks to determine how many fish of each age group returned to the Klamath. Many are hopeful there will be a better season in 2007 than in 2006. And 2008 should be even better.

The jacks convert to 3-year-olds for the ocean fishery, Melcher said, and the high returns of jacks should translate to a a great season in 2008, when the fish are 4-year-olds.

That expectation likely will throw a curve into an already complex fishery management system.

Three years of falling below the minimum required number of Klamath fall Chinook returns triggers the need for a rebuilding plan. It will be up to National Marine Fisheries Service officials to approve or suspend a rebuilding plan.

"We don't know what the policy direction will be on that," Tracy said.

Other rebuilding plans have been in place for other fish, such as for some species of groundfish. Those plans often take years, sometimes decades, before those fish recover.

That's probably not the case for salmon, Melcher said.

"That's one thing about salmon: they're relatively short-lived and incredibly resilient," he said. "If the marine survival factor improves, they respond very quickly. They can go from very poor to very good in one generation."