Salmon aid checks to arrive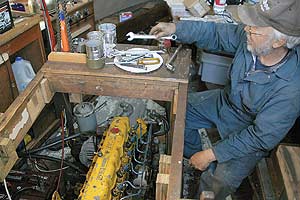 World Photo by Susan Chambers David Crane, owner of the salmon troller Larry Boy, works on the engine in his boat on Thursday in Charleston. One of the pistons in the engine broke recently while he was returning home from fishing in the northern part of the state. He, along with several other salmon trollers from Oregon, applied for funding from the state, made available after a federal season closure.
CHARLESTON - Nearly 300 commercial salmon trollers will receive checks from the state today or tomorrow - interim compensation to help see the industry through a season that was, for the most part, nonexistent.

The National Marine Fisheries Service closed most of the season for trollers in Oregon and Northern California to protect wild runs of Klamath River fall Chinook, leaving hundreds of fishermen wondering how they were going to pay their bills.

In Oregon, the state stepped up with $500,000 in direct aid made available in June and another possible $500,000 in September through approval by the Legislative Emergency Board, which meets when the Legislature isn't in session.

The checks are disbursements from the first $500,000. Some of the checks will be bigger than expected; others likely will be much less.

According to Gov. Ted Kulongoski's office, 280 of the 360 applicants will receive funds. The highest check - or checks - was for $7,500. One of the smallest checks was $75.
Fishermen are angry over the disparity. They're also worried that it may cause dissension among the fleet, on the docks. It's something they'd hoped to avoid since news first got out that there would be no real season this year.

"The intent was never for anyone to get a big amount of money like that," Oregon Salmon Commission member Jeff Reeves said. "The idea was for equitable assistance."

Eligibility

Commission members met with the Oregon departments of Agriculture, Administrative Services, Fish and Wildlife and staff of the governor's office in May and June to help formulate eligibility requirements to receive funding. The Department of Agriculture was charged with approving the applications; Administrative Services would cut the checks.
To the commission, the rationale was simple: If you fished, you got a portion of the funds, and everyone would get roughly the same amount. Everyone was equally denied access to fish, after all.

But the state is responsible to more people than just the fishermen.

"We feel comfortable we were able to do as the Legislature (E-board) directed," ODA Assistant Director Dalton Hobbs said, noting that the state is held accountable for disbursing taxpayer dollars.

A committee of coastal officials and members of the state agencies (see sidebar) reviewed the applications. The committee was guided by two things, Hobbs said: the administrative rules established to conduct the business of determining eligibility and directions from the E-Board that said the state must be sure it gets the funds to the fishermen who need it most.

It's for those reasons that the application forms included questions including how much income a fisherman received from other sources and other fisheries; how much was earned from fishing in other states; which infrastructure-related expenses already had been paid; and a section for a statement of need in which fishermen could describe their particular circumstances. They were all details the state said it needed to pass muster with taxpayers.

But the details and misinformation ended up skewing the results, fishermen say, and it's likely those most in need won't get the funds.

"Nobody working this was really expecting that would be the case," Onno Husing, executive director of the Oregon Coastal Zone Management Association, said of the disparity in the amount of the checks.

Husing worked closely with the Oregon Salmon Commission during the months leading up to the applications being mailed out. He, too, said he could understand the need to keep the eligibility requirement simple, but other things factored in.

"The Department of Ag was laboring under the fact that the E-Board placed some strings on the money," Husing said.

It's a nightmarish process, he said.

"The objective was to determine who was the most neediest Š and we realized that would be almost an impossible task," said Husing.

Receipts needed

The application forms also asked fishermen for copies of receipts for infrastructure-related expenses: survival suits, moorage fees, license fees, vessel insurance, fire extinguishers, vessel loans and interest, haul-out costs, etc. Those often are expensive items and are fixed costs that most every troller has.

But a check for $75 doesn't even cover license fees, which was one of the eligibility requirements.

Another oddity that turned up was that "the people who submitted large amounts of receipts ended up getting more money," Husing said.

That, too, was never the intention, Reeves, of Charleston, said.

Like other salmon commission members on the northern coast, several port outreach specialists, and other fishing industry leaders, he advised fishermen that they didn't have to submit all of their receipts, but just the major ones; enough to show that they fished and had major expenses.

Everyone knew there was only $500,000 available - not much in terms of long-term industry sustenance, but interim funding that could bridge the gap until federal funding was made available.

The Oregon Department of Agriculture knew that, too, and reiterated that in a letter from Director Katy Coba to all the salmon permit holders to whom applications were mailed.

"It is important to re-emphasize that $500,000 is a limited amount of money and does not address all of the legitimate needs of fishermen or their families. As an example, if the department was to receive applications from 300 boat owners and expenses were reimbursed equally, each boat owner would receive approximately $1,600," Coba said in the letter.

That $1,600 is a far cry from $7,500; most trollers figured everyone would receive about $1,600, give or take a few hundred dollars.

A boondoggle?

Husing said that during the previous salmon disaster, in the 1990s, it was nearly impossible to establish objective criteria to determine who had the most need for federal funding.

And that's what appears to have happened again, though on a smaller scale.

The state did what it thought best, he said. It was Gov. Kulongoski's intention and the E-Board's intention to help.

This first go-round can still prove useful, Hobbs said.

"We've got a lot better idea of who these people are," Hobbs said. "It's a great body of knowledge."

Still, the salmon industry is concerned about the next $500,000 and any federal money that might come through. Will the results be the same?

"There's not much chance of that," Hobbs said.

Husing, too, said that he understands the fishermen's frustrations.

"Katy Coba and I talked today and she understands that there are a lot of people that are very concerned. And she agrees that if there is going to be another $500,000, that they will go back to the drawing board and do things differently," Husing said. "But let's remember that the ODA and Katy Coba are friends of this industry Š and we should put this particular disappointment in context. They are, again, our allies.

"And heaven knows this industry needs our allies."

Committee

The members of the review committee were:

- Dalton Hobbs, assistant director, Oregon Department of Agriculture

- Lauren Henderson, assistant, director, ODA

- Kris Kautz, deputy director, Oregon Department of Administrative Services

- Ralph Brown, Curry County Commissioner

- Wayne Krieger, R-Gold Beach, state representative

- Deborah Boone, D-Cannon Beach, state representative

- Jay Rasmussen, Oregon State University Sea Grant Extension Agent

- John Seabourne, commercial fish information specialist, Oregon Department of Fish and Wildlife