More on State of Jefferson: http://jeffersondeclaration.net/

State of Jefferson supporters to meet January 6th at State Capitol, posted to KBC 1/5/16.

CBS morning show, youtube, on Northern California move to form State of Jefferson.

Secession brews in the 'State of Jefferson, Sac Bee 10/10/13.
Modoc County votes to withdraw from California; Supervisors plan to create a new state, not through illegal secession, H&N, posted to KBC 9/27/13.
Modoc County joins Siskiyou County in voting to secede from California, The Oregonian 9/24/13

Modoc County joins Siskiyou in state of Jefferson bid for secession, Redding Record Searchlight 9/24/13.
VIDEO - Mark Baird from Siskiyou County, representing several Northern California counties, explains why this region needs to become the 51st state. He speaks of the Constitution, life liberty and the pursuit of happiness, defending the freedom our parents and ancestors fought for, and having a state government that represents the people rather than dictates to the people. A well-spent 13 minutes filmed and edited by Robert Exter. Posted to KBC 10/23/14.


Northern California County (Siskiyou) Board Votes For Secession From State, San Francisco CBS 9/4/13
Modoc Co. Supervisors will vote on withdrawal from California Sept. 24, posted 9/23/13.
Secession vote has lawmaker's support. Congressman praises board in Siskiyou County for action, H&N, posted to KBC 9/22/13
On September 3rd The Siskiyou County Board of Supervisors will be voting on: "Declaration to the California State Legislature supporting the withdrawal of Siskiyou County from the State of California" www.JeffersonDeclaration.net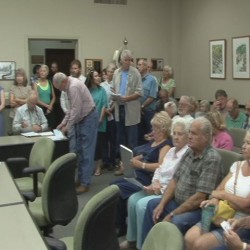 Siskiyou County fights for independence posted 8/13/13. "I'm before you to ask support and an affirmative vote on a resolution to withdraw Siskiyou County from the state of California," Mark Baird stated, President of Scott Valley Protect Our Water. "
====================================================
In accordance with Title 17 U.S.C. section 107, any copyrighted material herein is distributed without profit or payment to those who have expressed a prior interest in receiving this information for non-profit research and educational purposes only. For more information go to: http://www.law.cornell.edu/uscode/17/107.shtml