http://www.heraldandnews.com/news/county-to-display-in-god-we-trust-motto/article_4ee8d3b1-bda6-53ef-9492-3893957528b2.html
County to display 'In God we trust' motto
Residents upset issue was not on agenda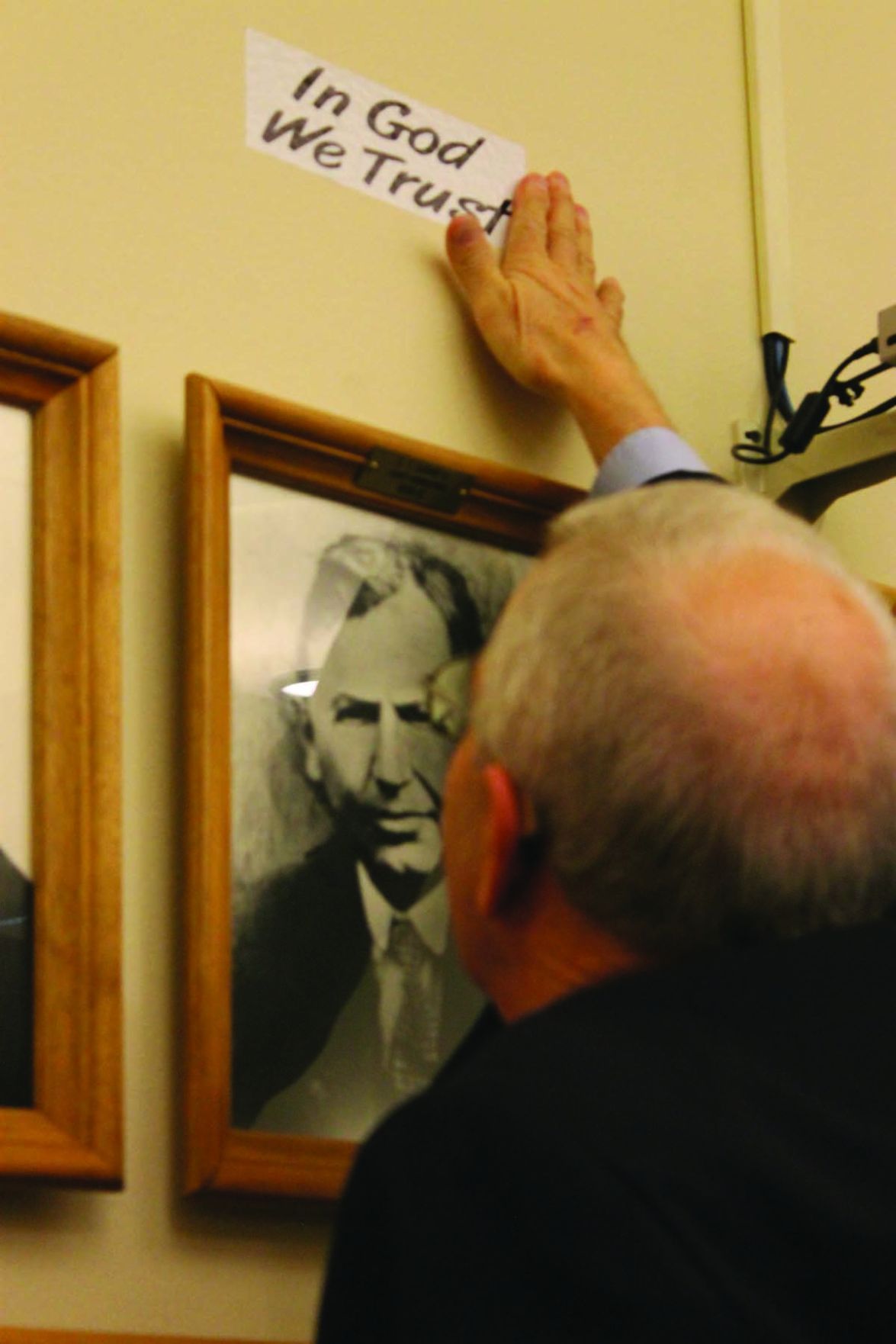 Klamath County Commissioners have agreed to place an "In God we trust" sign in their meeting room, a year after the same issue brought backlash from a number of residents.
Approved in a 2-1 vote during their regular meeting Tuesday, the issue was not on the commissioners' published agenda but was added briefly before the meeting by Commissioner Tom Mallams.
Mallams said, after conversations with state legislators the night before, he was concerned about the overall direction state and federal governments are headed in. In that light, he said counter-measures, such as the sign, were needed to help cultivate patriotism and a sense of cultural heritage.
"For our nation and our state as a whole, the attitudes seem to be changing to a great extent and that bothers me, that bothers me a lot," he said. "I think we need to promote and to help build back that higher level of national pride."
Support, opposition in 2014
Mallams first brought up the issue of an "In God we trust" sign at the end of 2014 and said there was a need to push back against people and groups fighting to remove references to God and religion from government establishments. No action was taken, though residents expressed strong support and opposition during a series of public meetings.
"Some of the citizens, vocal ones, have pushed God out of the schools and out of our government," Mallams said at the time. "I think we need to put some of that back."
When revisiting the issue Tuesday, Mallams said his proposal was also to support "In God we trust" as the country's national motto, which was approved by President Dwight Eisenhower in 1955 and reaffirmed by Congress in 2011.
"Setting aside the religious aspects of this, the fact is that it's our national motto," he said. "It's just a very simple national motto and I think that's where I'm focusing on."
Fundraising group present
When the matter came to a vote, Mallams and Commissioner Jim Bellet were in support, while Commissioner Kelley Minty Morris was against. She said it is not because she is opposed to the sign, but was opposed to making a decision without time to seek advice from county staff and legal counsel first.
"This was added to our agenda at the very last minute, so I just didn't have an opportunity to have some of the conversations that I would have liked to had before a vote," she said.
Morris also said she is in favor of posting a framed dollar bill with the motto rather than a new sign.
With the issue not being published ahead of the meeting, public comment was brief. A group of citizens who have been raising funds for a sign since Mallams' initial proposal were present to show support.
Carol Warren, who led fundraising efforts with husband David Warren, said they gathered more than $2,000 in donations and have found a local metalworker able to make the sign.
She said a conceptual design included a display roughly 4 feet wide depicting the wilderness and landscape of Klamath County under the words "In God we trust."
"We can't have something simple," she told commissioners. "The people want to give you a treasure to keep for this county."
Defending the county
Carol Warren said it is the goal for the sign to come at no cost to taxpayers. She said, even if someone were to sue the county over the issue, the Pacific Justice Institute, based in Sacramento, has committed to defend the county — and any municipality sued for an "In God we trust" or similar display — at no cost.
Other supporters included Dawn Brown, who said she feels the sign is "good and wholesome and worthy of being up." Steve Souder also said the sign is a reflection of the country's religious origins.
"It's not like it's anything new, it's not like we're stuffing anything down anybody's throat," said Souder.
But many commenters on social media, who learned of the commissioners' decision through local news outlets, said that is exactly how they feel.
"What happened to separation of church and state?" asked Jason G. when commenting on the Herald and News' Facebook page.
"Aside from this being embarrassing for our county and potentially illegal, it is inviting legal blowback that will just cost the taxpayers even more money," said Chris D.
"If you're religious, why exactly do you need a sign in a government building," said Eric T. "Isn't it a personal thing between you and your god? Why do you have a problem NOT having a sign?"
Councilwoman threatened
When Mallams first proposed the sign, opponents raised similar concerns and said the phrase is not a universal expression of faith but rather a singular representation of Judeo-Christian beliefs. Among critics was Klamath Falls City Councilor Trish Seiler, who called the proposal "unconstitutional" and "morally wrong."
After expressing her views during a public forum last year, Seiler received an obscene, anonymous letter calling for her to be beheaded by foreign terrorists. Seiler, in turn, referred to the author as a terrorist and said the letter did not sway her position on the issue.
When Seiler was informed of the county's decision Tuesday, and the issue's abrupt addition to the agenda, she said it was an example of "backhanded" politics.
"I find that to be a very sneaky way, a very unethical way, to bypass the will of the majority of people in the county and to bypass the constitution over separation of church and state," she said.
"Their willingness to stomp on the Constitution and the first amendment with both feet just indicates to me they are unfit to represent this county," she continued.
Seiler said she remains opposed to an "In God we trust" sign and said the county "needs to stay out of religion, and religion stay out of government."
Inconvenient timing
When responding to criticisms that Tuesday's vote had been an effort to sidestep opponents, Mallams said this was not the case. He said the timing of adding the sign to the agenda may have been inconvenient and he did feel it would have been better to give residents earlier notice.
"I do regret not having it out there a little quicker," he said.
He said, since the matter was raised in 2014, there has been a great deal of public commentary and commissioners were not making their decision without input to consider.
Mallams added he would still encourage public discussion, as a future board of commissioners may decide to make a different decision.
Commissioners are expected to approve a resolution at their next meeting formalizing the vote to install the sign.
After the meeting was over, Mallams placed a bumper sticker with "In God we trust" on the wall in the back of the room, where the larger sign is intended to go. He and Bellet said this is because commissioners need to be reminded of trusting a higher power during a meeting.
====================================================
In accordance with Title 17 U.S.C. section 107, any copyrighted material herein is distributed without profit or payment to those who have expressed a prior interest in receiving this information for non-profit research and educational purposes only. For more information go to: http://www.law.cornell.edu/uscode/17/107.shtml