https://www.heraldandnews.com/members/forum/guest_commentary/state-water-actions-taken-without-first-determining-what-the-actual/article_0a17281d-8157-5d53-82ef-7d3329470455.html


State water actions taken without first determining what the actual facts are
Oregon State Senator Dennis Linthicum, District 28, which includes all or part of Klamath , Lake, Jackson, Deschutes and Crook counties, Herald and News 5/15/18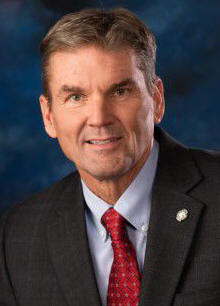 Oregon Water Resources Department (OWRD) recently shut down 140 irrigation wells in the Upper Klamath Basin. The wells, each within a 1-mile proximity boundary of the Sprague River, have been "determined" to impair senior surface water rights and are being regulated off.
For some background, water law and theory have linked ground water to surface water as described in "Arizona Law Where Ground and Surface Water Meet (1988):"
"When water is pumped from an aquifer by means of a well, it creates what is known as a 'cone of depression.' This is caused by the groundwater in the aquifer moving toward the well. If the material in the aquifer has a high transmissivity value, the cone of depression will be wide and shallow. If, on the other hand, the aquifer does not easily transmit water, the cone of depression will be steep and narrow.
"If water is pumped continuously from the well, the cone of depression will become larger. If the water table is close enough to the earth's surface to allow this cone to cut into a surface stream, water from the stream would directly infiltrate into the ground, following the slope of the cone of depression until it reached the well. … This would cause less water to be available in the stream bed."
In Arizona law, the doctrine of prior appropriation applies to surface waters and extends to another prior appropriation category known as "subflow." Historically, this is "those waters which slowly find their way through the sand and gravel constituting the bed of the stream, or the lands under or immediately adjacent to the stream and are themselves a part of the surface stream."
Now, this may be true in the sand and gravel of the Arizona outback and it may even be true in the geological formations found within the Upper Klamath Basin, but is it? Logic tells us that the only way to find out would be to study and understand the geological and hydrological formations that are within a specific hydrological zone.
OWRD's Division 09 rules (Oregon Administrative Rules — OAR 690-009) were also adopted in 1988, following Arizona case law. The basis for the OWRD's regulation of groundwater occurs whenever OWRD determines that substantial interference with a surface water supply exists. An OWRD spokesperson claims, "It is our position that Division 09 governs regulation in the Upper Klamath Basin Area at this time."
However, without scientific justification this is nothing but refutable, theoretical folly.
My question is, exactly how does OWRD make their "determination" establishing that substantial groundwater interference occurs with a surface water right-holder? How does OWRD determine the transmissivity value or size and shape of the cone of depression?
Scientific examination would clarify that some wells do impact surface waters while others do not. OWRD seems to suggest that in all cases, at all times, and in all circumstances, groundwater wells impact surface flows.
We know this can't be true. After all, some wells are drilled through solid rock for hundreds of feet while other wells are not. In other circumstances, a well, even in close proximity to another, might travel through several different aquifer layers before arriving at a separate hydrological zone where irrigation requirements might be met.
First, OWRD ought to know with certainty that an individual well is harming a senior water right-holder, before shutting-down specific water resources.
Second, OWRD needs to establish standards for measuring distances between wells and surface water sources for the purpose of determining the probability, or existence of surface water right impairment.
Third, OWRD also ought to provide negatively impacted right-holders with written notice of planned actions so that families have time to consider their available options.
Fourth, the models used, the facts gained, any legal theories or existing rulings being used to support the planned action also need to be made public.
If our government process is designed around public participation and transparency, then publishing planned actions and detailed evidentiary findings produced by a qualified hydrologist describing specific well site geology and hydrology should not be a problem for our state government's executive agencies.
I am currently working on legislation that would require OWRD to follow and adhere to these four suggestions. We must hold our unelected bureaucracies to the highest bar possible when their rulings affect the very lives and livelihoods of hardworking Oregonians.
====================================================
In accordance with Title 17 U.S.C. section 107, any copyrighted material herein is distributed without profit or payment to those who have expressed a prior interest in receiving this information for non-profit research and educational purposes only. For more information go to: http://www.law.cornell.edu/uscode/17/107.shtml