www.heraldandnews.com


(Tulelake's) Batkid

to the rescue

San Francisco, printed in Herald and News 11/16/13

followed by

Batkid leaves people all a'Twitter, and
Back to normal life for Batkid?


SAN FRANCISCO (AP) — Dressed in a black Batman costume, his fists clenched as he took on foe after foe around San Francisco, a 5-year-old boy who has battled leukemia for years fulfilled his wish Friday to be his favorite superhero.

In the process, Miles Scott became a darling of social media and attracted thousands of fans around the country, including the White House.

"When you have an illness, it's very important to know you have a support system," said Gina Futrell, a 51-year-old with multiple sclerosis, who was among a large crowd gathered at Union Square for a chance to see the "Batkid" in action. "I have an extremely strong support system, and I hope he does too. He's such a little hero."

Batkid was called into service by Police Chief Greg Suhr and spent the day zooming from one "crime scene" to the next. Accompanied by an adult Batman impersonator, Batkid rescued a damsel in distress from cable car tracks, captured the Riddler as he robbed a bank, and saved the San Francisco Giants mascot — Lou Seal — from the Penguin's clutches.

Miles was able to fulfill his wish through the Make-A-Wish Foundation, the city and volunteers who stepped forward to help. He was diagnosed three years ago, underwent chemotherapy treatment and is now in remission.

Batkid had a police escort worthy of a dignitary as he sped around the city in a black Lamborghini with a Batman decal, with officers blocking traffic and riding alongside him on motorcycles. The White House sent out a tweet encouraging Batkid to "Go get 'em!" In a video recording, President Barack Obama said, "Way to go, Miles! Way to save Gotham!"

The crowds grew after each stop, reaching into the thousands by the time Miles got to Union Square for lunch at the Burger Bar atop Macy's. Spectators climbed trees and clambered up lampposts, and police and organizers struggled to keep a path open for the motorcade, which drove past onlookers lining the streets six deep for several blocks.

At Batkid's stop in the city's Russian Hill neighborhood, a woman sat on the cable car tracks in a dress and black boots. She had a handkerchief over her mouth, and her hands were bound behind her back.

Batman and Batkid sprang into action, with the aid of a trampoline, as the crowd roared. They rescued the woman and disabled a plastic replica bomb she was tied to.

The two masked superheroes then took off to nab the Riddler as he robbed a downtown bank. They later jetted to the Penguin's kidnapping of Lou Seal.

The 5-year-old at first seemed overwhelmed by the outpouring, quietly working through each scenario with clenched fists amid delirious chants of "Batkid, Batkid." But by the time he reached City Hall to receive a key to the city in front of the biggest crowd of the day, Miles was all smiles and bravado.

Though he didn't address the crowd, he raised his fist twice and wore a grin as he was feted with chocolate, an FBI "raid jacket" and a San Francisco Police Department cap. A clothing company donated $10,000 to Miles' family, and San Francisco Mayor Ed Lee proclaimed Nov. 15 to be "Batkid Day Forever."

U.S. Attorney Melinda Haag unveiled an "indictment" charging the Penguin and Riddler with conspiracy as the crowd that stretched for blocks roared with delight.

Miles father, Nick Scott, was asked what the boy liked best about Batman. "The cape, I guess," he said.

The father thanked the crowd, organizers and the city for showing his son a good time.

"This is closure for us," Nick Scott said. "It has been a hard three years."

Miles, who lives in Tulelake in far Northern California, didn't know what was in store for him and thought he was in San Francisco just to get a Batman costume so he could dress like his favorite superhero.

He was diagnosed with leukemia when he was 18 months old and ended treatments in June.
rides in the Batmobile
to the city

Tulelake's Miles Scott, as Batkid, saves a damsel in distress
(right) and rounds the bases at Giant Stadium (bottom right).
SUPERHERO: Miles Scott, a 5-year-old leukemia survivor from Tulelake, greets the crowd at City Hall in San Francisco Friday. Thanks to the Bay Area's Make-A-Wish Foundation and support from city officials, Miles was able to fight crime as Batkid when San Francisco transformed into Gotham City for the day.
McClatchy News Service photo
======================================================
www.heraldandnews.com
(Tulelake's) Batkid leaves people all a'Twitter,
Productivity at many jobs, especially around the San Francisco Bay Area, dipped to all-time lows Friday. Why? "Why would anyone work when you can watch?" noted one of the hundreds of thousands of comments on Twitter as 5-year-old Miles Scott of Tulelake, aka Batkid, zoomed around San Francisco, a city transformed into Gotham City, to fight crime. "My jaw hurts from trying not to cry while watching this," wrote another. "Forget class. I gotta go watch Batkid
save the day."
"Glued to my laptop watching Batkid in action."
"Trying to work and watch Batkid at the same time."
The message lines were literally all a'Twitter. Partisanship was set aside, with comments praising Batkid from President Barack Obama and Vice President Joe Biden and their adversary, Texas Republican Sen. Ted Cruz.
The media tuned in, including the Today Show, Washington Post, Time, NBC Nightly News, ABC, Sports Illustrated and Fox Sports.
Tulelake 'Batkid' becomes Internet sensation
Delighted, too, were the San Francisco Giants, who had a stake in Batkid. While finishing lunch at Macy's, he and Batman were told the Penguin snatched the team's mascot, Lou Seal, and tied him up at AT&T Park.
After rescuing Lou Seal, Miles ran the bases while an airplane circled the stadium towing a banner with the words, "Wishes Do Come True."
Congratulations for the successful rescue effort came from Cal Ripkin, the St. Louis Cardinals, 49ers Coach Jim Harbaugh, San Diego Padres, Washington Nationals outfield Jayson Werth and — Holy Baseball! — the Los Angeles Dodgers.
Lou Seal's rescue came after two morning events: Rescuing a damsel in distress who was tied to the cable car track and, shortly after that, catching the Riddler trying to rob a vault at a financial district bank.
"My eyes are red and puffy," one Twitter tweeted , "because I'm having some sort of allergy." There were similar comments. "This Batkid's thing got me all messed up at my desk." "Watching Batkid and crying at work." "Currently sobbing." "I just witnessed Batkid in his Batmobile pass by my gym where I was working out." "Think Batkid is going to be one tired superhero tonight."
Live video feeds allowed people to watch most of the goings-on, although views from the helicopters were often hidden by tall buildings and tree-lined streets. They did provide a sense of the interest, with thousands of people at each stop, others glued to windows and lined atop roof tops. It seemed everyone had point-and-shoot cameras, which made them appear as if they were holding up their arms in surrender.
"Photographers are doing their best to ruin Batkid's day," grumbled one Tweeter.
Most Tweeters, however, surrendered to Miles'
obvious charms.
"It's officially cry-atyour-desk-day in San Francisco."
"Whatever news you have today it's nothing compared to the Batkid."
"Sometimes you need to remember the good in the world."
"Ya Baby!"
"I used to hate SF but this Batkid is pretty cool."
Emotions nearly dripped with many Tweets, especially when Batkid made his way to the San Francisco City Hall, where Mayor Ed Lee presented him with a key to the city as thousands surrounding the city offices and nearby
Union Square applauded wildly. "Getting all weepy dippy over Batkid," wrote a Tweeter. "Is it acceptable to cry at work?" "I love this so much. Faith in humanity lives." "My heart just grew three sizes." "Eyes leaking again." "Usually when I hear the news/police helicopter hovering outside it's annoying. Today I'm super OK with it." And, as another tweeted, "Always be yourself. Unless you can be Batman."

RIGHT: A crowd holds up signs for Miles Scott, as Batkid, at a rally outside of City Hall in San Francisco, Friday. Miles was called into service by San Francisco Police Chief Greg Suhr to help fight crime, when San Francisco turned into Gotham City to help fulfill the young leukemia survivor's wish to be "Batkid."
AP photo
ABOVE: The San Francisco Chronicle printed a special edition, 1,000 copies of the "Gotham City Chronicle," in honor of Tulelake's Miles Scott during his visit to "Gotham City."
Image courtesy of the San Francisco Chronicle
====================================================
http://www.heraldandnews.com/news/local_news/article_73ca3bc6-4f45-11e3-b3ac-001a4bcf887a.html?mode=image&photo=0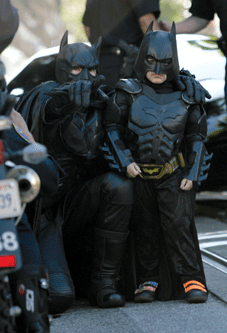 TULELAKE, CA - Back to normal life for Batkid?
by Lee Juillerat, Herald and News 11/17/13
followed by yesterday's Batkid to the rescue
Nick Scott hopes life can get back to normal for him and his family, including their 5-year-old sudden celebrity son, Batkid, AKA Miles.

Good luck.

The Scotts, including Miles' mom, Natalie, are heading back to their Tulelake home today after wild times in San Francisco. Thousands watched in person and even more viewed live internet feeds Friday as Miles, fulfilling a wish to be "the real Batman," galloped along the streets of San Francisco, which was magically transformed to Gotham City for the day, fighting crime. He saved a distressed damsel, thwarted a bank robbery and rescued Lou Seal, the San Francisco Giants mascot, which earned him a key to the city and proclamation naming November 15 "Batkid Day Forever" from Mayor Ed Lee.

"It was hectic," Nick said of Friday's scrambling day. "Everywhere we went the streets were lined with people," including an estimated 13,000 at the San Francisco City, where a smiling Batkid rallied onlookers with a series of fist pumps.

The day was the culmination of a months-in-the-planning day by the Make-A-Wish Greater Bay Area. Miles, who was diagnosed with leukemia when he was only 18 months old, wished his Batman wish. As Mayor Lee noted during ceremonies at city hall, Miles is a genuine superhero because he's successfully battling cancer. His last treatment was in June.

Because he faced a life threatened disease, he was eligible for the Make-A-Wish program. It was decided to delay fulfilling the wish because Nick farms with his father, Mark, and uncle, Steve, in the Tulelake area.

Effects from the day, which fascinated the national news media, aren't over.

The Scotts appeared on NBC Nightly News Friday, but turned down an invitation to be flown to appear on the Jimmy Fallon Show. There was also an offer from the San Francisco 49ers to fly the family to a game. Nick said the family has received other inquiries about special guest appearances, but has made no commitments. Batkid was featured on the front page of Saturday's San Francisco Chronicle, which Friday printed a special "Gotham City Chronicle" about his exploits and the amazingly positive responses from people in San Francisco and around the nation.

"We walked out of our hotel to get on a cable car and the operator recognized us," Nick said, noting they were stopped by well-wishers while touring Fisherman's Wharf.

"We've got to get home and recharge a bit," Nick said of winding down from the frenzy.

The Scotts and their family watched Friday's heroics while being shuttled to and from crime scenes in a tour bus. When Miles showed signs of tiring, especially during lunch, organizers devised a compromise that allowed Nick to ride with his son in the Batmobile.

"There's not a lot of room in there for three people," Nick said about the Batmobile, a Lamborghini that rolled through San Francisco streets with a police escort.

"He got his second wind," Nick said. "I think he was a little scared of the Penguin," a Batman nemesis who kidnapped Lou Seal but was eventually captured at the Giants AT&T Stadium, where Lou Seal was freed.

Nick said his highlight was "just seeing how happy he was. Just to see his wish come true. Just to see how many people he affected ... a city that was united. Everybody was happy for a day."

Friday evening, during a post-big-day celebration, Nick said his son was playing on a computer when "he folded in half and fell asleep."

But Friday wasn't just a dream.

lee@heraldandnews.com
=====================================================
====================================================
In accordance with Title 17 U.S.C. section 107, any copyrighted material herein is distributed without profit or payment to those who have expressed a prior interest in receiving this information for non-profit research and educational purposes only. For more information go to: http://www.law.cornell.edu/uscode/17/107.shtml