'Unite to Fight': strategies to protect property rights
by BRAD SMITH February 21, 2007 Siskiyou Daily News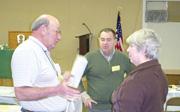 DAILY NEWS PHOTO/BRAD SMITH - Left to right, Leo Bergeron, Modoc County government official Sean Curtis and Siskiyou County Supervisor Marcia Armstrong discuss some matters during a break. The "Unite to Fight" Regional Conference was held here in Yreka last Saturday, attracting people from a half-dozen states. The conference intended to give people and county government officials information on protecting property rights.
YREKA — Residents from Siskiyou County joined people from a half-dozen states this weekend at a conference focused on property rights.

Dubbed the "Unite to Fight" Regional Conference, the conference was held last Friday and Saturday at the Siskiyou Golden Fairgrounds' Winema Hall.
Stewards of the Range, the organization that presented the conference, is a group formed to defend property rights, focusing their efforts on local government involvement and educating people, property owners and politicians alike, executive director Margaret Byfield said.

The primary purpose of the conference, according to Byfield, was to empower people by "giving them the information and the tools to fight for their rights and their property."

Byfield said that the Stewards selected Yreka as a site for this conference due to the area's "problems over resource issues and potential hazards to property rights."
She referenced the downfall of the timber industry when "radical elements within the environmental movement got their way."

"Businesses, small and large, were serious affected. People lost jobs. Now with the dams, if they are taken out — people could lose their homes due to flooding. Their private property would be damaged," Byfield said.

Stewards of the Range give property owners a voice, according to Byfield
Katherine Lehman, president of the People for the USA-Grange, was also instrumental in bringing the conference to Yreka.

She said that the conference helped make people aware of what others have been doing in the country, working to preserve property rights and "even work with others to find a happy balance."

Lehman cited the "Owyhee Initiative" was one such issue with a "happy balance" outcome.
In Owyhee County, Idaho, ranchers, farmers, environmentalists, miners, Native American tribes and others set aside their differences and found a solution beneficial to all, she explained.

"Original plans called for 2.5 million acres set aside for protected wilderness. Then everyone sat down and did something constructive, talking things out," Lehman said.

When the talking was done, only 500,000 acres had been set aside as protected wilderness area and everyone walked away a winner, she added.
"That's the kind of thing we'd like to see more of. Cooperation between all interested parties," she said. "Less confrontation too."

Fred Kelly Grant, the Stewards' president, was pleased with what he described as the audience's energetic commitment to finding ways to solve their problems.

He and others urged audience members to take their issues to their county-level politicians.
"The county commissioners and supervisors are more in touch with the people. State and national representatives are more interested in the 'bigger issues.' I feel that they get tied up with things and lose touch with the people," Grant said.

As for the opposition, Grant has nothing but respect for them.

"The environmentalists are smart, very savvy. They know the system. We know that it's best for everyone concerned to find common ground and work together — like we did in Owyhee County," he said.
He added that county governments must take action, by requiring the federal government to coordinate with them – and work within the law.

"Some times, the feds do things that violate their own laws. We need to call them on that, force them to follow their own laws," Grant said.

County Supervisor Jim Cook came to the conference to "learn how to deal with the federal government."
"Dealing with the federal government can be daunting, especially with its bureacracy and red-tape," he said. "By us (the county board of supervisors) taking steps to make sure the government is required to coordinate projects with us — that's a big step forward."

He said that supervisors Marcia Armstrong and Michael Kobseff also attended the conference.

Montague resident Leo Bergeron was pleased with the "Unite to Fight" event.
"I feel very confident that some of these proposals presented by Mr. Grant will be taken by our board of supervisors," Bergeron said.

"Steps must be taken to protect our property and resources. I hope that our county supervisors will do what's best for us," he added.

More than 80 people attended each day.

Lehman was pleased with the results.

"It's been going very well. People are excited, they've been asking questions, they've been learning a lot, I believe," she said.