By LEE JUILLERAT

, Herald and News July 6, 2012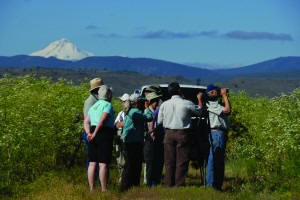 Lee Juillerat Views Everywhere - Mount Shasta looms in the background as birders check out the sights at the Lower Klamath National Wildlife Refuge.
LOWER KLAMATH REFUGE — White-faced ibis buzzed overhead. Black-crowned night herons stalked in tall bushes. Hundreds of Franklin gulls grouped together in shallow marshes. A lone bald eagle soared, seemingly oblivious to all the activity, including the racket of sounds from croaking bullfrogs and birds like marsh wrens.
"This is what we can do when we have water," Ron Cole, the Klamath Basin National Wildlife Refuges Complex manager, said of the abundant bird life at the Lower Klamath National Wildlife Refuge.
Providing water for Basin refuges has been a challenge during sparse water years. But several marshes in Lower Klamath have benefited from water deliveries provided through the Bureau of Reclamation in March and April.
Because Upper Klamath Lake was full and flows down the Klamath River were high enough, about 90,000 acre feet of water was diverted to the refuge.
The 53,000-acre Lower Klamath refuge includes about 30,000 acres of wetlands. In recent years, as water supplies have become increasingly limited, refuge biologist Dave Mauser said refuge managers have become more proficient in moving water back and forth between refuge units.
"Marshes are the most productive in the first two or three years they're flooded," Mauser said of planned efforts to flood areas that in some years are farmed or left dry.
Mauser and Cole drove 10 birdwatchers, mostly members of the Klamath Basin Audubon Society, around Lower Klamath Tuesday to enjoy the teeming populations of birds, which included eared grebes, white pelicans, great egrets, Forster's and Caspian terns, California gulls, avocets, tri-colored blackbirds, killdeer, northern harriers, cinnamon teal, yellow-headed blackbirds, willets, coots and a variety of ducks — pintails, mallards, gadwalls, shovelers.
"This is awesome," said Charlotte Ann Kisling, a Butte Valley-area birder who was especially impressed by the abundant Franklin gulls, a bird she said are seldom seen in the Klamath Basin. As a flight approached and cruised overhead, Kisling yelped, "Now they're coming down and saying hi."
Cole said the Lower Klamath is unique among the complex's six refuges because of its mix of rich soils and habitat.
"The other refuges don't have the ability to manage all these diverse habitats," he said. "That's what makes the refuge so productive, our ability to manage water, when we have it."
It's uncertain how long the water will last. Mauser said a foot of water is lost through evaporation in an average July. Most of the marshes are only about 1 1/2 feet deep or shallower. It's also uncertain whether Lower Klamath and other refuges will receive excess water from Reclamation or water-stressed farmers this fall.
"Our next big challenge is going to be the fall. We expect lots of migrating waterfowl and we hope we have the habitat for them," Cole said. "We're part of the Basin and we're not doing well, no one's doing well."
For now, Cole, Mauser and birders are celebrating water-filled marshes and the resulting diverse bird populations.
"Water is tough for everybody in the Basin" Cole said. "I'm glad we've got some, and I want folks to be able to see what we can do with the water when we do have it."