Vote sending Whitsett, Garrard off to Salem
H&N
November 3, 2004

By BROOK REINHARD
Klamath County Republicans dominated Democrats in legislative races, as both GOP candidates won by margins of more than 2 to 1.

Incumbent state Rep. Bill Garrard fended off Dr. James Calvert to win a third term representing southern Klamath County, while retired veterinarian Doug Whitsett defeated retired professor Ross Carroll to win a seat in the state Senate.
Garrard received 66 percent of the votes, or 17,577 ballots cast in his favor, while Calvert received 34 percent of the votes, or 8,084 ballots.

Whitsett received 70 percent of the votes in the five-county Senate district, representing a total of 36,804, while Carroll received 30 percent, or 15,683 votes. In Klamath County, Whitsett received 71 percent, or 20,853 votes, and Carroll received 29 percent, or 8,486 votes.
Whitsett said he was thrilled.

"It's great - just the numbers, I didn't expect to have such a margin," he said.
The Republican vowed he would bring more accountability to state government.

"I really campaigned on the premise that we need a smaller, more transparent government," he said. "It seems the majority of the voters liked that message, and it's up to us to perform."
Whitsett said his victory was probably helped by his media advertising and his name recognition in the district.

"At least in Klamath, my name is reasonably well known, and I think that helped," he said. "And having a substantial advantage in registration didn't hurt."
In Klamath County 63 percent of the 29,415 voters registered for the two major parties are Republicans.

None of the four Democratic candidates for local or state office reached the 37 percent mark of registered Democrats.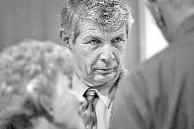 Retired veterinarian Doug Whitsett talks with supporters Tuesday evening after learning he won a seat on the Oregon state Senate after defeating retired professor Ross Carroll.
Carroll, chair of the county Democratic party, said he received fewer votes than some of his fellow Democrats because much of his time was tied up building the organization.

"It looks like I lost, and I certainly expected that," he said. "I never thought I'd have a winning campaign. My larger goal was working to build a Democratic presence in the county, trying to organize a party - trying to make a place where people felt their views were welcome, where they mattered."
In the House race, Garrard will return to Salem for a third term. The Republican faced a bitter primary battle this year from former legislator Del Parks, who accused Garrard of spending too much time out of state in his second home in Nevada. Garrard recently sold his house in Klamath Falls, but said he's in the market again here, now that he's been elected for another two years.

"Now I've got to start looking to buy a house," he said, joking that it might not be necessary because of all the time he'll end up spending in Salem.
Garrard said he was ready for a third term. "We'll try to live up to the confidence provided by the voters tonight," he said.

Calvert, who spent several hours every day campaigning in the district, predicted his opponent would do "a great job" in Salem.
"We had a great time," he said. "I had wonderful support from the Democratic Women and the Democratic Party, so no regrets."

Calvert and Carroll, both first-time political candidates, both said Tuesday they probably wouldn't run again.
"I'm not ruling out anything, but I think, like everyone in the country, I'm glad this election is over," Carroll said. "This is the hardest I've ever worked, with the least to show for it. So I'm laughing about it."