http://www.heraldandnews.com/news/local_news/environment/article_11861d20-eead-11e2-b86a-001a4bcf887a.html

Klamath Basin task force to meet Aug 1 in Klamath Falls

Water, power and cost the focus of task force

by Devan Schwarz, Herald and News 7/17/13

The Klamath Basin task force seeking to address water resource issues and build consensus for possible federal legislation will have its second meeting Aug. 1 in Klamath Falls.

In the meantime, subcommittees will deal with three difficult issues: water, power and cost. They will present recommendations to the larger task force.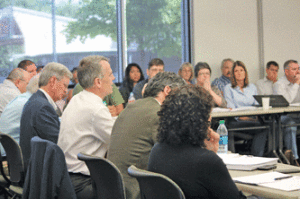 Gov. John Kitzhaber's natural resources adviser Richard Whitman said it's an art convening the Klamath Basin task force's diverse members and keeping everyone engaged in the process.
The group has been asked for recommendations to shape legislation by Sept. 10, a date that Whitman admits is aspirational.
"I don't expect this all to be done by mid-September. But if we have the outlines for what needs to happen for federal legislation that's the near-term objective," Whitman said.
Political representation
An important development has been the inclusion of Oregon's complete congressional delegation: Democratic Sens. Ron Wyden and Jeff Merkley, and Republican Rep. Greg Walden.
Whitman also cited the importance of task force representation by California politicians, a state affected by whatever is decided for the Klamath Basin.
"We're looking for broad support of a framework and that doesn't necessarily mean every person is going to have to vote yes," Whitman said.
"If one or two don't agree at the end of the day, or agree in part, that's okay. I am hopeful because ultimately everybody wants to get to an outcome where the ranching economy can continue in a sustainable way and the goals of the Klamath tribes and others with the environment can get accomplished."
In light of drought conditions and recent water shutoffs in the upper Klamath Basin, a Senate committee hearing was assembled by Wyden. Following up on Wyden's proclamations that regional water settlement agreements need to be cheaper and more inclusive, the task force met for the first time in Medford July 11.
Group's purpose
Whitman said the task force is not a referendum on the Klamath Basin Restoration Agreement, or KBRA, rather a way to settle lingering disputes, lower costs and make eventual legislation more palatable for a budget-conscious Congress.
Ranchers, conservationists, tribal members, government agencies and power utilities make up the task force, which will meet every three weeks between now and mid-September.
The subcommittees on water, power and costs plan will conduct conference calls in off weeks attempting to reach consensus with the larger group and satisfy the demands of Wyden, a politician well-positioned to push forward legislation as chair of the Energy and Natural Resources Committee. Individual members from the Klamath Basin should be announced by the end of the week.
Water subcommittee
Richard Whitman has put himself in charge of the subcommittee addressing upper Basin water issues — the most politically charged in a drought season with shutoffs to many farms and cattle ranches.
Recent rulings by the Klamath County Circuit Court buttressed the state water regulations, and reinforced the need for solutions.
Whitman said upper Basin irrigators and the Klamath Tribes are trying to get comfortable with how to tackle the subcommittee negotiations.
The tribes, along with the Klamath Project, hold the most senior water rights and made a call for their legally guaranteed amount of water July 10.
"If we have the outlines for what needs to happen for federal legislation, that's the near-term objective," Whitman said. "Working with the upper Basin irrigators and the tribes will probably extend beyond that."
Power subcommittee
Helmed by Ed Sheets, a coordinator for the KBRA parties, the subcommittee on power will extend work already done to try and provide power supplies to the Klamath Basin in an affordable and sustainable manner.
Sheets said power is a key element for pumping water, both for irrigators and the national wildlife refuges.
The Bureau of Reclamation, which provides water to Klamath Project irrigators, has sought a block of power from the Bonneville Power Administration under preferential rates provided to federal agencies and public utilities.
Power issues for Project irrigators had largely been ironed out through the original agreements, said Greg Addington, executive director of Klamath Water Users Association.
Stickier issues are in the upper Basin, where new state water regulations have cut off supplies to farmers and ranchers.
The Upper Klamath Water Users Association is supportive of the settlement agreements, whereas others have strongly opposed.
Determining who has eligibility for access to the power agreements of the KBRA is a task yet to be completed.
In the meantime, it's also being determined which upper Basin representatives will serve on the subcommittee.
"It really all comes back to water and a more predictable and stable supply of water and power is a pretty key element," Addington said. "The water we do use, we want to be able to reuse it and recycle it, and power really does come into play."
Costs subcommittee
Ed Sheets will also coordinate the subcommittee dedicated to lowering the costs of the Klamath Basin's regional settlement agreements.
Sheets is well-versed in KBRA budgetary issues, having helped lower an initial price tag of nearly $1 billion to the more recent $550 million project costs.
Nevertheless, Wyden has requested a price tag lowered by a quarter to a third, which has been previously criticized by Chairman of the Klamath Tribes Don Gentry as also lowering the odds of accomplishing Basin-wide restoration goals.
"It's not going to be easy," Sheets said. "The parties already made a number of significant cuts."
====================================================
In accordance with Title 17 U.S.C. section 107, any copyrighted material herein is distributed without profit or payment to those who have expressed a prior interest in receiving this information for non-profit research and educational purposes only. For more information go to: http://www.law.cornell.edu/uscode/17/107.shtml