http://pioneer.olivesoftware.com/Olive/ODE/HeraldandNews
KBRA drought plan meeting
Protesters air grievances
Opponents to KBRA gather to protest agreement
by Elon Glucklich, Herald and News 10/8/10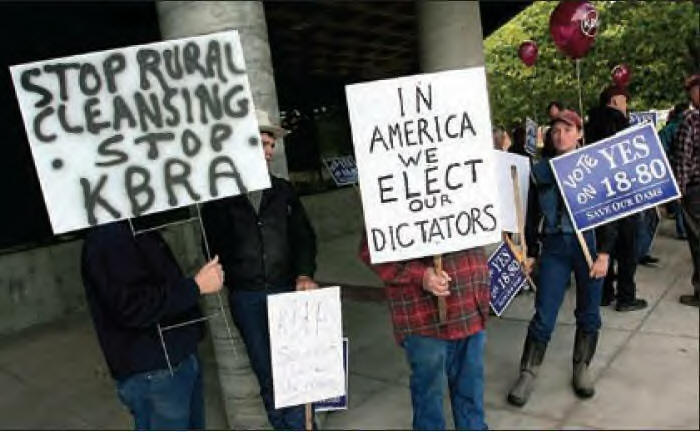 H&N photo by Andrew Mariman - Opponents of the Klamath Basin Restoration Agreement gather outside the Oregon Institute of Technology College Union Thursday where the Klamath Basin Coordination Council held a public meeting to discuss agreement matters
While the Klamath Basin Coordinating Council discussed how to implement the Klamath Basin Restoration Agreement Thursday, a handful of area residents took their grievances with the agreement to the street.
About 30 KBRA opponents representing farmers and nonagricultural workers were outside the Oregon Institute of Technology College Union, where the meeting was taking place.
The protesters held placards and balloons with anti-KBRA slogans. Several speakers voiced their dismay with the plan, saying the water agreement was being passed along without the water users having any say.
"There is a precedent being set here that the Klamath Basin needs to be aware of," said Tom Mallams, a coordinator of Friday's event.
That precedent, he said, is one of government control over the private lives of Basin-area farmers.
The KBRA aims to resolve disputes over water in the Klamath River Basin. A related hydroelectric settlement agreement advocates removal of four dams to improve fish passage.
Most people at the rally said they did not feel they had adequate representation in the dam removal negotiation process.
"We the people do not have anyone sitting in there," said Klamath County Patriots member Dennis Jefcoat.
Joining the protesters were about one dozen KBRA supporters. The supporters said they attended to provide balance to Thursday's protest.
"We wanted to show people there's another side to this argument," said Matt Walter, an irrigator and member of the Upper Klamath Water Users Association.
Walter said area farmers have had opportunities to help negotiate the KBRA and dam removal settlement, but opponents were taking an all-or-nothing approach, rather than showing a willingness to negotiate.
At one point, Thursday's protest grew heated, when Basin resident Michael Luft responded to comments made by Klamath Water Users Association President and KBRA supporter Steve Kandra.
"Little by little (the government) is taking all our water away," Luft said. "They're bringing salmon back, and that's going to bring jobs? That's going to bring government jobs."
About 20 minutes after the protest began, the crowd was informed that the Klamath Basin Coordinating Council was beginning the public input portion of its meeting. KBRA supporters and opponents took their arguments inside, with many making emotional pleas to stop negotiating on the KBRA.
Robert Jamison expressed the views of most who spoke when he told the council that moving forward on the restoration agreement and dam removal plan "would be devastating to farming in Klamath County.
"This will destroy our economy," Jamison said. "With increased electric rates, taxpayers just can't afford the added burden."
KBRA drought plan meeting
It would cost roughly $1.5 billion to implement all aspects of the Klamath Basin Restoration Agreement and its related dam removal agreement.
Among its key provisions:
• Removing four hydroelectric dams, owned by PacifiCorp, pending studies to determine the feasibility of removal, to improve passage for endangered fish species.
• Establishing sustainable water supplies and affordable power rates for irrigators.
• Helping the Klamath Tribes acquire a 92,000-acre parcel of private timberland called the Mazama Tree Farm in northern Klamath County.
• Funding habitat restoration and economic development throughout the region
Stakeholder: Public comment needed
Glen Spain doesn't always agree with what opponents of the Klamath Basin Restoration Agreement say, but he still wants to listen to them.
Spain is the northwest regional director for the Pacific Coast Federation of Fishermen's Associations.
Thursday's meeting of the Klamath Basin Coordinating Council included more than an hour of public comment, most of it coming from KBRA opponents, who said the coordinating council's actions would devastate the region's economy and not solve any problems with water.
A few stakeholders said they were concerned about misinformation distributed by opponents. But Spain maintained that every voice should be heard.
"There are no bad guys here," he said. "They're all good people caught in a bad situation."