Breeder loves border collies, politics
Capital Press by Jacqui Krizo, August 3, 2007
Geri Byrne's passion for the unique breed drives her to build business, politics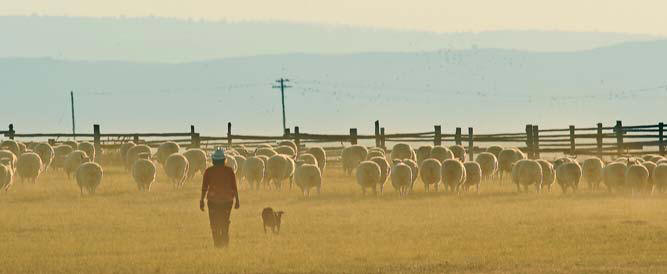 Geri Byrne looks on at the 2006 National Sheepdog Final last summer on the Kerr Ranch. She has coordinated three finals in the Klamath Basin, including 2006's event.
TULELAKE, Calif. — "I'm interested in two things," Geri Byrne declared. "Border collies and politics."
Born and raised in the San Francisco Bay area, Byrne was active in 4-H, then graduated from Cal Poly with a bachelor's degree in animal science.
"I met my husband, Dan, at Cal Poly, graduated one weekend, then got married the next because haying was going to start," she said. "I got my first border collie, Meg, in 1976, and I gave Dan a son of Meg as a wedding gift."
So began the lives together of Geri and Dan Byrne on a cattle and sheep ranch near Tulelake, on the Oregon-California border.
"I couldn't find what I wanted to do so I started my own business," she said. Byrne created Border Collies in Action in 1987, a mailorder company with two sweatshirt and t-shirt designs. It grew to a catalog of 300 items with a mailing list of 35,000 households. She sold the company in 2006 to devote more time to training dogs and producing training videos.
Byrne began competing in sheepdog trials to train the ranch dogs. That got her hooked, and she has been trialing ever since.
"I'm sort of in awe when I'm out there with these dogs with instinct in them and watching the action between dog and sheep," she said. "To feel what they are communicating is the trick to being a good trainer, little clues you have to pick up on."

Geri Byrne bred this litter of
border collies for specific
desirable traits to work cattle. She
breeds some for working livestock
and some for sheepdog trials.

More information
For more about
workshops, training, dogs,
and videos:
Border Collie Training
Center 3701 County Road
114 Tulelake, CA 96134 USA
Phone: 530-664-2168
On the Net:
www.bcollies.com
E-mail: Geri@bcollies.com

When Byrne went to England in 1999 to see world-renowned breeder and trainer Derek Scrimgeour, she watched a dog named Sweep work sheep on a 1,000-foot hill.

"The dog had such stamina! That's why I bought Lyn and Ted from him," she said, adding a ranch dog needs to listen, show stamina, and have a mind of its own. Good breeding gets you what you need.

Byrne and trainer Ellen Skillings take in dogs for training and provide a place for handlers to come and practice. They breed and sell dogs, and every year they hold clinics, trials and play days.

Recently Byrne created Little Horse Mountain Productions, producing and editing films of handler workshops conducted by expert trainers.
"I love to organize," Byrne said.
She organized the National Sheepdog Finals in the Klamath Basin in 1997, 2001, 2006, and will do so again in 2009, and organized the Western States Regional Finals in 2000 and 2005. She competed in the National Final with Ted, but she said it's hard to host a national event and compete well at the same time.
Besides being born a country girl in the city, Byrne said with a laugh, "I was born a Republican."
When there was a water crisis in the Klamath Basin in the early '90s, Byrne went to Sacramento and talked to legislators. She said she hadn't realized how much politics affects one's life and livelihood. And in 2001 when stored irrigation water was withheld from 1,400 family farms, she said, "The whole basin woke up to the fact that you have to be involved."
She is now chairman of the Central Committee for the Modoc County Republican Party and is also president of Tulelake Republican Women.
Besides uncertain water deliveries, Geri said there are two other immediate threats to raising sheep and sheepdogs: coyotes and dog legislation.
This spring, coyotes killed one lamb per day and crippled others until they relocated the flock. "We lost three calves being born, and they chewed on some that were still alive." She said it is illegal in California to use physical traps or poison, so they can only shoot them or use snares.
The other issue that threatens to destroy Byrnes' businesses is bill AB2449, to spay or neuter all dogs in California except show dogs and some stock dogs. The bill was pulled but will probably return in January.
"We use the dogs on our ranch every day. We developed a blood line for years, and then we would be forced to have them spayed or neutered."
"The American public is so far removed from farming and ranching these days, they want to legislate it, but they don't understand it. It used to be everyone had an uncle or someone who had a farm; now we're only 3 percent of the population. People are so far removed they don't know where food comes from."