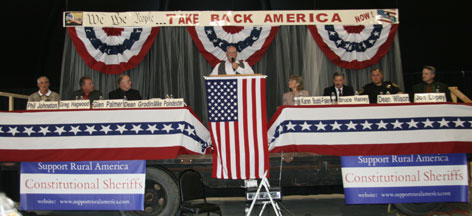 photo by KBC News

Apr 22, 2012 by Liz Bowen, Pie N Politics
An enthusiastic crowd for over 200 attended the Support Rural Sheriffs' Event in Alturas, CA. on April 21.
Wyoming attorney Karen Budd-Falen spoke on protecting property rights as a special guest.
Phil Johnston, Assistant Sheriff to Tehama County Sheriff Dave Hencratt, was the newest participant in the Sheriffs' Panel.
They came from North, South, West and farther West to discuss local issues and the Constitution.
Oregon's Grant Co. Sheriff Glenn E. Palmer and his wife drove five hours from Eastern Oregon and Del Norte Co. Sheriff Dean Wilson with his wife drove over six hours from the coast to the opposite side of the state. Sheriff Greg Hagwood from Plumas Co. drove north several hours. Siskiyou Sheriff Jon Lopey drove East two hours and Trinity Sheriff Bruce Haney drove East four hours. Yes, Alturas is a ways away from everywhere.
But the shone bright and the temperatures were surprisingly warm. Actually down right hot. It is spring in Northern California and we were expecting snow, cuz weather is always a guessing game.
Modoc County Sheriff Mike Poindexter moved the Event along as did organizer Doug Knox from the Modoc Independent Tea Party.
Lyn Scott from Trinity Co. took lots of photos, but I should have a few good enough ones to post on Sunday afternoon.
Thanks to everyone who share such enthusiasm for the Constitution and support of these fine sheriffs.