Our Klamath Basin Water Crisis
Upholding rural Americans' rights to grow food,
own property, and caretake our wildlife and natural resources.
Agenda 21 book for children
sent by

Certain career politicians and government employees have tried to paint us as "conspiracy theorists." But here is PROOF of FACT!! Back cover of "A children's edition of Agenda 21" glorified by Gorbachev, Boutros-Ghali, and Al Gore himself...
This book is frightening and disturbing...stories titled "Chainsaw Massacre," quotes like "The planet groans every time it registers another birth," cartoon drawings of children receiving vaccine shots...and suggesting we all need to be vaccinated. Glossary: "Vaccines medicine which doctors inject into you to prevent you from getting bad diseases." "Massacre murdering hundreds/thousands of people (and trees!) at a time." "Compost rotted vegetables or sewage that you put on your garden to fertilize it." "Population programme Programmes to inform parents how to manage the size of their families." Per the book, contacts for more info: EDF, Nature Conservancy, Sierra Club, USDA, USEPA, US Fish and Wildlife, WWF, Zero Population Growth. National Park Service, US League of Women Voters, Girl Scouts of the USA, Rainforest Alliance...and many many sad more...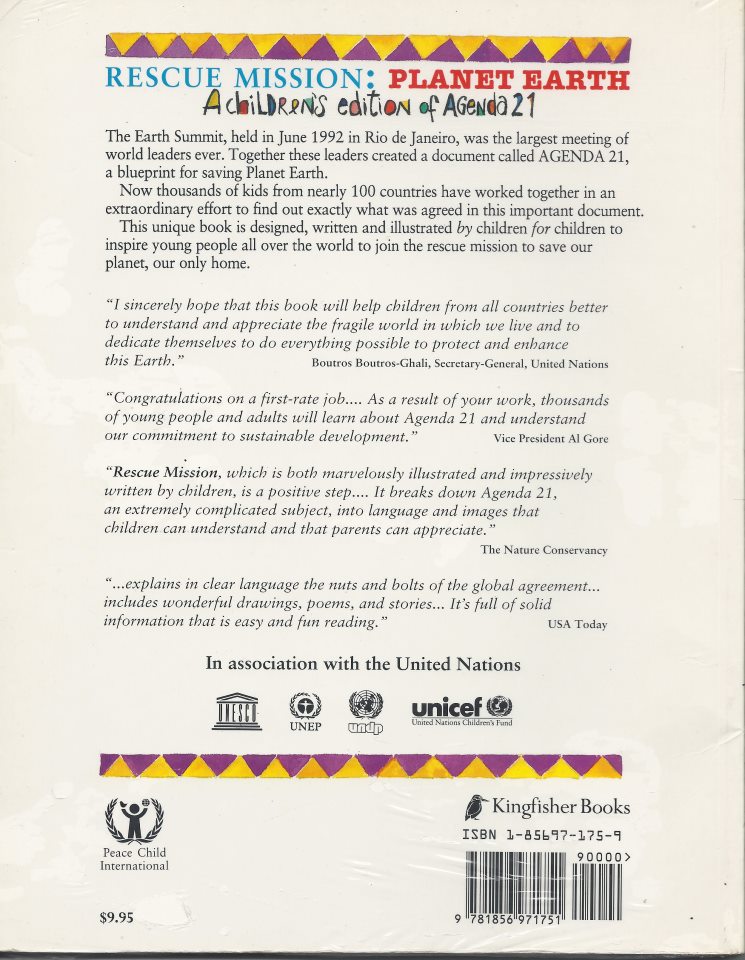 ====================================================
In accordance with Title 17 U.S.C. section 107, any copyrighted material herein is distributed without profit or payment to those who have expressed a prior interest in receiving this information for non-profit research and educational purposes only. For more information go to: http://www.law.cornell.edu/uscode/17/107.shtml
Page Updated: Sunday March 18, 2012 12:12 AM Pacific


Copyright © klamathbasincrisis.org, 2001 - 2012, All Rights Reserved