http://www.heraldandnews.com/articles/2004/06/10/news/community_news/cit1.txt
Well worry rising as water table dips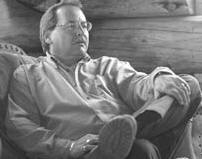 Sitting in his living room, Dennis Oden talks about low water tables and its affect on two of his wells that went dry over Memorial Day weekend.
Published June 10, 2004

By DYLAN DARLING
MERRILL - As debates continue about the water flowing above ground in the Klamath Basin, worry about dropping water tables for the water below continue to rise to the surface.

To keep flows up for salmon in the Klamath River, the U.S. Bureau of Reclamation has been paying some irrigators to switch to ground water to help fill the 75,000-acre-foot vault of its "water bank."
And, some say the pumping is bring down the water table, leaving some pumps in domestic wells sucking air, not water.

"It just stopped," said Dennis Oden, who lives off of Hill Road on Taylor Road near Merrill.
He said he had two domestic wells stop pulling up water around Memorial day because of the agricultural pumping near him.

Since then, he has had the pumps in the wells dropped down farther. Also, the Bureau of Reclamation has had a large pump whose owner was being paid to pump as part of the water bank stop bringing up water and Oden again has water.
Although the water table around the Basin is dropping, especially around Merrill, Ned Gates, a hydrogeologist with the Oregon Water Resources Department, said Oden's situation is more of the exception than rule.

There are agricultural wells a half-mile to the West and East of Oden and another across Taylor Road, Gates said. Situations like Oden's often happen where the agricultural and domestic try to pump water from the same source at different levels.
The combination of deep agriculture wells, some going down to 500 feet, next to Oden's shallow 200-foot well, is what caused the water table to drop near Oden's place, Gates said. The three agricultural wells have pumped about 1,000 acre-feet of water so far this irrigation season.

On April 9, Gates came out and measured Oden's well and made a return trip and measurement last week. He found that the well's water level had dropped 6 feet in that time.



One of Dennis Oden's wells that is near his home went dry leaving Oden without water to his home over the Memorial Day weekend.

"That is not what is characteristic of what is going on with the aquifer," Gates said.

Throughout the summer, Gates said water tables will drop around the Basin by as much as 16 feet, but then they get recharged throughout the fall, winter and spring.

A combination of increased pumping and decreased inflows have caused the water level in the fall to gradually drop down over the last four years. Gates said the water table has been dropping about 3 to 4 feet each of the last four years around the Basin.

Dave Sabo said he didn't know how long the well near Oden will be stopped from pumping.

"This is the first one we have had to deal with," he said.

Dan Rajnus, a long-time farmer near Malin and a member of the Groundwater Advisory Committee to the Water Resources Department, said something needs to be done about the dropping water table.
"We are demanding more out of the ground all of the time," he said.

He said the Water Resources Department continues to issue emergency pumping permits because much of the Basin is under state declared drought conditions, which Gov. Ted Kulongoski would have to reverse to stop the issuing of permits.
"As long as he has declared it a drought you can pump them," Rajnus said.


+++++++++++++++++++++++++++++++++++++++++++++++++++++++++++
NOTE: In accordance with Title 17 U.S.C. section 107, any copyrighted
material herein is distributed without profit or payment to those who have
expressed a prior interest in receiving this information for non-profit
research and educational purposes only. For more information go to:
http://www.law.cornell.edu/uscode/17/107.shtml