https://www.heraldandnews.com/news/klamath-project-irrigators-might-lose-remaining-water-allocation/article_cd889fc0-438e-11ee-b333-631a8e6ff704.html
Klamath Project irrigators might lose remaining water allocation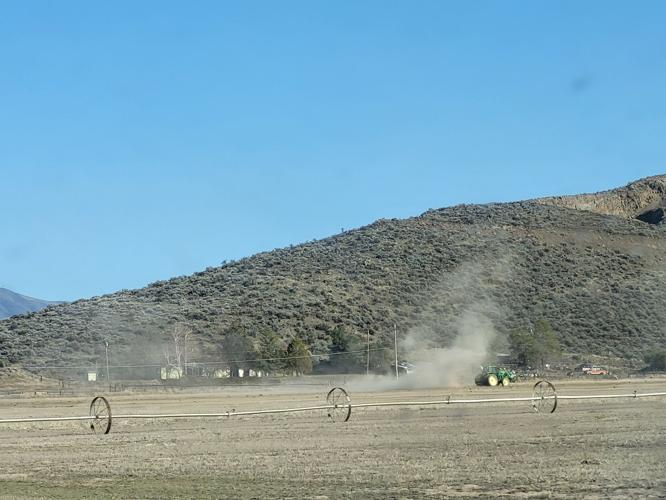 Water users in the Klamath Project may lose their remaining water allocations following a warning from the Bureau of Reclamation sent out last Friday.
The letter tells irrigators "... there is projected to be a shortfall in the Sept. 30 Upper Klamath Lake elevation of 4139.2 feet that was identified in the May 18, 2023, update to the 2023 Annual Operation Plan. This situation is likely to require a reduction in project water supply in order to minimize or eliminate the shortfall."
The letter from Reclamation said the department will continue to explore actions to mitigate any reductions, but encourages contract holders to conserve their supplies.
Executive Director and Counsel for Klamath Water Users Association Paul Simmons said the promised water allocation for the Project was 260,000-acre feet for diversion this year.
"Klamath Project is subject to an Interim Operations Plan," Simmons said. "If that were followed, it would've announced that we were entitled to 285,000 acre feet, and they would've made that announcement in early April, and that would've been the end of the story."
Instead, Simmons said, Reclamation promised irrigators in the Project 260,000-acre feet on the condition that the elevation of water levels in Upper Klamath Lake does not fall below the 4,139.2 feet required by the Environmental Protection Agency.
"We wish they would have recognized this much earlier. We wish that the addressing would have been to consider the wisdom of the judgement that established this allocation," Simmons said.
With water elevations now expected to fall below required levels, Klamath Project irrigators may lose what remains of the promised water supply.
Crops are already in the ground, and irrigators in the project are depending on that water, Simmons said.
"With row crops, they're already planted … and in the next six weeks, that's when the growth happens," he said. "If those crops are undersized, you can't sell them. They're worth zero. You've got people with big investments in these crops, and the potential of having that investment along with the crops in the fields just burn up … it's really problematic."
The announcement from Reclamation did note, however, that alternative options to mitigate water supply shutoffs are being investigated.
With the ongoing dam removals, Simmons said he hopes Reclamation will consider using those reserves.
"There's an opportunity to get some water out of those hydro dams and send it down the river so you won't have to release that water from upper Klamath lake," Simmons said. "The things that should've been thought about anywhere from six weeks to eight months ago are being thought about now."
The letter from Reclamation said Project irrigators would be notified of Reclamation's decision by the end of this week. As of Friday afternoon, no decisions were announced.
====================================================
In accordance with Title 17 U.S.C. section 107, any copyrighted material herein is distributed without profit or payment to those who have expressed a prior interest in receiving this information for non-profit research and educational purposes only. For more information go to: http://www.law.cornell.edu/uscode/17/107.shtml