http://www.heraldandnews.com/articles/2005/05/09/news/top_stories/top1.txt

May 8, 2005By JEAN BILODEAUX and HOLLY OWENS H&N Writers
Floods hit Modoc, Lake counties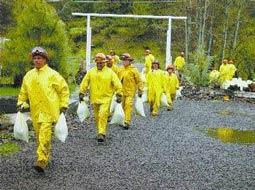 Conservation Camp inmates fill and carry sandbags to protect the Morales home on Thoms Creek. Area creeks rose dramatically after heavy rains swept across the Warner Mountains area.
CEDAR PASS - Warm and heavy rain struck along the Warner Mountains in Southern Oregon and Northern California this weekend, closing roads and flooding creeks.

Thomas Creek Estates in Modoc County saw both its bridges washed out and was isolated for a time.

"The homes are high," said Modoc County Administrative Officer Mike Maxwell. "It's just the roads in and out that are washed out. The residents have phone service and electricity, though."

Water on the road between Davis Creek and Sugar Hill slowed traffic Friday afternoon.

Mill Creek overflowed its banks in Lake City, running across the main street for several hundred feet before flooding streets downstream.

Especially hard hit were the homes on the west side of Cedar Pass through the Warners.
Preparations were being made to evacuate one family.
At 6:15 a.m. Friday Kelly Morales went out to check on her animals before going to work. What she saw was a raging creek beginning to flood her garage and tack room, and the room where her son Devon sleeps.

Screaming for her children to help, she and her family dug a trench to divert the water between the buildings rather than through them.

Soon they called for aid, and state, federal and local agencies sent personnel to help.
California Division of Forestry Conservation Camp crews, the BLM, the Alturas Rural Fire Department, and the Modoc County Sheriff's Office responded.

At the Summerland subdivision west of the pass, two large beaver dams, which withheld the floods about ten years ago, were washed out.
A letup in the storms was expected over the weekend.

On the Oregon side of the border, two creeks that flow through Lakeview, Bullard and Dead Man, were close to full Friday, said Rick DuMilieu, road master for the Lake County Road Department.
"They're running up to the top of the banks, no sign of flooding so far," he said. "I do have a few creeks I'm kind of watching them a bit. They're not at any point of being in danger yet."

Du Milieu said the creeks have extra capacity this year for such a rainfall because the snowpack was so light.
"Too bad we can't take that water that's coming down now and bottle it and save it," DuMilieu said.

In Adel, in Lake County, travelers from Winnemucca, Nev., reported rocks on the road from small mudslides, Adel Store owner Martha Prom said. But traffic wasn't impeded.

"It's been raining all night and all day - no problems," Prom said.

For some in the area the extra moisture is welcome news, she said.

"Most of these ranchers out here don't dare complain because it's been so dry," Prom said.