http://www.heraldandnews.com/articles/2005/05/09/news/top_stories/atop3.txt
Modoc County flooding isolates several families
May 9, 2005

By JEAN BILODEAUX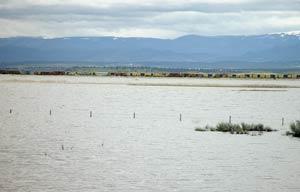 Fields beside the Pit River south of Alturas lie flooded Sunday afternoon. Several roads in Modoc County were closed this morning, and the Modoc County Board of Supervisors planned to meet in emergency session today to consider declaring the county a disaster area.
MODOC COUNTY - Flooding continued throughout Modoc County over the weekend with several families isolated, bridges undermined and multiple roads throughout the county closed.

The Modoc County Sheriff's Office was making emergency announcements through local media today in hopes of getting word out about pending emergency warnings and road closures.
"We are in contact with these isolated families. No one is hurt. Neighbors are helping neighbors and everyone seems fairly well prepared for this emergency," said Linda Doyle, spokeswoman for the Modoc County Sheriff's Office.

The sheriff's office is warning county residents to not allow children in any runoff areas because quickly rising waters could wash them away.

Authorities also offered the following warnings:—

n Don't drive through floodwaters. Water as little as 2 feet deep can wash a car away, and 6-inch-deep water can cause a vehicle to go out of control.

n Road washouts are sometimes obscured by muddy, rushing waters, or appear in unexpected areas.

n Don't walk through any flowing water.
Some wells in Modoc County have been contaminated by the floodwaters. Residents who think their well may have been contaminated should boil their water for five minutes, or use bottled water.
Water may be chlorinated to help with the contamination, using 1/8 teaspoon of chlorine per gallon if the water is clear, and 1/4 teaspoon per gallon if the water is cloudy.

Mix and let stand for 30 minutes. Chlorination will not kill parasites.

"We are recommending boiling the water as it will kill contamination and parasites," Doyle said.
Residents who may have to leave their homes are urged to go up and away from the water flow.

County road closures were widespread today, with County Road 69 near Highway 299 toward Canby being closed this morning.
County Road 58 toward Parker Creek has an undermined bridge and is closed. County Road 61 is closed. County Road 11 in Lake City Canyon has 100 yards of washout and is closed.

Near Davis Creek, County Road 9 has shoulder damage but was open this morning. County roads 200 and 50 near Lakeshore Ranch had water over the road but were passable. In the Tom's Creek area, County Road 267 has shoulder damage. And County Road 56 is washed out, but can be traversed with four-wheel drive.