Mild winter brings early birds to Klamath refuges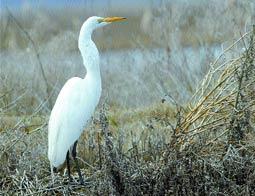 A great egret searches for food along a dike at Lower Klamath Lake National Wildlife Refuge Wednesday.
March 3, 2005
By DYLAN DARLING
A mild winter has made for an early arrival of some of the Klamath Basin's most-watched springtime residents.
The birds are back.
Gaggles of geese, flocks of fowl and swarms of swans are packing the national wildlife refuges and other wetlands around the Basin. The aviary influx is about a month earlier than normal, said Dave Menke, outdoor recreation planner at Klamath Basin National Wildlife Refuges.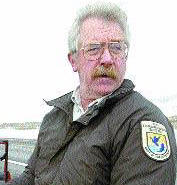 Dave Menke, outdoor recreation planner with Klamath Basin National Wildlife Refuges, talks about the number of birds that have arrived early in the Basin.
"I wouldn't say this is unprecedented, but I'll say it is unusual," he said.
With a mild winter and hints of an early spring, the refuges and wetlands are relatively ice-free, making for inviting landing pads for water fowl. Menke said this time of year there are usually 200,000 to 300,000 birds at the start of March at the five refuges in the Klamath Basin National Wildlife Refuges - Lower Klamath, Tulelake, Clear Lake, Upper Klamath and Klamath Marsh.
The last aerial survey of the birds, done by a trained eye from a plane, tallied 594,000 birds.
Most of the birds recently flew up from the Central Valley in California, Menke said. Some will stick around through spring and summer, while others will eventually fly again, headed up North.
Studies have found weather conditions, longer days and other factors affect migration, but scientists haven't been able to pinpoint what exactly starts the movement, he said.
"It's always a mystery to what triggers them going," Menke said.
It's not so much of a mystery as to why the birds stopover in the Basin, he said. The refuges offer food and shelter for the birds.
The early rush of spring birds also means an early start to spring birding. Birders should grab their spotting scopes and binoculars and head for the refuges, Menke said. With the numbers now, a birder could spot up to 70 species around the refuges.
Among the early birds could be some seldom seen species, Menke said.
Word is that a tufted duck and a swan with a splash of yellow on its bill - possibly part whooper swan - have been frequenting the Lower Klamath refuge.
Although the birds have come early, it doesn't necessarily mean that they will stay late. It comes back to the mystery of migration. Menke said they will move on when they know its time.
On the Net: http://klamathbasinrefuges.fws.gov