Tulelake Harvest The following Capital Press 2 short films and articles show an overview of Tulelake's harvest, and also Sierra Cascade strawberry plant harvest which presently employs 500 in their sorting shed. Written and filmed in 2008, these films still hold true for 2012: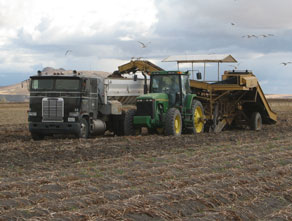 Klamath Basin harvest brings good prices, many challenges
Fertilizer and fuel expenses up 30 to 50 percent in some areas,
Capital Press 12/14/08. (2012 - fuel is up several hundred percent, and power in the past decade over 2000%)
(Klamath Basin) Family operation gives strawberries head start, Capital Press 12/20/08. "Last year (the nursery) produced more than 100 million strawberry plants in the Klamath Basin; altogether they grew more than a quarter-billion plants on 1,000 acres."
VIDEO > Giving strawberries a head start
A united population leads a vital change; voters and citizens need to be kept informed, H&N 10/28/12 by Tom Mallams, guest writer
Feds to cut property rights under Endangered Species Act! PLF blog, posted to KBC 10/27/12.
USGS studies sediment issues with Elwha Dam removal to inform future river restoration projects, Columbia Basin Bulletin 10/26/12.
Congressmen rip Park Service for huge Calif. blaze, Mercury News 10/25/12. "Massive wildfires cause air pollution, environmental damage and threaten people and wildlife, McClintock said. "Any squirrel fleeing a fire knows this...which leads me to the unflattering but inescapable conclusion that today our forest management policy is in the hands of people who lack the simple common sense that God gave a squirrel." McClintock said the current policy is that "we have to destroy the forest in order to save it," a notion that he described as "New Age nonsense."
I believe in America! by Oregon Senator Doug Whitsett, R-Klamath Falls District 28.
Full effects of tragic (Barry Point) fire will be felt by future generations, by Lee Juillerat, Herald and News, posted to KBC Oct 24, 2012
Opponents urge landowners not to ignore fire fee bills, Capital Press 10/24/12.
October 23rd, 9-1 at KWUA, Klamath Water Users Association building, North Coast Regional Water Quality Control Board, Tulelake and Butte Valley meeting agenda. Also agenda for Scott, Shasta and Mid-Klamath on October 24th.
North Coast Ag Lands Advisory Group: Ag Lands Conditional Waiver Overview Water Quality Management Plans Info "Regulatory actions...can include (among others): water quality performance standards, discharge prohibitions, planning requirements, monitoring and reporting requirements, fees, and other procedural details..."
Mandatory Ranch Management Plan illegal and unconstitutional, letter from Mark Baird, Scott Valley rancher and commercial pilot, 10/22/12
North Coast Stakeholder Advisory Group Meeting Schedules Tulelake/Butte Valley Oct. 23 and tour, at KWUA, 9 a.m. Scott/Shasta Oct 24 Yreka.
* Strategy to form the Klamath Basin Restoration Agreement: Cal/EPA Environmental Justice Action Plan May 18, 2005. Lead Agency: State Water Resources Control Board (SWRCB)
Rebuttal to Erica Terence's letter to the editor of the Ridgecrest Daily Independent (which follows) by Marcia H. Armstrong, Siskiyou Co. Supervisor October 22, 2012
2 Samuel 32-35: "For who is God, except the Lord? And who is a rock, except our God? God is my strength and my power, and he makes my way perfect. He makes my feet like the feet of a deer, and sets me on high places. He teaches my hands to make war, so that my arms can bend a bow of bronze." Sent by Frank Tallerico.'
* TID/Tulelake Irrigation District public meeting on groundwater management plan Nov 15, 10 a.m. Firehall
KBRA sparks dam removal debate, H&N opinions, posted to KBC 10/20/12. "There are no compromises and no assured water supplies — that is all misinformation put forward by those who want to sell their water. KBRA does provide millions in taxpayer-funded water marketing cash to retire agricultural land..."
Here for Klamath Basin Restoration Agreement & Klamath Dam Removal Page: Includes links to letters, opinions, speeches, articles, documents, video&audio, lawsuits, groups pro & con, Whose Who
Tom Mallams for Klamath County Commissioner, 10/20/12 Here for Tom Mallam's website
Klamath's largest (timber) industry could be in major trouble, H&N, posted to KBC 10/20/12 FOLLOWED BY: Senator Wyden: timber counties must consider raising taxes.
August UNEMPLOYMENT: Herald and News 9/25 and 9/29, 2012:
Klamath County 11.7% .
Siskiyou County13.5 %
Modoc County, 12.8%
Flabbergasted by closures, H&N letter to editor by Ray Driscoll, Chiloquin and Don Russel, Klamath Falls, posted to KBC 10/20/12.
75th annual Potato Festival Saturday Oct. 20 in Merrill, OR. Parade 11 a.m., Free BBQ and beer garden 12:30 p.m.
Record numbers of salmon are returning to the Klamath River, Mt. Shasta News, by James Finses, Copco Lake 10/19/12. "...California Fish and Game estimates 380,000 fish will return this year. An estimated 140,000 salmon go to the tribes. Guided fishing trips are scoring heavily. Bank fishermen are doing extremely well. Life on the Klamath River is the best it has ever been. But wait.The dams that were decimating all salmon runs are still here. The tribes haven't yet gotten 92,000 acres of prime forest land in the deal. The salmon hatchery is still here. Turning off water for farmers was wrong, too. The release of fish parts by the hatchery hurt nothing."
Klamath Tribes get share of record salmon run, H&N, posted to KBC 10/18/12.
Klamath and lots of chinook make national news, Pie N Politics, posted to KBC 10/10/12. MSNBC video says the projected salmon run this year is 380,000 Chinook. Pie N Politics Q&A's: "Question: If the salmon numbers are so high and the dams are still in the Klamath River, why do they need to be destroyed?"
Study indicates no overdraft from Scott Valley wells, AgAlert 10/18/12.
The Local Agenda 21 planning Guide produced by ICLEI, posted to KBC 10/17/12. This outlines in detail how to redistrict areas of power over natural resources and people to control water resources, energy use, air quality, "change modes of transportation," health, ag and rural community, map, monitor and rank success in attaining goals with "stakeholders," Then have rewards for those behaving with their plans, and punishments and regulations for those not abiding by the mandates, like gas use, water and energy use, ...Some local global members are Ashland, Eugene, Salem, .. More on UN, Agenda 21, ICLEI, and Sustainable Development Here for another list by state: http://www.icleiusa.org/about-iclei/members/member-list
Are there ICLEI towns near you? Are there groups of "stakeholders" planning your resource use like water, poser, air quality, water quality, modes of transportation, and imposing penalties/fees and regulations and prices (gas, power, water) and reallocating power of control of these resources? Above is their planning guide; it will explain how the process of controlling you is taking place. What about dams, high speed rail, Water Quality Control Board upcoming meetings, Tulelake's groundwater management plan upcoming meetings? wilderness areas? banned off road travel in your forests?
Commissioner hopefuls discuss public safety, water , H&N, posted to KBC 10/16/12. Tom Mallams: "The KBRA began as a good effort to solve the Klamath Basin's water problems. Unfortunately, the process was taken over by our own federal agencies, dam removal thrown into the agreement and now does not deliver any guarantee of water for agriculture, no protection from biological opinions and also no protections from the ESA and no affordable power for agriculture...The TMDLs are another example of our own government's out-of-control, unattainable mandates being forced on the citizens. The TMDLs are absolutely unattainable even if the city spends millions of tax dollars and irrigated agriculture was completely eliminated."
10/14/12: Matthew 6:19-21: "I do not store up for myself treasures on earth, where moth and rust destroy, and where thieves break in and steal. But I store up for myself treasures in heaven, and where thieves do not break in and steal. For where my treasure is, there my heart will be also."
< (Tulelake) Pilot (Nick Macy) wins sixth (national) championship in Reno. "Nick Macy's average of 247 mph breaks speed record," H&N posted to KBC 10/13/12
Biomass plant will ruin air, H&N posted to KBC 10/13/12 by Joyce Barrett
* First Amendment to the KBRA/Klamath Basin Restoration Agreement, released 10/12/12. Will be voted on at your irrigation district meetings, on 11/13 at TID. Read very carefully, 21 pages. Were you irrigators sent a copies? Did you help form your new laws, or have a vote?
Agricultural contributions and water reallocation, Oregon Senator Doug Whitsett, Klamath Falls Dist 28, posted to KBC 10/11/12
Coho de-listing petition rejection, Siskiyou County Water Users Association coho de-listing petition rejection response, Ridgecrest Daily Independent by Leo Bergeron, President SCWUA, Montague, posted to KBC October 10. 2012
Klamath and lots of chinook make national news, Pie N Politics, posted to KBC 10/10/12. MSNBC video says the projected salmon run this year is 380,000 Chinook. Pie N Politics Q&A's: "Question: If the salmon numbers are so high and the dams are still in the Klamath River, why do they need to be destroyed?"
PRESS RELEASE: HJTA Files Class Action Lawsuit against Fire Tax; Class Action could qualify 825,000 property owners for a Fire Tax refund, Howard Jarvis Taxpayers Association October 3, 2012
The Howard Jarvis Taxpayers Association Political Action Committee recommends these candidates, HJTA, posted to KBC 10/10/12
Tulelake Irrigation District well water levels 10/10/12
U.S. House of Representatives Natural Resources Committee accomplishments 10/10/12. Creating Jobs & Advancing Common Sense Solutions to Grow our Economy and Protect our Environment
Integrated Water Resource Management (IWRM) – Part 1, Column by Siskiyou County Supervisor Marcia Armstrong 9/18/12. "IWRM was born out of The Dublin Statement on Water and Sustainable Development created at the International Conference on Water and the Environment held in Ireland in 1992. .."Integrated Water Resources Management" was featured in Chapter 18 of Agenda 21.."
General information on IWRM - The Global Agenda - IWRM - a Blueprint for Control, by Siskiyou County Supervisor Marcia Armstrong
KWAPA / Klamath Water and Power Agency public meeting 10/16/12.
Sunday October 7 - Micah: 2:1-2 Woe to Evildoers: "Woe to those who devise iniquity, and work out evil on their beds. At morning light they practice it, because it is in the power of their hand. They covet fields and take them by violence, also houses, and seize them. So they oppress a man and his house, a man and his inheritance."