* Water rights of non-Indian purchasers of Klamath Indian Reservation lands, To: Commissioner of Indian Affairs From Solicitor 3/14/58

Washington man fined for killing wolves, Capital Press 1/29/18. "...man has been fined $8,293 and put on home-electronic monitoring for 30 days after pleading guilty to killing two wolves in northeast Washington...Fowler also received a one-year suspended jail sentence..."

Local reps to challenge carbon tax in short session, H&N 1/28/18. "...early estimates predict an impact of $1,500 to $1,700 per year for the average household as energy costs go up.This includes an estimated $0.16 per gallon increase in fuel taxes..."

PODCAST of the live on-air interview with Siskiyou County Water Users Association President Richard Marshall at KMED, http://oregonedeals.com/podcast/index.php?p=episode&name=2018-01-25_01-25-18_thu_7am.mp3 1/25/18

Oregon - Reschke to front bill ending late-term abortion, H&N 1/23/18

Tribes renew dam removal support at FERC meeting, H&N 1/21/18

Klamath River Compact, 1957
Klamath River Basin Compact is 'The Law of the River', H&N by James Ottoman 3/28/05

KRRC liaison breaks down dam removal -

KRRC community liaison to strengthen ties - Additional information, H&N1/18/18. "Meurer is confident that the dams will be removed, looking at past backing by the states of Oregon and California, and PacifiCorp, the owner of the hydroelectric dams, as well as the Departments of Interior and Commerce."
*** KBC NOTES - The feds, and Tribes and environmental groups that will profit / $$$$$$$ are bypassing the citizens' wishes with their top-down agenda.
* November 2010 election: 80% of Siskiyou County, home of 3 Klamath River Hydroelectric Dams targeted for destruction, oppose the KBRA/Klamath Basin Restoration Agreement that mandates 4 Klamath Dams be removed. 77% of Tulelake voters opposed the KBRA/Dam removal.
* (72% Klamath County) Citizens oppose dam removal in advisory vote, H&N by former Klamath County Commissioner Tom Mallams 11/9/16. "

An advisory vote on whether the four hydroelectric dams on the Klamath River should be removed came in with 72 percent opposed to the removal and 27 percent in favor in early returns. That translates to 18,838 opposed and 7,051 in favor in the initial 25,889 votes released from the Klamath County Clerk's office..."

"Even they (FERC) have referred to dam removal as the great experiment. That's a heck of an experiment when you have 21 million cubic yards of sediment flowing downstream."
* Klamath Basin Restoration Agreement Public Input Meeting posted to YouTube 1/1/10.
* Camp Dresser & McKee Inc.CDM Report - Klamath Liability Determination 7/18/08. (Note by Siskiyou County Supervisor Marcia Armstrong, "The cost estimates from these reports is $800 million, but they include the costs of impacts to Siskiyou County and sediment removal, while the American Rivers/ dam removal proponent's studies do not. These are additional costs for all the impacts and issues that Siskiyou County has raised which have not been considered/mitigated in either the KBRA or the AIP.")
CDM report with highlighted costs and liabilities

California Farm Bureau Federation Friday Review / Governmental and Legislative Update 1/26/18. Taxes Taxes Taxes
California Farm Bureau Federation Friday Review / Governmental and Legislative Update 1/19/18: environment, labor, taxes
California Farm Bureau Federation Friday Review / Governmental and Legislative Update 1/12/18: budget, DFW, DWR, Parks Bond, EPA, CDFA, environment, labor, taxes... "...law enforcement, lands management, wildlife conservation, fisheries management, and the Fish and Game Commission's activities...The Governor's budget proposes an additional $50.6 million..."

FERC to host dam removal meeting Thursday, January 18. Notice was today January 17 in Klamath Herald and News.
"Public and those who opted to intervene ...invited"
"Participation in the meetings, including the gathering planned in Chiloquin, is limited to participation by tribal representatives."
"We'll be just sharing our support for the dam removal process,..."
KBC NOTE: Is this "public", or is this "limited to participation by tribal representatives" ??? Do you need to "register" with less than 1 day notice? Will there be any public meetings for non-tribal citizens?

Third kill chalked up to Rogue wolf pack - Wolves confirmed in northern Cascades 1/17/18. "...Rogue Pack of gray wolves was responsible for two more killings of cow calves on a Butte Falls ranch last week, bringing the total loss for rancher Ted Birdseye to three calves within a week..."

KRRC names community liaison for dam removal, H&N 1/17/18. "Dave Meurer...community liaison to represent the region...He served previously as district representative for Sen. Ted Gaines (R-El Dorado Hills), and as deputy district director for former U.S. Rep. Wally Herger (R-Calif).
KBC News KRRC Page
Klamath Dam removal liaison Meurer will speak at Klamath Rotory Club February 8...intro by Dan Keppen

Response to KRRC (Klamath dam destruction company) comments by Richard Marshall, Siskiyou County Water Users Assoc., 1/10/18

Court OKs killing a type of owl to see effect on other owls, ABC News, posted to KBC 1/14/18
$3.5 million to hunt the barred owl that killed the spotted owl, H&N 1/24/14

Study blames pot farms for poisoning of threatened owls, H&N 1/12/18. "...Researchers from the University of California, Davis, and the California Academy of Sciences tested 10 northern spotted owls found dead in the region. Seven of the owls tested positive for rat poison, used by pot farmers to keep rodents away from their irrigation systems and crops..."
Spotted owl controversy renews over logging plan, KCBY News 6/12/07. "The Bush administration Tuesday proposed cutting 1.5 million acres from Northwest forests considered critical to the survival of the northern spotted owl, reopening the 1990s battle between timber production and wildlife habitat on public lands..."

Rogue (Wolf) Pack fingered for new livestock kill, Mail Tribune 1/8/18. "The 250-pound calf was found dead Thursday morning by rancher Ted Birdseye on his 276-acre ranch near Medco Pond between Butte Falls and Prospect..."
OR-25 wolf killed near Fort Klamath, three wolf killing investigations open in region, H&N 11/7/17. "...there are a minimum of 112 wolves in the state, a 75 percent increase since December 2013..."a wolf was killed in the Starkey Wildlife Management Unit in Union County on Oct. 27 by an elk hunter, who self-reported the incident. The case will not be prosecuted as state law and wildlife officials believe it to be an incidence of self-defense. Killing of a protected gray wolf is a federal offense, punishable by up to a $100,000 fine, a year in jail, or both..."

Klamath County free of wolf attacks in 2017, H&N 1/12/18

Cliven Bundy standoff case thrown out in another stunning blow to government, The Oregonian 1/8/18. "The government's conduct in this case was indeed outrageous," said U.S. District Judge Gloria M. Navarro. "There has been flagrant misconduct, substantial prejudice and no lesser remedy is sufficient."

KRRC hires community liaison on dam removal, (KBC NOTE: however they presently won't tell us who that is) H&N 1/9/18.
KBC's KRRC / Klamath River Renewal Corporation (Dam Destruction Group) Page
Includes:
* Who's Who: Who are these people, groups, and tribes who have shut down: more than 40 saw mills, Klamath River Basin's suction dredge mining, and much use of surface and well water to irrigate. And who do they have associations with. Who have they sued over logging, mining, and water rights.
FAQ's
Newsletter

* Water rights of non-Indian purchasers of Klamath Indian Reservation lands, To: Commissioner of Indian Affairs From Solicitor 3/14/58

1/9/18 - Public Not Welcome: Tribal Member Water Update Meeting Draft Agenda, January 9th & 10th: litigation, adjudication, Upper Klamath Basin Comprehensive Agreement/UKBCA, Secretarial Negative Notice, KBRA Mazama funding, amended KHSA, water calls, BOR reconsultation, Klamath Marsh, global goals....

Experts hired to present 3D animation of shots allegedly fired by FBI agent at LaVoy Finicum's truck, The Oregonian, 1/2/18.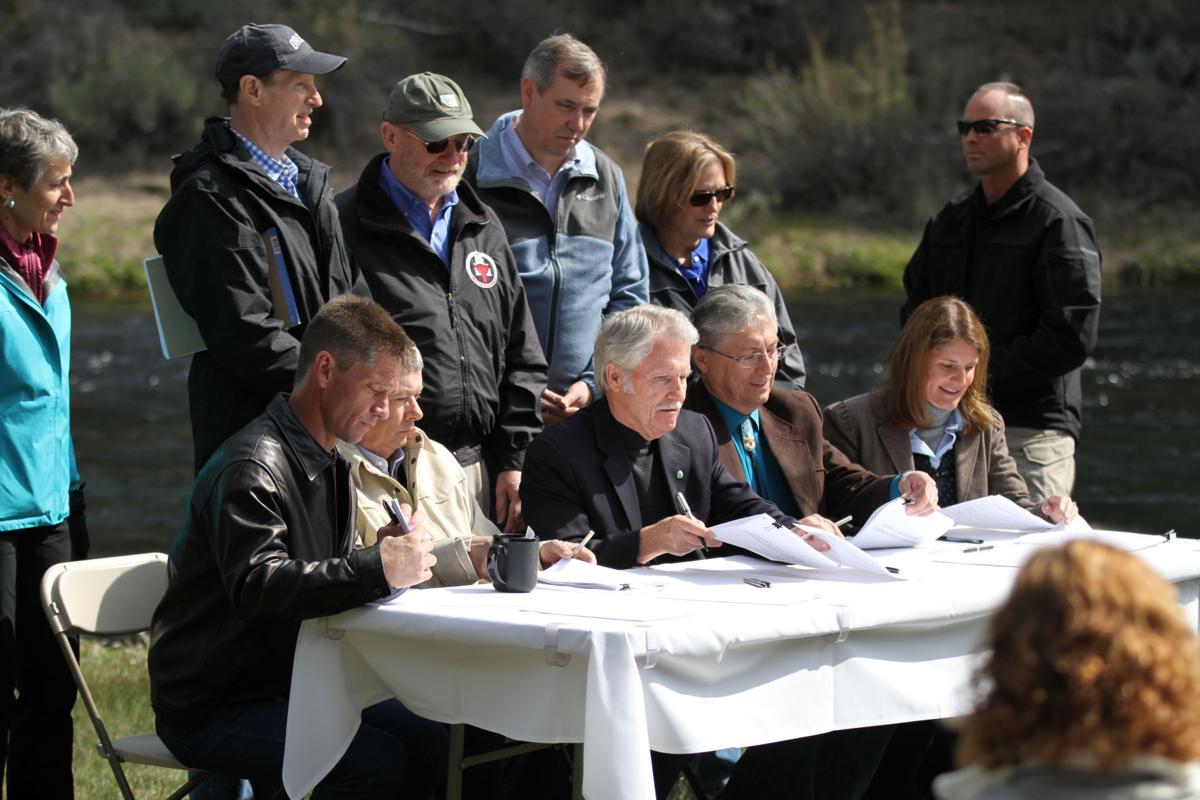 Interior secretary nixes water agreement: Tribes, Upper Basin irrigators react, H&N 1/2/18
Happy New Year!