Archive 75 - August 2008
also see main archive page
| | |
| --- | --- |
| | Around 1900, Link River, between Upper Klamath Lake and Lake Ewauna, occasionally went dry before the Klamath Project was built. There was no hydropower, no hatcheries, occasionally no fish (fish need water), no artificially-raised river flows or lake levels. HERE for more |
Acts 16, part 2, 8/31/08, by Jim Foley
Harry Carlson steps down from the "best job in UC Cooperative Extension," Western Farm Press, posted to KB 8/27/08
Klamath Lake Levels and River Flows, 8/18-8/25/08.
Central Oregon Ranch Owners Blame Forest Service For Fire, OPB News, posted to KBC 8/27/08. " The Forest Service was following a new policy that allowed the fire to burn as part of a forest management plan...If I'd burned garbage on our ranch, and it had spread to the forest, I'd be in prison."
Power-hungry California is hot for the Northwest's clean energy, The Oregonian, posted 8/27/08
(Klamath) Bureau head to leave. H&N, posted to KBC 8/27/08
Klamath power costs to rise, Capital Press, posted to KBC 8/27/08. "A federal appeals court has dismissed a bid by farmers in the upper Klamath Basin to continue bargain rates for electricity they use to pump irrigation water. The U.S. Court of Appeals for the District of Columbia Circuit ruled ... that the states of Oregon and California have jurisdiction over electric rates...Tom Schlossear, attorney for the Hoopa Tribe, said the ruling was a victory for tribes working to restore struggling salmon runs."
United States Court of Appeals FOR THE DISTRICT OF COLUMBIA CIRCUIT Argued November 13, 2007 Decided July 25, 2008, No. 06-1212, KLAMATH WATER USERS ASSOCIATION, PETITIONER, v. FEDERAL ENERGY REGULATORY COMMISSION, RESPONDENT. Posted to KBC 8/27/08
Dinner for Oregon Congressman Greg Walden 8/26/08
Is there a big (Klamath Indian) casino in French Prairie's future? Oregonian 8/24/08. Followed by: S. Ore. tribal group eyes Willamette tract
Acts 16, part 1, 8/24/08, by Jim Foley
Un-dam the Klamath meeting set for Charleston tonight, Coos Bay, The World Link, posted to KBC 8/23/08. "There is no better case for dam removal on the West Coast than the four small, obsolete and fish-killing dams in the Klamath River that currently block the river," said Glen Spain of the Pacific Coast Federation of Fishermen's Associations, in a press release. ...They have long since outlived their usefulness, and today they are nothing more than an ongoing disaster for large portions of the West Coast and its salmon." (KBC NOTE: According to recent reports, Klamath River presently has a bumper crop of fish: Fishing in a crowd can be fun,.. Salmon catch eased on two rivers (Klamath and Trinity) ... Klamath allocation of chinook looks good,..., except for the hundreds of tribal gill netting at the mouth of the Klamath: Fishing line,...and The Great Lie, With a record run of salmon this fall, it can't be true that the dams killed the fish. Spain claims the dams "outlived their usefulness," when the dams provide enough power for 70,000 households annually, enough to supply the entire Eugene/Springfield area. HERE for website of IP3, the Ruckus Society, who trains the tribes and enviros how to destroy our American infrastructure.)
Ore. governor responds to pine beetle devastation, Capital Press, posted 8/22/08. "..an insect infestation that has decimated more than 300,000 acres of pine trees in Southern Oregon."
Fate grim for water bond, Capital Press, posted to KBC 8/23/08
New group may run water bank, H&N 8/23/08
Groups file suit over logging, H&N, posted to KBC 8/23/08
Administration cuts spotted owl habitat, H&N, posted to KBC 8/23/08. "...habitat lost to logging and wildfire and an invasion of its habitat by the barred owl."
Primetime nears for Klamath River salmon, The Daily Triplicate, posted to KBC 8/22/08. "As expected, this year's fall Chinook season on the lower Klamath River is shaping up to be a good one."
California Farm Bureau Federation Friday Review, 8/22/08. Here for more bills and laws.
Water pact needs some PR savvy, by H&N editor Steve Miller, Includes KBC Commentary, 8/21/08.
Fishing line, Sacramento Bee 8/21/08. "Trinity/Klamath rivers KLAMATH RIVER, Klamath Glen--According to Rivers West Outfitters, there are so many Indian gill nets killing salmon and blocking the river that a boat can't negotiate down to the mouth. There weren't so many on Sunday near the shop, good news, but the Indians had only moved them farther upriver, bad news. Even so, excellent halfpounder steelhead action on the smaller fish that wiggle through the nets, and also big numbers of jack salmon with the occasional escapee adult."
The Great Lie, Pioneer Press, letter by Rick Crocker, Happy Camp. "I have been to the mouth of the Klamath and have seen many dead salmon, white and rotten, floating in some of the nets. There are hundreds of nets and then travel up river to the so-called reservoir and they have 100 yard long nets, of all size mesh, nets four inches, six inches, eight inches, who really knows. they monitor themselves on how many fish they count. A few Yuroks have told me and bragged about the fact that if they are allowed 40,000 salmon, they will take 60,000 or 80,000, however many they want..."
Yurok Reservation and Klamath River to be Cleaned Up, The Eureka Reporter 8/21/08. "...$800,000 in grants Wednesday for the cleanup and removal of illegal waste dumped at sites inside the Yurok Reservation and along the Klamath River...During high river flows, the debris can be carried to the Pacific Ocean. ...funds the cleanup of sites when a responsible party cannot be identified or is unable or unwilling to pay cleanup costs." (KBC NOTE: The Yuroks claim to be environmentally responsible caretakers of the Klamath River, demanding dam removal and downsizing Klamath Basin agriculture. Last year the Yurok Tribe's illegally dumped garbage collected was 160 cubic yards.)
Klamath Basin resident Nell Kuonen provided to Basin Alliance the following letter she wrote to Pacific Corp regarding dam removal, posted to KBC 8/20/08. Kuonen is a former Klamath County Commissioner.
Klamath Basin Alliance posts some comments sent to them with their petitions condemning the Klamath Basin Restoration Agreement.
County leaders talk water, dams, Klamath, Siskiyou boards plan to meet regularly about water pact, H&N 8/20/08
The Great Basin Debate, Pioneer Press, posted to KBC 8/20/08. "Things are heating up regarding the Klamath Restoration Agreement - that lengthy tome of a document hammered out behind the scenes by a handful of political, Indian, farming and conservation entities over the last two years."
Lava Beds Fire at 6,900 acres, H&N 8/20/08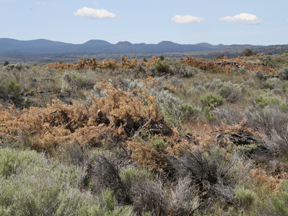 Wildfire closes Lava Beds;
3,000-acre fire burning near Captain Jack's Stronghold, Herald and News 8/19/08, by Megan Doyle.
"Lightning strikes started dozens of fires Sunday and closed the Lava Beds National Monument.
A wildfire at Lava Beds near Captain Jack's Stronghold had grown to 3,000 acres by Monday evening and jumped roads, heading for Forest Service and private lands on Sheepy Ridge, officials said.
The park closed at 6 p.m. and visitors and staff were evacuated due to erratic fire behavior, said acting superintendent Alicia Watson. Electricity at the park also was shut off Monday." (KBC NOTE: We took this photo June 8th near Cpt Jack's Stronghold. According to a Park Service employee, they cut down all the Juniper Trees in the area because they saw an old photo with no trees and decided they wanted it to look 'natural.'
Our 85-yr-old neighbor had asked if he could get the wood for firewood and they said 'no.' Later they called him back and said he could get the wood if he would give it to a Sr. Citizen's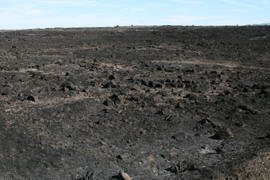 group! So, in this lightning storm, the trees ignited and spread rapidly in the wind, threatening thousands of acres of private land and grain fields.
The fire destroyed the wood, habitat for hundreds of birds, and shade for herds of deer and antelope. Today it is charred and the wildlife is fried. A random rainstorm last night put out most of the fires.)
< after the fire
A Natural Resources Update from Senator Gordon Smith, 8/19/08
Klamath Lake levels and River flows, 8/11/08 - 8/18/08
The August 15, 2008 Federal Register has posted Secretary of the Interior Dirk Kempthorne's changes to portions of the ESA regulations regarding section 7 of the Act. Here for > Interagency Cooperation Under the Endangered Species Act
Send comments by September 15, 2008 to ensure their full consideration in the final decision on this proposal.
Too many questions remain on (Klamath) restoration agreement, by Steve Rapalyea, H&N August 17, 2008. "Doesn't this agreement prejudice the water adjudication against the off-Project irrigation? Is not the Tribes wanting to negotiate with individual irrigators nothing more than divide and conquer? If the Tribes get the "Mazama Project" and get the land put into trust it will be removed from the tax rolls. How would this be better for the people of Klamath County than the land being on the tax rolls and in its current sustained yield management?"
Acts 15, 8/17/08, by Jim Foley. More on Prayer Page.
August 19 at 1:30 Dorris City Hall 307 Main Street, Public Joint Meeting of Siskiyou County Board of Supervisors and Klamath County Commissioners regarding FERC relicensing issues on the Klamath River.
Dinner for Oregon Congressman Greg Walden 8/26/08
August 2008 Family Farm Alliance monthly review. A Tool to Help Western Water Managers in the 21st Century. "This tool has been applied to assist irrigation districts and flood managers in Montana and North Dakota, and soon will be used to catalogue and assess water resources of the Klamath River Basin in Oregon."
California jobless rate hits 7.3 percent in July, Capital Press, posted to KBC 8/17/08
Firefighting rejected in sacred areas, Washington Times, 8/17/08
PacifiCorp to resubmit water quality application, Mt Shasta News, Frank Galusha 8/14/08. "the Warren Buffett-owned subsidiary that operates several hydropower-producing dams on the Klamath intends to resubmit its request for certification, according Art Sasse, a PacifiCorp spokesperson."
State closes ocean sport salmon season, Coos Bay World Link, posted 8/14/08
Feinstein pressures Calif. lawmakers on water bond, Press Enterprise, posted 8/13/08. "California's senior senator told Sacramento business leaders that it was critical for members of her own party to drop their long-standing opposition to new dams."

Commentary by Dr. Kenneth A Rykbost on: Water War in the Klamath Basin, by Holly Doremus and A. Dan Tarlock. "I believe you, as many others, do a disservice to the local community as well as the scientific community by publishing one-sided material such as this. It will no doubt serve as additional fodder in the future by those wishing to obscure facts and promote an agenda." (KBC Note: Rykbost speaks of suckers and salmon, fish die-off, Glen Spain, Trinity diversions, Dr. Hardy, algae--this is a Must Read. Rykbost is a research scientist who from 1987 to 2006 served at the Oregon State University Klamath Experiment Station as Superintendent and agronomist responsible for row crop research. He has a bachelor's degree from Cornell University in Agricultural Engineering, a master's degree from Cornell University in Agronomy, and a doctorate degree from Oregon State University with a major in soil science and a minor in civil engineering with emphasis on water quality and hydrology.)
Oregon Senator Whitsett's August 12 newsletter
Klamath lake levels and river flows, Bureau of Reclamation 8/12/08
Revised Critical Habitat Designated for Northern Spotted Owl, FWS 8/12/08. "This includes the designation of approximately 1.8 million acres in Washington, 2.3 million acres in Oregon and 1.2 million acres in California." For ESA pages, go HERE
OREGON-Jobless rate up 6 percent "SALEM (AP) — Oregon's jobless rate jumped half a percentage point in July, and the state's economy lost jobs for the fourth month out of the last five. The state Employment Department said Monday the jobless rate has now reached 6 percent — up from 5.5 percent the month before and its recent low of 5 percent in early 2007." (KBC NOTE: When a state downsizes agriculture, decimates the timber industry for the owl, makes millions of acres of wilderness which lets the forests/logs/owls/bambies/homes burn, and now hopes to rip out 4 Klamath River dams providing jobs and power to 70,000 people, THAT makes Oregon one of the states with highest unemployment in the nation. For more on Oregon, go HERE.)
Oregon Senator Doug Whitsett talk on Energy, KFLS, posted to KBC 8/12/08
Secretary Kempthorne Proposes Narrow Changes To ESA Consultation Process, DOI, Office of the Secretary 8/11/08
Fishing in a crowd can be fun, Times-Standard, posted 8/11/08. "The Klamath River is predicted to be full of salmon this fall." (KBC NOTE: wait, the Klamath River Tribes and environmentalists said the dams are causing the salmon to go "extinct", the dams are "genocide" for the tribes, thus the dams must be destroyed. )
D.C. trip covered (Klamath) dams, salmon; Commissioner Bill Brown says he represented himself, county and residents, H&N, posted to KBC 8/11/08
Siskiyou County Supervisor Marcia Armstrong and environmental activist Felice Pace exchange opinions on forest taxation act 8/11/08
California Farm Bureau Federation Friday Review, 8/8/08, new bills.
A video for our immigrants (the KBC family's roots are immigrants), posted 8/8/08
California Congressman Wally Herger letter to the Chairman of the Council on Environmental Quality (CEQ) to expedite salvage logging process under emergency provisions, 8/7/08.
Happy Camp, Scott Valley/Salmon River salvage logging, by Marcia Armstrong, Siskiyou County Supervisor 8/7/08
Fire still smoking in Medicine Lake area, 8/7/08 H&N. (KBC Note-the Medicine Lake area is thick with dense dry dead wood, some diseased. It is unthinned, so when fire strikes, bunnies, bambies, eagle nests, bluebirds, and baby owls are cremated. Way to go, animal lovers!)
Wildfires growing bigger, fiercer, LA TIMES 8/7/08
<Supervisors Cook, Kobseff take dam issue to Washington, DC lawmakers, Siskiyou Daily News 8/7/08. "We need more water for upper Klamath Basin irrigation and we need to improve fish habitat," Kobseff said. "We can do that and keep the clean hydroelectric power that's vital for U.S. consumers."
Horseradish grinds out its place in market, H&N 8/7/08
***Klamath County Natural Resource Advisory Council opposes Draft 11, Klamath Basin Restoration Agreement: "the Natural Resource Advisory Council has some concerns regarding the assurances of water delivery in the Upper Basin, the management of the Mazama Tree Farm and impacts of dam removal." posted 8/4/08.
Majority of responses favor fish ladders over Klamath dam removal H&N, posted to KBC 8/4/08
Logging would help health of forests, H&N, posted to KBC 8/4/08
Klamath BOR manager changing jobs, H&N, posted to KBC 8/4/08
* Senator Ron Wyden to be in Klamath Falls on August 5th for town meeting
Casino expansion plans unclear, H&N, posted to KBC 8/4/08
Oregon dam removal provides new information, Seattle Post Intelligencer 8/3/08
Klamath Commissioner Brown: D.C. Trip was productive (regarding Klamath Basin Restoration Agreement) H&N 8/2/08. "Brown, who opposes dam removal, said he expressed concerns about losing hydroelectric power and the lack of provisions to enforce understandings in a proposed water settlement agreement, and urged that Long Lake be considered for water storage. He also remains concerned about provisions for salmon, explaining, 'This would be an introduction of salmon, not a reintroduction.' "
Siskiyou supervisor pleased with delay (of dam talks), H&N 8/2/08."He and other Siskiyou County supervisors voted earlier this year to oppose the proposed agreement because it requires removal of the dams."
Water meetings delayed, State, federal officials postpone meetings with stakeholders, H&N 8/2/08
Klamath Dam Removal Advocates Train For Direct Action Against PacifiCorp, Indybay, posted to KBC 8/2/08. (KBC NOTE: what if the stakeholders used science and public participation rather than activism in forming a Klamath settlement? What if the people were allowed to see even the latest draft of the agreement before the Interior Department and tribes and enviros and gov't agencies and water districts signed on? What if voices of 80% of the people were heard? HERE for website of IP3, the Ruckus Society, who trains the tribes and enviros how to destroy our American infrastructure.)