Unconstitutional origins of the Endangered Species Act, Times Digest July-Aug 2001
The Many Facets of The Endangered Species Act, by Julie Smithson, posted to KBC 9/7/05. This well-researched document details getting species listed, methods used, United Nations ESA mandate, examples, species recovery success rate, etc.
A must-read for the objective student of environmental science.
Emails about the book The Great Salmon Hoax by James Buchal have been circulating in the midst of Klamath dam destruction schemes. Dams, mismanagement, Endangered Species Act, ..."This book is written to begin debunking these myths and provide a comprehensive summary of the best available scientific evidence on the prospects for salmon recovery. It also tells the many stories of how these myths arose, who is promoting them, and how the promoters have overcome both science and law. Myth #1: Columbia Basin Salmon Are in Danger of Extinction."
The Endangered Species Act Fundamental Flaws, by Senator Doug Whitsett 12/12/11. "...
These provisions have allowed the intent, implementation and outcomes of the Act to be hijacked to serve the greed and exploitation of preservationist factions both inside and outside of government agencies...In spite of the expenditure of billions of tax dollars, the species recovery rate is less than 1.5 percent."
Department of Interior Federal Register: over 2 million acres proposed critical habitat for yellow legged frog and Yosemite toad, 1,105,400 acres. 750,926 acres in Yosemite: Part 2 Part 3 Public Comments due June 24, 2013. Mining and timber country..."Butte, Plumas, Lassen, Sierra, Nevada, Placer, El Dorado, Amador, Calaveras, Alpine, Mariposa, Mono, Madera, Tuolumne, Fresno, and Inyo Counties, California"
Feds to cut property rights under Endangered Species Act! PLF blog, posted to KBC 10/27/12.
Plea deal in works for Raymond in $1M embezzlement case; no federal charges yet for LeValley, McAllister, times Standard 9/26/12. "Raymond and biologists Sean McAllister and Ron LeValley are accused of using an elaborate system of fake invoices, false purchase requests and electronic bank transfers to embezzle more than $870,000 in federal funds from the Yurok Tribe during a three-year period of wildlife preservation studies (includes spotted owl studies)." HERE for Klamath Science Misconduct page
The incredible stretching Endangered Species Act, by Siskiyou County Supervisor Marcia Armstrong 9/4/12--coho, wolf, spotted owls. HERE for Armstrong Page
Attacks Against Rural Counties, from Dr Richard Gierak 8/20/12: Spotted Owl listing, Coho, Fish Kill, Yurok boat dance, water pulse, forestry roads, mining,...
Farmers, ranchers in the Langell Valley familiar with water crises, H&N, posted to KBC 8/16/12. "Under federally-mandated U.S. Fish and Wildlife Service biological opinions, a minimum lake level is required to support the short-nose sucker, an endangered fish." (KBC NOTE: There is a mandatory lake level in Clear Lake for "endangered" suckers. Before the Klamath Project was built, Clear Lake was a meadow. The reservoir was built to evaporate water so farmers could farm. The Project also pumped water out of this closed basin into Klamath River, water which historically did not reach the river. The federal government now demands a higher-than-historical lake level for salmon because of the ESA / Endangered Species Act. )
Humboldt: Federal charges against former Yurok forestry director over $1 million embezzlement, The Times-Standard, posted to KBC 8/15/12. "Raymond, LeValley and McAllister used an elaborate system of fake invoices, false purchase requests and electronic bank transfers to embezzle more than $870,000 in federal funds from the Yurok Tribe during a three year period of wildlife preservations studies... The surveys that allegedly were never conducted primarily purported to be for spotted owl research..."
Stand-replacement fire: PNW forest conditions pose biggest threat to spotted owls, other species, Columbia Basin Bulletin 7/27/12
Let the River Run: Strategies to Remove Obsolete Dams and Defeat Resulting Fifth Amendment Taking Claims, by Christopher Scoones, Seattle Journal of Environmental Law, 2012. KBC EDITOR: the message is how to deny claims of communities and resource users when they destroy dams, and use the ESA to force dam removal. "The Endangered Species Act (ESA) can be an effective tool for the removal of public and private hydropower and nonhydropower dams..."
There is local timber that could be cut, Bob Jensen, H&N, posted to KBC 4/15/12. "The 1990 Timber Management Plan for the Fremont-Winema National Forests called for a timber harvest of approximately 490 million board feet...this volume was never met due to legal challenges to various timber sales because of spotted owl and salmon controversies, so that today the two national forests produce approximately 50 to 60 million board feet annually."
The Yurok Grift, Questions linger in million-dollar embezzlement scheme after fugitive surrenders, North Coast Journal, posted to KBC 4/14/12. "Field had already figured out that the Mad River Biologists invoices submitted for spotted owl research were fakes...an associate at Mad River Biologists acknowledged that they hadn't conducted the surveys in question."
Ocean anglers get long salmon season; In Brookings, Gold Beach area it runs May 1 through Sept. 9, Mail Tribune 4/7/12. "The liberal seasons are possible because more than 1.6 million chinook are estimated to be headed toward Northern California's Klamath River, the highest number in more than 30 years."
National Marine Fisheries Service: 'Chinook not endangered, Siskiyou Daily News, posted to KBC 4/7/12. "The agency says several studies have "found that spring-run and fall-run populations in the Salmon River were nearly indistinguishable genetically and that spring and fall-run populations in the South Fork Trinity were extremely similar to each other and to the Trinity River hatchery stocks."
ESA partially to blame for bird kill at refuges, Debbie Kliewer, H&N letter 4/7/12.
Owl plan could fall to local agencies, Proposal calls for shooting barred owls, H&N, posted to KBC 3/12/12
U.S. plans to kill barred owls to save spotted owl, San Francisco Chronicle 2/29/12. "The government set aside millions of acres of forest to protect the owl, but the bird's population continues to decline - a 40 percent slide in 25 years." According to Siskiyou County Sheriff Lopey at Saturday's sheriff meeting in Yreka, in the early 80's there were over 22 lumber mills, and now only 2 are functional, and 65% of land in the county is public land. Endangered Species Act / ESA mandates locked up the forests to save the spotted owl. It devastated Siskiyou economy, they have one of the highest unemployment rate. KBC NOTE: Sacrificing the forest, wildlife and owls by rampant wildfires, and communities and economies, all by false science, did not save the spotted owls.
HERE and HERE about 2 esteemed spotted owl scientists.
Rex Cozzalio responds to newest program to impregnate Shasta River with fertilized coho eggs — preposterous, it is, PienPolitics 2/10/12
Timber industry files lawsuit against murrelet designation, posted to KBC 1/31/12. "Because humans almost never see the bird, the FWS seems to think it can throw a net over millions of acres of federal timber land that not only aren't being used by the bird, but don't even have the characteristics it is looking for when it flies inland to lay its eggs. Someone has to speak up about this violation of the limits of the ESA."
Guest Opinion ESA cripples communities 1/11/12, by Rod Kerr
Wolf worries, Siskiyou Daily 1/11/12. "There is no allowance under the law for killing of a wolf that is going after or preying upon livestock, but there is an allowance if there is a direct threat to life and limb for humans."
Cliff Wooten, former Lin County Commissioner and former resident of Tulelake, Calif. "With the problems of the "poor" management of the irrigation water (trying to save the "sucker" fish at Klamath Lake) the future of Tulelake farming is in jeopardy. I might add the entire lake was poisoned back in the mid 60's to kill all the sucker fish and now the same irresponsible government agencies are trying to "save" this fish which was destroying habitat of other fish. I can't count all the rowboat loads of dead suckerfish that was removed from Klamath Lake at Moore Park. The dead fished floated up and the wind "stacked" them at the park and I remember working for the Klamath Park Department "scooping up" these fish and our boats were dragged ashore and the dead fish loaded in County trucks and hauled away as fertilizer."
AUDIO - Attorney Karen Budd-Falen interviewed by Kirk McKinzie about Equal Access to Justice Act / EAJA, "The ESA does not require the agency to know how many species there are before it's listed...What the Obama administration is proposing is, let's include critical habitat in places where the species may feel like living someday..." Karen explains how the federal government reimburses environmental groups and litigants like Earthjustice and Center for Biological Diversity for attorney fees suing the federal government, however individuals or small groups rarely are reimbursed when trying to save their farms or property. The government does not account for how much money it gives these groups for fees.
House panel probes inner workings of ESA, Capital Press 12/14/11
Excessive Endangered Species Act litigation threatens species recovery, job creation and economic growth, Natural Resources Committee, 12/6/11
Federal Management of Oregon's Forest Lands, Senator Doug Whitsett Newsletter 8/12/11. "federal district court ruled that the owl was threatened under the Endangered Species Act and that nearly unlimited critical habitat was required to preserve the bird from extinction...Oregon's annual timber harvest from federal lands plummeted from 60 percent to 12 percent. Nearly 300 timber mills closed and more than 30,000 family wage jobs were lost."
Little hope in delisting endangered sucker, by Warren Haught, Klamath Falls 7/22/11. "Our local 11.8 percent unemployment rate is in large part due to the ESA."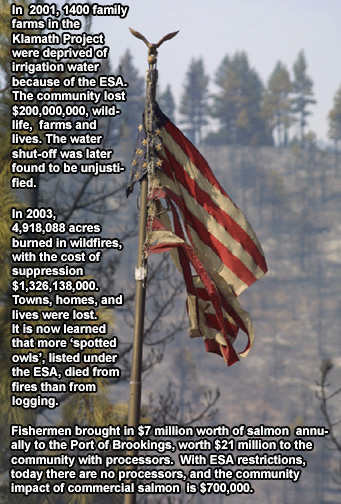 My Turn: Fish, frogs and owls didn't survive the Wallow Fire, by Douglas Brown, AZ 7/16/11
One owl horning in on another, H&N, posted to KBC 7/7/11. "One of the potential removal methods involves shooting the barred owls." followed by: Owl plan hinges on killing rival; Spotted owls not recovering; may be linked to barred owl. (KBC NOTE: a few decades ago the federal government poisoned suckers, killing thousands of them. Now the plan is to kill little barred owls...?)
Wildfires threaten protected habitats; wolves, owls among the endangered, H&N, posted to KBC 7/7/11. "Crown fires in overgrown forests have become the greatest cause of unusual losses for the (spotted owl) birds, and 73 protected nesting areas were burned in the fire,...The burned forest supports more than a dozen other endangered or threatened species, including snails, frogs and fish. Dozens of other species live in the forest that aren't rare, including bear, deer, antelope and a herd of elk that, at about 6,000, is among the state's biggest."
Environmentalism on taxpayers' dime, Victorville Daily Press Opinion April 18, 2011. "... the Center is one of four environmental groups seeking to protect the "spring run" of the Upper Klamath chinook salmon under the Endangered Species Act by submitting a petition seeking to designate the fish as a "distinct species....between 2000 and 2009, eight environmental groups — led by the Center for Biological Diversity — filed at least 1,596 federal court cases against the federal government....These same environmental groups are receiving billions of tax dollars in attorney fees for settling or 'winning' cases against the federal government."
Officials back environmental reform, Klamath Commissioners vote to support changes to Endangered Species Act, H&N 4/27/11
No salmon above Klamath River stateline, by James Waddell, Karuk People tribal member 4/14/11. From A. L. Kroeber's "HANDBOOK OF THE INDIANS OF CALIFORNIA" "The salmon are said not to run into the Klamath Lake or above, and streams are much smaller and standing bodies of water infinitely more important than in the northwest. …"
More letters and research by James Waddell HERE.

Chinook salmon could get endangered species protection, Petition passes; year-long review process begins, H&N, followed by Agency will examine Klamath Chinook listing, Siskiyou Daily News, posted to KBC 4/14/11. (KBC NOTE: each plaintiff, KLAMATH SISKIYOU WILDLANDS CENTER; ENVIRONMENTAL PROTECTION INFORMATION CENTER; KLAMATH FOREST ALLIANCE; CENTER FOR BIOLOGICAL DIVERSITY" is supported by Earthjustice, supported by George Soros. They also oppose salvage logging trees burnt up in a fire. Same force and $ behind the NGO's in the KBRA.)

SUCKERS AND THE ESA / Endangered Species Act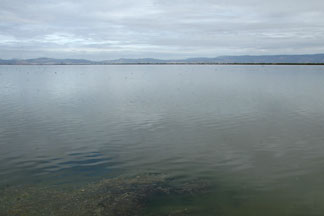 Irrigation water released, canals fill;
Officials anticipate normal water year,
H&N 4/5/11. "
Last year at this time, the A Canal wasn't flowing" (KBC NOTE: because of government lake level mandates for suckers.) "
Wildlife refuges in Lower Klamath and Tule Lake didn't get water last year either."
(KBC NOTE: HERE for more pix of 2010 water on Tule Lake refuges)

< KBC Photo of Tule Lake refuge in 2010
Tag, you're it Biologists tagging endangered suckers in Lake Ewauna, H&N 4/5/11. "
The initial reason (for tagging) was to find out how many there are..."
The estimated few thousand suckers are ... not large enough to potentially push the fish off the endangered species list."

Water, sucker science argued at conference, H&N 2/4/04, "
(William Lewis, chair of the National Research Council committee) said ...the finding that water levels in Upper Klamath Lake aren't as important for suckers as previously thought, ...(the NRC) found that lake levels aren't a "master control" for larval suckers, Lewis said."
MORE on William Lewis and lakes levels for suckers at 2004 science conference.

David A Vogel, Fisheries Scientist written testimony about endangered suckers (KBC NOTE: Vogel says there were 10's of thousands more suckers than estimated when they were listed as endangered, however gov't agencies won't allow them to be delisted.) July 17, 2004.
HERE for 2004 Congressional Hearing on the ESA, and testimony
HERE for Klamath ESA DVD, sectioned film of the 2004 hearing and rally.
Klamath County Republican Central Committee letter to Klamath Irrigation District and other Klamath Basin Irrigation Districts regarding the ESA/Endangered Species Act, posted to KBC 3/28/11
Scientists to study lethal removal of barred owls, H&N posted 3/13/11
New Spotted Owl Plan Would Hurt Rural Economy and Ignore Real Solutions, Forestry Groups Say, PR Newswire, posted to KBC 2/26/11
Foreign and domestic train wreck in the making - more of the ESA, Budd Falen Law, posted to KBC 1/26/11
Governors air gripes about Endangered Species Act, Western governors meet for two-day conference, H&N, posted to KBC 12/19/10
World Governments Agree on Zero Extinction Target at Convention On Biological Diversity Conference in Nagoya, Japan, American Bird Conservancy, posted to KBC 10/30/10
Another town needs help. Please watch this 20 minute video. We lived this in 2001 when our water was shut off, and other Klamath Basin farmers lived a water shutoff this year. People with water rights signed by the President of the U.S.A. Thanks Awaker on our Discussion Forum for finding this sad story told by Americans on the East Coast being destroyed by environmental groups and the same government agencies.
ESA requires real repairs, Capital Press editorial posted to KBC 9/19/10
Smelt regulations violate Constitution, Capital Press, posted to KBC 8/28/10
Double Standard on Salmon Losses? California Ag Network 5/27/10
Basin home to diverse population of lampreys, H&N, posted to KBC 2/15/10. (KBC Note: The Klamath agreement supports planting more lampreys / fish parasites, in Klamath Bason.)
Spotted owls' rivals targeted, H&N 12/10/09
CONSIDERATION/ACTION: Request Board approval and Chairman's signature on attached letter to the Klamath Basin NWR Complex. (Farm Advisor) Sage Grouse, Modoc County Supervisor's audio, posted to KBC 12/3/09
ESA blamed for low flows (Calif. Central Valley), Capital Press 12/3/09
ESA Pitted against our economy, by Nita Still 11/20/09
Saving the sucker, how the fish was listed as endangered, and Critical habitat: Providing safe havens for fish by Jill Aho, Herald and News, posted to KBC 9/17/09
KBC NOTE: "In 1986 the U. S. Fish and Wildlife Service staff responsible for whether or not to pursue these (ESA) listings believed there were only 12,000 Lost River suckers in Upper Klamath Lake...they didn't believe they were endangered. A couple years later...we now know for a fact that number's exceeded by tens of thousands of Lost River suckers. Now they flip flop and say they are endangered. What constitutes endangered? David Vogel, fisheries scientist with 29 years experience, 14 years working for the Fish and Wildlife Service."
.
Sucker holds significance for tribes, H&N, posted to KBC 9/17/09.

KBC COMMENT:

According to Klamath Basin Restoration Agreement advocates, power ratepayers and taxpayers must pay millions/billions$ to decimate four Klamath River dams because salmon must come into the Klamath Basin and beyond because they supposedly provided food for the Indians. In this article, tribal biologist said the indians staple was suckers; they would have starved without suckers. What was it, suckers or salmon?
Advocate: Watch your water rights, Capital Press 11/24/08. "Right now the Supreme Court has made the determination that we are going to protect species at any cost. ... It won't make a difference if 25 million people in Southern California are without water."
Sucker revision under way, H&N, posted 6/20/08. "...an appointed group of stakeholders, meetings and consultation from Desert Research Institute researchers will guide the revisions...A fisheries biologist from the Klamath Tribes, the Nature Conservancy and individuals from Oregon State University and the U.S. Geological Survey will participate as stakeholders...Commissioner Bill Brown was concerned to not see a representative from the irrigation community in the stakeholder group and asked if that could be changed. Buettner said the group was established by regional director Steve Thompson..."