"Federal Claims Court Judge Lawrence S. Margolis has said unequivocally that the U.S. Forest Service knowingly
used faulty data of spotted owl habitats to block logging in a California forest."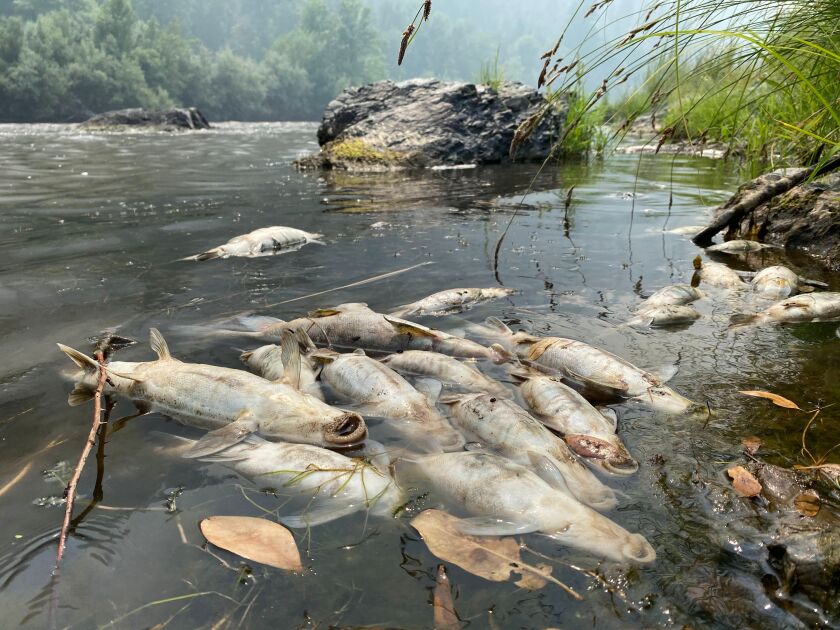 McKinney fire kills scores of fish in Klamath River, LA Times 8/10/22. "...the dissolved oxygen in the river plummeted to zero...It looks like probably everything in the river died."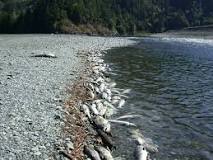 KBC NOTE: In 2002, during the Biscuit Fire, there was a fish kill on the Klamath River. At a science forum in 2004 in Klamath Falls, "Tamara Wood, USGS, studied water quality--the dissolved oxygen dynamics in UKL. She studied wind speed, temperature and oxygen. They found that in 2002 the oxygen into the lake was turned off by the weeks of heavy smoke from the forest fires." However, in 2002, the Tribes, environmental groups and government agencies have blamed Klamath farmers for the fish dieoff. That lie has been used to downsize agriculture, shut off our irrigation water, help convince FERC to allow hydroelectric dam destruction, put more than historical amounts of our stored water into Klamath River, force irrigators into making compromises of our water rights.


"Klavins (of Oregon Wild) is not telling the truth about forests or collaborative groups." Oregon Capital Chronicle commentary by Mark Webb 6/20/22

Environmental groups fail to stop Southern Oregon logging projects, Capital Press 4/7/22. "Environmental groups have failed to convince a federal judge to block two logging and fuels reduction projects on 8,000 acres of public forestland in Southern Oregon."
Judge refuses to declare Oregon state forest logging 'takes' coho salmon, Capital Press 12/24/21. "A federal judge has refused to declare that logging activities in Oregon's Clatsop and Tillamook state forests have unlawfully harmed threatened coho salmon..."
< At left, an area where both thinning and controlled burning took place before the Bootleg Fire. At right, an area where no thinning or controlled burning took place. photo by Brady Holden/The Nature Conservancy
Managing forests to reduce wildfires, Capital Press Editorial 12/2/21. KBC NOTE: an AMAZING discovery by The Nature Conservancy, Klamath Tribes, and U.S. Forest Service!
Reversal on habitat a missed opportunity for spotted owls, people, by Nick Smith American Forest Resource Council, posted to KBC 1/3/22. "...between 1994 and 2013, over 80 percent of owl habitat loss during this period was due to severe wildfire and forest disease, not timber harvest. Spotted owl populations continue to reach all-time lows, largely due to competition from the barred owl...1.7 million acres of spotted owl critical habitat is not even suitable habitat for the species. One economic study found the designation of uninhabited lands has resulted in economic losses of up to $1.2 billion to our rural economies. A unanimous 2018 U.S. Supreme Court decision found the Endangered Species Act does not authorize the government to designate lands as critical habitat unless it is in fact habitat for the species..."
USFWS overturns spotted owl habitat rollbacks, H&N 11/9/21. "The American Forest Resource Council, a group that represents wood products manufacturers and forestland owners, argues the ruling illegally designates more than 1 million acres of federal land that is not currently spotted owl habitat. Travis Joseph, AFRC president, said the designation further restricts timber harvest and tree thinning projects designed to help mitigate large wildfires that threaten the very habitat officials are trying to protect.
Democrats on the House Agriculture Committee blocked not only a firefighter pay amendment, but a fire reform package that would have reduced fire risks and reformed federal fire policy, California Representative Doug LaMalfa 9/13/21.
Wyden defends River Democracy Act in virtual town hall by George Plaven, Capital Press Sept 3Legislation...would add nearly 4,700 miles of wild and scenic rivers across Oregon...would roughly triple the number of wild and scenic rivers in Oregon...adding up to 3 million acres of protected land...American Forest Resource Council...found that just 15% were actually labeled as "rivers," with most being identified as streams, gulches, draws or unnamed tributaries...AFRC - wild and scenic designations would impose restrictions on forest management and actually increase wildfire risk in the protected stream corridors...The bill would create a $30 million per year fund to restore and rehabilitate riparian areas that do burn in a wildfire, Wyden said."
"Rep. Cliff Bentz, R-Ore., said he talked with the 63 commissioners representing the 20 counties in his 69,000-square-mile congressional district; 53 commissioners oppose the River Democracy Act.
Wildfires bring renewed calls for thinning forests, CFBF Ag Alert 9/1/21. "Rather than thinning forests, he said, California thinned out sawmills and biomass plants. "In 1985, we had 150 sawmills in the state," Albrecht said. "Now we've got about 28. Half our biomass plants have been shut down. We've lost our markets. We're in a real fix right now because we have not taken action 20 to 30 years ago."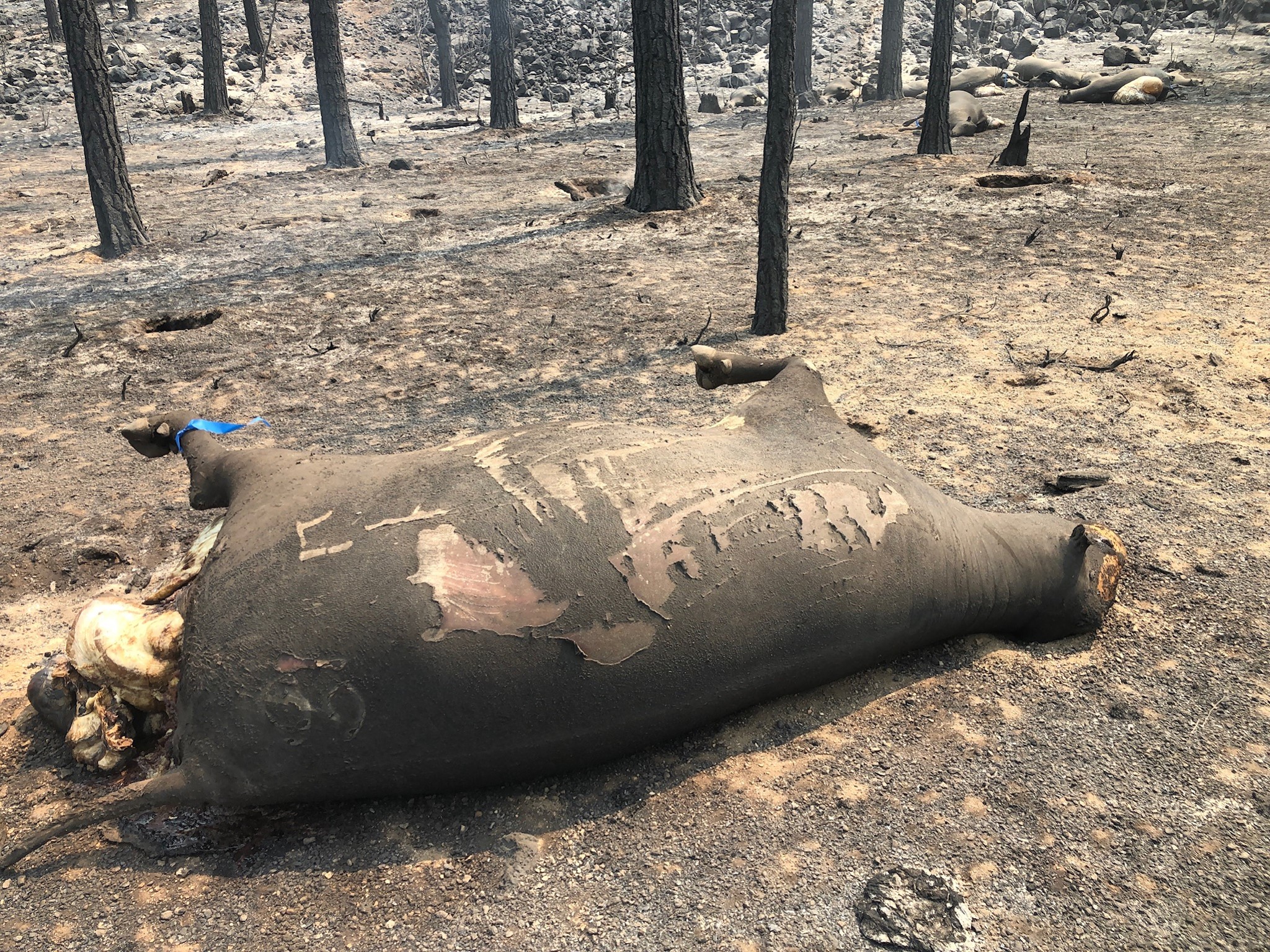 Burnt Alive cattle in Siskiyou fire by Shirl Terry Woodson 8/10/21. "Almost all are accounted for, but we won't rest til we find the rest? I took time from the hunt to attend a usfs permitee meeting which was very good. The phot I'm posting is not one of our cows but one of our neighbor's.. yesterday Chuck spoke with a usfs fellow from Arizona. He told Chuck the group of cows found dead south of La Honda told a gruesome and heartbreaking story. The cows were pinned against a massive lava ridge. All the cows were facing towards the fire their calves were inside the circle of cows trying to protect them. How I wish those fools behind the let it burn policy could see this. Tonight when we checked at la Honda well we found no cows but a doe with two fawns was watering there. I wished I could transport them all to somewhere safer."
KBC Note: This is just one atrocity out of many...cows burned to death. With the hundred's of thousands of acres burning because we are forbidden to thin or log our forests, and can't protect trees and wildlife in the millions of acres of wilderness, all those spotted owls, eagles, butterflies, deer, antelope, coyotes, and hundreds more species, are cremated alive, running for their lives. Smoke/lack of oxygen kills fish. Communities and people die too. Check out the heap in the background.

Fish and Wildlife Service withdraws critical habitat rollbacks for spotted owlAdvocates for the timber industry argue the decision illegally restricts logging on more than 1 million acres of federal land that is not actually spotted owl habitat, and hinders the type of forest management needed to repel increasingly large wildfires...reversing the 2021 critical habitat designation will provide no conservation benefit for the species, and pointed to last year's catastrophic wildfires that burned more than 560 square miles of suitable nesting habitat in Oregon..."

White House stands by BLM nominee despite eco-terrorism links, views on population control, Fox News 6/28/21. "The letter told the Forest Service that 500 pounds of "spikes measuring 8 to 10 inches in length" had been jammed into the trees of an Idaho forest. Tree-spiking is a dangerous ecoterrorist tactic that has severely injured people, such as a mill worker whose jaw was split in two from an exploding saw..."

Environmentalist lawsuit targets post-fire tree removal, Capital Press 5/25/21. "The project is expected to generate about 30 million board-feet of timber — enough to fill 6,000 logging trucks.." KBC NOTE: Klamath Forest Alliance is the NGO that shut down mills and logging towns for the spotted owl. They also helped found Klamath Riverkeeper, with a board of Klamath River Tribes, that has sued Klamath irrigators regarding water quality, PacifiCorp to rip out dams, and they shut down suction dredge mining.

New study: Cattle grazing significantly reduces wildfire spread, Capital Press 9/9/2020. "Recent record-shattering wildfires across California, Oregon and Washington have demonstrated the need for better fire control. Researchers say their study shows that without the 1.8 million beef cattle that graze California's rangelands annually, the state would have hundreds to thousands of additional pounds per acre of fine fuels on the landscape, and this year's wildfires would be even more devastating."

7/30/2020 - Siskiyou County Sheriff's Office: EVACUATION ORDER UPDATE - MEDICINE LAKE
The evacuation order for the Medicine Lake cabins has been lifted and residents may return. Please be cautious of fire apparatus on the roadways. The Medicine Lake Campground remains closed to the public and continues to be occupied with fire personnel and equipment.

Caldwell Fire grows to 70,000 acres, H&N 7/29/20. "A mandatory evacuation remained in place for the Medicine Lake Recreation Area. The Lava Beds National Monument remains closed..."

No new trial in $1 billion Oregon timber verdict, Capital Press, 3/10/2020. "A judge will not order a new trial or overrule a jury's verdict awarding $1 billion to local governments that sued Oregon over logging restrictions on state forestlands..."

Environmentalists And Timber Industry Reach Agreement On Forests, Avoiding Oregon Ballot Fights, OPB 2/10/2020.

Oregon starts appeals of $1 billion timber verdict, OPB 12/26/19. "In November, a jury in Linn County ruled that the state breached its contract with 13 rural counties by failing to generate enough revenue through logging on state-owned forests. Jurors awarded more than $1 billion in damages..."

***Klamath dams critical to fighting wildfires, KRRC's fire management plan inadequate, by The SISKIYOU COUNTY NATURAL RESOURCES DEPARTMENT, H&N guest opinion Aug 4, 2019. "When homes and lives are at stake in a wildfire, nothing is more important than having firebreaks and a readily available water source. That's exactly what's provided by the reservoirs created by dams on the Klamath River... Last year, the infamous Klamathon fire, which burned over 38,000 acres over 16 days, was finally stopped by firefighters — thanks to the use of Iron Gate reservoir....Firefighting aircraft drafted 225,000 gallons of water per day. Most of it came from Iron Gate reservoir. At the peak of the fight, seventeen helicopters were engaged nonstop, sometimes dropping water as quickly as every six minutes....with the reservoirs gone, risk to firefighters' lives will skyrocket. Not only will fires take longer to put out — which means fires will burn hotter and longer — but aircraft pilots will be forced to attempt to draw water from the river itself.... 2006, two firefighters lost their lives attempting to extract water from the river."

A tale of two wildfire bills, Medford Mail Tribune 5/15/19. Walden: more forest timber harvest and thinning to keep fires from spreading. Merkley: more money for counties, mitigation, fire fighting, collaboration,

California fire risk shows urgent need for prevention work, Chico Enterprise-Record 4/11/19. "Gov. Gavin Newsom declared a state of emergency on wildfires, designed to expedite forest-thinning projects and other programs..Cal Fire and the state Board of Forestry estimate 23 million acres in the state's responsibility area could benefit from fuel reduction. And those treatments aren't one-time efforts: they must be repeated every few years to be effective...Among the biggest complications in forest management are California's strict environmental regulations...The reviews can take years."

Another threat to Oregon's timber industry, Capital Press 3/21/19.

PLEASE ATTEND, or COMMENT before March 12!!! Hearing Scheduled on Bill That Would Ban Forest Practices on Over a Million Acres in Oregon, OFS 3/8/19: "On Tuesday, March 12 at 1:00 PM, the House Committee on Energy & Environment will hold a public hearing on HB 2656. HB 2656 is probably the most threatening bill to Oregon's managed forests by banning harvest, road building, and the use of pesticides and fertilizers in forestland that supplies drinking water for public sources. Thus, locking up over a million of acres..."

Wildfire carbon emissions primary cause of possible climate doomsday scenario by Oregon Senator Dennis Linthicum, November 2018
"...four California wildfires...between 1992 and 2007, released carbon dioxide at levels 19 times greater than previously accepted scientific estimates.
...each acre of burned forest emitted greenhouse gases equal to the annual exhaust from 48 cars.
...combustion emissions could have been reduced from 46.2 tons per acre to 12 tons per acre if the density of trees had been reduced from 273 per acre to the more natural density of 60 per acre."
Trump order expands logging on public land, H&N by Washington Post 1/15/19.

Wildfires amplify concerns over forest management, Capital Press 12/13/18. "There have been numerous multi-thousand acre wildfires in several western states in the past decade, the most recent being the Camp Fire in northern California that burned and destroyed the community of Paradise and killed 85 residents. 'People are taking this issue much more seriously now...They are looking in earnest at the recovery of forests after catastrophic fires and now are also talking about making forests more fire resilient.' "

TULELAKE: Gribble family escapes Camp Fire, inspired by kindness along the way, H&N 11/22/18

Why California burns — its forests have too many trees, by Professor Thomas M. Bonnicksen, SF Chronicle 11/12/18. "...greenhouse gas emissions from one acre of burned forest are about the same as the exhaust from 13 cars for one year...These gases stay in the atmosphere warming the climate for centuries..."
Climate Change, Forestry, and Wildfire by Dr. Thomas M. Bonnicksen, Professor Emeritu, posted to KBC 4/28/18
7 myths about forest fires by Dr. Thomas M. Bonnicksen, posted to KBC 11/16/18.

Congressman Doug LaMalfa addresses Community Meeting in Oroville regarding Camp Fire 11/12/18 by KBC News. "An informational meeting was held in Oroville this evening with local and regional elected officials and firefighters speaking to a crowd of people, many who lost everything in the Camp Fire, and most did not know if their homes burnt down."

Clear Skies with more fires around the corner, by Oregon State Senator Dennis Linthicum, September Newsletter 2018. "Today, we invest more time, energy, and resources fighting fires than we do proactively reducing wildfire severity and fostering forest resiliency..."

PRESS RELEASE - CA Congressman LaMalfa Urges Strong Forest Management in Final Farm Bill Conference Report 9/20/18

DOI Secretary Ryan Zinke: 'Environmental Terrorist Groups' Play Role in Western U.S. Wildfires, Breitbart 8/13/18. Excellent Audio of interview with Zinke in the Breitbart link. Follow above link regarding ESA, forest management, ... "We have been held hostage by these environmental terrorist groups that have not allowed public access — that have refused to allow [the] harvest of timber," Zinke told Washington Deputy Political Editor Amanda House on Breitbart News Saturday on SiriusXM Patriot 125. This includes as many as 80 million acres of land filled with trees that have died from beetle infections or other causes..."

Finch and Fires, by Oregon State Senator Dennis Linthicum 8/8/18. On wildfires and dam destruction

OSU Study: Coast Range Trout Thrive After Logging, Oregonians for Food and Shelter, News Channel 21, KTVZ 3/28/18.

'Let it burn' approach to wildfires creating a disaster for our forests, Senator Dennis Linthicum guest writer for H&N 9/10/17. "...Up until the 1980s, the average duration of wildfires was just six days. The number of distinct fires or ignitions hasn't changed over time but wildfires, today, are much larger and last much longer. Today, the average fire lasts 52 days, or nearly two months. The Chetco Bar fire is estimated to double the 52-day average, with nearly four months of burn. Last winter was a record-setting winter for cold, snow and rain. The drought is over; our reservoirs and dams are full; rivers and streams are still flowing with snowmelt. Could it be that these extraordinary burn rates are directly related to policy and not to global warming?..."

DOI Press Release: Secretary Jewell Applauds President's Designation of the National Monuments to Preserve Pivotal Civil Rights Sites and the First National Monument to Civil War Reconstruction; (Jewell) Also Praises President's Expansion of Existing National Monuments Protecting Natural & Cultural Resources in California & Oregon (Cascade-Siskiyou National Monument) 1/12/17. LINK includes Cascade-Siskiyou National Monument expansion Fact Sheet:
*" these areas represent approximately 48,000 acres of public lands – 42,349 in Oregon, and 5,275 in California."
* "... is closed to new extractive uses such as mining and oil and gas development..."
* "...prohibits all motorized and mechanized vehicle use off road."
* "...if grazing is found incompatible with protecting the objects of biological interest, the Secretary of the Interior will retire the grazing allotments pursuant to the processes of applicable law. Finally, it provides that if grazing permits or leases are relinquished by existing holders, the Secretary will not reallocate the forage available under those permits or for grazing purposes..."
* "...prohibits the commercial harvest of timber, expect when part of an authorized science-based ecological restoration project..."

1/13/17: Federal Register - Bureau of Land Management: Public Land Order No. 7859; Withdrawal of National Forest System and Bureau of Land Management Public Lands in Southwestern Oregon; SUMMARY: This order withdraws, subject to valid existing rights, approximately 5,216.18 acres of public domain and Revested Oregon and California Railroad lands and 95,805.53 acres of National Forest System lands from settlement, sale, location, and entry under the public land laws; location and entry under the United States mining laws; and operation of the mineral and geothermal leasing laws for a period of 20 years while Congress considers legislation to permanently withdraw those areas and to protect the Southwestern Oregon watershed from possible adverse effects of mineral development.

Fulfilling the Promise of The Tribal Forest Protection Act of 2004 Volume I, An Analysis by the Intertribal Timber Council in Collaboration with USDA Forest Service and Bureau of Indian Affairs, Intertribal Timber Counsel April 2013. NOTE: When you agree to give land to tribes that they previously sold, once they have a land base, they can control adjacent land, "Under the TFPA, the Secretaries of Agriculture and Interior are authorized to enter into agreements or contracts, pursuant to tribal proposals to address hazardous conditions on Forest Service (FS) or Bureau of Land Management (BLM) administered lands that border on or are adjacent to tribal trust lands or resources."
Tribal Forest Protection Act Success Stories July 2012

Energy Bill's Hidden Provisions Undermine Western and Rural U.S. Property Owners, Western States Constitutional Rights LLC, posted 9/18/16. "Senate Bill S. 2012 (Murkowski, AK) has secretly swallowed up S. 3085 (Roberts,KS) - a Forestry Management Bill that transfers management of any national forest within 100 miles of a tribal reservation, or to any tribe with ancestral or cultural ties to a national forest. This will give tribal governments: 1) control of all water (snowpack mountain run-off); and 2) let tribal governments determine appropriate uses of the national forests regarding hunting, fishing, trail-hiking, recreating by non-tribal citizens. When strong opposition emerged opposing numerous forestry management bills in the Senate and House that were transferring forestry management to tribal governments, Senators and Congressmen played "hide the ball" quickly last week by tucking this egregious Tribal Forestry Management provision into an Energy Bill that is close to a vote - perhaps this week or next. Call your Senators and Congressmen and raise holy hell. This could easily transfer national forestry management to tribes for every national forest in the Western States." Elaine Willman

PRESS RELEASE - Rep. LaMalfa Urges Forest Service Chief to Accelerate Forest Management Projects, Fight Frivolous Lawsuits, 3/1/16

Our Public Lands Must Not Go Up in Smoke, by Oregon State Senator Doug Whitsett newsletter posted to kbc 9/27/15. "The scope of the mismanagement of our more than 300 million acres of U.S. Forest Service (USFS) and Bureau of Land Management (BLM) federal lands was once again made evident by the smoke-filled August skies...According to the National Interagency Fire Center, over eight million acres had burned as of the beginning of September... Annual greenhouse gas emissions from wildfires dwarfs our nation's emissions from the combustion of fossil fuels..."

Board postpones decision on logging buffers to cool streams, H&N 7/24/15. "...imposing buffers up to 100 feet along streams could cost timberland owners up to $227 million in land and timber values..."

Too little logging has risks, as well, H&N 6/30/15

Appeals court tosses Oregon logging ruling, H&N 6/13/15

Conservationists, loggers team up on forest health. Malheur Lumber Co. rescued by shared goal of thinning, H&N 12/28/14

Comments due 11/14/14 on salvage logging of the Westside Fires

Timber harvest growth needs to be extended to federal land, The Albany-Democrat Herald 8/19/14

ODOF "Every Acre County" -- where the feds fail, Oregon excels, by Senator Doug Whitsett 8/21/14. "The Oregon Department of Forestry was at best ineffective in asserting their fire management goals and direct attack techniques. That wildfire burned more than 90,000 acres. It burned out of control for eleven days, destroying more than 30,000 acres of privately owned forestland. Backfires and burn-outs were employed so frequently that tens of thousands of acres of forests were needlessly destroyed...more than one of the backfires threatened the lives of landowners fighting to save their own property..."

Groups sue to stop logging from 2013 fire, H&N, posted to KBC 8/9/14. "A dry lightning storm on July 26 (2013)...eventually burned across more than 75 square miles of private and federal timberlands in southern Douglas and northern Josephine counties...environmental groups have gone to court to block the plans, alleging 24 northern spotted owls are at risk."

Rainstorm helps fight wildfires. H&N 8/6/14

SPRAGUE RIVER - No time to spare. Fast-moving fire outruns Moccasin Hill residents, H&N 7/16/14. "Six homes and 14 other structures were destroyed on Sunday alone..."

State reaps most timber since 2006. Logging harvest intake tops 4 billion board feet, H&N 7/16/14. "Oregon's timber harvest topped 4 billion board feet last year...Oregon's timber harvest was 9.74 billion board feet in 1972... Volume plunged in the 1990s as environmental issues led to cutbacks in logging on federal lands."

BLM...seeks public comment (by March 31st), H&N, posted to KBC 3/16/14. "The document includes four proposed alternatives that discuss such issues as timber management, forest reserves for northern spotted owls and marbled murrelet critical habit, protection for older forests and riparian reserves. The alternatives offer options that would focus on providing the most acres, for example, to species protection as opposed to timber harvests...."

History 1994: A mill that once was one of the largest in the nation has closed, H&N, posted to KBC 1/24/14

Lawsuit challenges timber sale, conservation group says environmental protocol was not strictly followed, H&N, posted to KBC 1/24/14

Oregon wildfire protection Senator Doug Whitsett newsletter 12/19/13.

Salvage logging planned on Oregon fire site. Miami Herald 11/21/13

Timber industry sues to lift shutdown ban, H&N, posted to KBC 10/22/13

There's enough wilderness now, by Bob Boring, H&N, posted to KBC 9/1/13.

Feds to start shooting barred owls, The Westerner 7/24/13. "The U.S. Fish and Wildlife Service on Tuesday released a final environmental review of an experiment to see if killing barred owls will allow northern spotted owls to reclaim territory they've been driven out of over the past half-century."

Lack of forest logging to blame for fires, H&N letter to editor, posted to KBC 7/9/13. "I'm still waiting for just one environmentalist, one environmental group, or anyone else who played an active or sedentary role in stopping logging to save the spotted owl, to come forward and publicly protest the illegal marijuana grows in our national forests, national parks, and Native American Indian reservations, after it's been proven the pesticides used on these grows are killing spotted owls and fishers."

Public meeting to address Forest vehicle travel plan May 31, H&N, posted to KBC 5/15/13. "If you cut wood, hunt, fish or even drive in the national forest you must be at this meeting, said Dave Andreatta, who is helping to organize the meeting...possible fines up to $5,000 and/ or up to six months in prison for traveling a closed road.

HERE for Forest closes 5,000 miles of roads, trails to vehicles in Winema Fremont National Forest in 2011.

Sawmill to close in Cave Junction; 85 losing jobs, H&N, posted to KBC 5/4/13. "...the number of sawmills operating in Josephine and Jackson counties dropped from 22 in 1975 to six a decade ago, and in recent years, Rough & Ready was the only sawmill in Josephine County."

County to bill feds $3.9M in taxes, H&N, posted to KBC 5/4/13. "Payment in lieu of taxes, or PILT, was a federal program that ended this year where payments were made to timber producing counties."

Oregon Rep Gail Whitsett Legislative Update, posted to KBC 4/21/13: Oregon National Popular Vote Bill, texting while driving $2000, Sustainable award-winning 90-year-old Rough and Ready Lumber shut down by environmental activist community, meth houses, and list of bills.

Judge tells feds to study owls before selling timber, Capital Press, posted to KBC 4/6/13. "Arguably, this means every timber sale in the Northwest Forest Plan area has to have an EIS...The EIS will likely come to the same conclusions, but will delay the timber project by up to a year and use up agency resources...That seems wasteful and unnecessary."

Feds want $18 million back from timber counties, posted to KBC 4/6/13, Huffington Post. "Thirty-one members of the House this week sent a letter to the Obama administration protesting demands that they return $17.9 million in revenues that pay for schools, roads, search and rescue operations in rural counties as well as for conservation projects."

Timber industry challenges spotted owl habitat, Capital Press 3/22/13.
Who did the spotted owl studies? Former Yurok forestry director released from jail; Raymond accused of embezzling tribal funds, posted to KBC 3/7/13. "Raymond and two biologists are accused of using an elaborate system of fake invoices, false purchase requests and electronic bank transfers to embezzle more than $870,000 in federal funds from the Yurok Tribe during a three-year period of wildlife preservation studies." (these included faked spotted owl studies). For more, see Klamath Science Misconduct page
ESA Page

Oregon timber harvest on Oregon's federally owned lands, newsletter by Oregon Senator Doug Whitsett, posted to KBC 2/10/13.

Conservation groups oppose timber sale; Proposed cut on Umpqua National Forest abuts Crater Lake National Park, H&N, posted to KBC 1/11/13. "...the D-Bug proposes to manage bark beetle outbreaks and reduce hazardous fuels in areas of high human use..."

Congressmen rip Park Service for huge Calif. blaze, Mercury News 10/25/12. "Massive wildfires cause air pollution, environmental damage and threaten people and wildlife, McClintock said. "Any squirrel fleeing a fire knows this...which leads me to the unflattering but inescapable conclusion that today our forest management policy is in the hands of people who lack the simple common sense that God gave a squirrel." McClintock said the current policy is that "we have to destroy the forest in order to save it," a notion that he described as "New Age nonsense."

Full effects of tragic (Barry Point) fire will be felt by future generations, by Lee Juillerat, Herald and News, posted to KBC Oct 24, 2012

Klamath's largest (timber) industry could be in major trouble, H&N, posted to KBC 10/20/12 FOLLOWED BY: Senator Wyden: timber counties must consider raising taxes.

Flabbergasted by closures, H&N letter to editor by Ray Driscoll, Chiloquin and Don Russel, Klamath Falls, posted to KBC 10/20/12.

Barry Point Fire - Extreme loss of timber, grazing, wildlife and watershed resources, Senator Doug Whitsett 9/10/11.

Seiad is 6 hours notification for immediate evacuation, Siskiyou County Sheriff's office 8/29/12. Last update 6 pm

KBC Editor 8/27/12:
Deja Vu 2002 "Biscuit Fire" and "fish kill."
Today we could not see any distance due to smoke from forest fires
"Environmental" groups and wilderness designations forbade forest health of cleaning up the forests before 2002..
Forests, bambies and owls burned. ..see bottom of Forest and Logging Page
In a rare meeting of scientists in 2004 from many government agencies and tribes, it was mentioned that the 2002 Biscuit Fire smoke impact /oxygen level on the Klamath River and Lake was not studied regarding the fish die-off.
Looking ahead: after the Biscuit Fire, "environmental" litigation blocked harvest of the dead burnt trees, blocking thousands of jobs.

Attacks Against Rural Counties, from Dr Richard Gierak 8/20/12: Spotted Owl listing, Coho, Fish Kill, Yurok boat dance, water pulse, forestry roads, mining,...

* Notice of Availability of SDS and Broughton Lumber Companies Safe Harbor Agreement Documents and Request for Public Comments, 8/20/12. "The Permit would authorize SDS and BLC to carry out habitat management measures to benefit the northern spotted owl (Strix occidentalis caurina) which is listed as a threatened species under the federal Endangered Species Act, and would allow SDS and BLC to manage their lands under the SHA for the net benefit of the northern spotted owl;...The SHA covers approximately 81,587 acres in Skamania, Klickitat and Yakima Counties in Washington, and Hood River and Wasco Counties in Oregon. BLC's approximately 12,400 acres and SDS' approximately 69,186 acres are within a 35-mile radius of the SDS Lumber Company's mills located in Bingen, Washington."
* The Yurok Grift, Questions linger in million-dollar embezzlement scheme after fugitive surrenders, North Coast Journal, posted to KBC 4/14/12. "Field had already figured out that the Mad River Biologists invoices submitted for spotted owl research were fakes...an associate at Mad River Biologists acknowledged that they hadn't conducted the surveys in question." HERE for Klamath Science Misconduct page

Out Of Touch President Obama Fiddles While Tombstone, AZ Burns, Forbes, posted to KBC 8/15/12.

Stand-replacement fire: PNW forest conditions pose biggest threat to spotted owls, other species, Columbia Basin Bulletin 7/27/12

All Witnesses Agree: Litigation, Red Tape Fuel Megafires that Damage Forests, Communities, & Species, U.S. House of Representatives, Natural Resources Committee, Chairman Doc Hastings 7/24/12.

Blazing Fires Show Importance of Effective Forest Management, Congressman Wally Herger 7/16/12. "The Forest Service is spending over a billion dollars each year fighting fires. In an era of trillion dollar federal deficits, scarce taxpayer dollars could be better used if we addressed the unhealthy conditions in our national forests to help prevent catastrophic fires in the first place."

Federal judge halts eastern Idaho logging project, Capital Press 6/8/12. "A federal judge has halted a 7,000-acre eastern Idaho logging project in potential lynx habitat near Yellowstone...U.S. District Magistrate Judge Candy Dale's decision Wednesday following a lawsuit by environmental groups over the Split Creek timber harvest also affects about 390,000 additional acres in the Caribou-Targhee National Forest..."

Tombstone appeals to repair water supply, AZ Central, posted to KBC 6/23/12. "... since March 1, 2012, defendants have refused to allow Tombstone to use anything other than hand tools to restore any part of its water system,"
Forest Service grants Tombstone work permit, SV Herald 6/8/12.
Judge Denies Tombstone Water, Townhall, posted to KBC 5/22/12.
Tombstone needs our help! 21st Century Shootout at the OK Corral – Life and Death in Tombstone, Smoked Bear 5/11/12. "A few years ago, this same federal government that requested, and received, permission from Tombstone to use Tombstone's water to fight forest fires has now shut down Tombstone's access to its water leaving it with only minutes of water to protect the health, safety and welfare of its citizen from being destroyed by fire...Their minutes of water will prove worthless in saving the lives and livelihoods of the residents of Tombstone."

There is local timber that could be cut, Bob Jensen, H&N, posted to KBC 4/15/12. "The 1990 Timber Management Plan for the Fremont-Winema National Forests called for a timber harvest of approximately 490 million board feet...this volume was never met due to legal challenges to various timber sales because of spotted owl and salmon controversies, so that today the two national forests produce approximately 50 to 60 million board feet annually."
The Yurok Grift, Questions linger in million-dollar embezzlement scheme after fugitive surrenders, North Coast Journal, posted to KBC 4/14/12. "Field had already figured out that the Mad River Biologists invoices submitted for spotted owl research were fakes...an associate at Mad River Biologists acknowledged that they hadn't conducted the surveys in question."

Forest road closures big topic at Oregon town hall, Capital Press, posted to KBC 4/14/12. "...Forest Service plan to bar most motor vehicles from about 3,600 miles of roads in the Wallowa-Whitman National Forest." "Baker City Mayor Dennis Dorrah described the plan as 'a horrible, horrible thing.' He told Merkley on Monday that road closures would make it impossible for irrigation officials to reach diversion dams."

The Yurok Grift, Questions linger in million-dollar embezzlement scheme after fugitive surrenders, North Coast Journal, posted to KBC 4/14/12. "Field had already figured out that the Mad River Biologists invoices submitted for spotted owl research were fakes...an associate at Mad River Biologists acknowledged that they hadn't conducted the surveys in question."

Lawmakers reveal timber proposal, Plan would provide alternative to expiring federal timber payments, H&N, posted to KBC 3/1/12. "includes nearly 90,000 acres of new wilderness, 150 miles of new Wild and Scenic river..." Followed by: Aid for timber counties. Panel OKs timber bill; Bill is unlikely to have enough support in Senate: "A mandate leading to increased logging, grazing and other activities is unlikely to go far in the Senate."

Owl plan could fall to local agencies, Proposal calls for shooting barred owls, H&N, posted to KBC 3/12/12
U.S. plans to kill barred owls to save spotted owl, San Francisco Chronicle 2/29/12. "The government set aside millions of acres of forest to protect the owl, but the bird's population continues to decline - a 40 percent slide in 25 years." According to Siskiyou County Sheriff Lopey at Saturday's sheriff meeting in Yreka, in the early 80's there were over 22 lumber mills, and now only 2 are functional, and 65% of land in the county is public land. Endangered Species Act / ESA mandates locked up the forests to save the spotted owl. It devastated Siskiyou economy, they have one of the highest unemployment rate. KBC NOTE: Sacrificing the forest, wildlife and owls by rampant wildfires, and communities and economies, all by false science, did not save the spotted owls.
HERE and HERE about 2 esteemed spotted owl scientists.

Below conspiracy and embezzlement by Spotted Owl "Scientists"

Co-Chair of MLPA Initiative Science Advisory Team Arrested, by David Gurney Feb 25th, 2012, Indybay. "...Sean McAllister, and former Yurok Tribe forestry director Roland Raymond, conspired to falsify invoices for spotted owl research, and embezzle funds for their personal use....Mr. LeValley was a key figure in the cover-up of a whale-strike incident in October, 2009 involving an MLPA "Initiative" sonar mapping vessel off Fort Bragg, California. The arrest will undoubtedly bring up more questions as to the integrity of the science, financial practices, and public policy procedures of the totally corrupt MLPAI "Initiative" to create so-called "marine protected areas" on the California coast."

Former Yurok employee, Eureka biologists allegedly embezzle tribal funds; Del Norte DA's Office said more than $900,000 stolen, Times-Standard 2/24/12. "warrants were issued for the arrest of former Yurok Tribe Forestry Director Roland Raymond, senior biologist Ron LeValley with Mad River Biologists and associate biologist Sean McAllister with Mad River Biologists...Raymond was named director of the year in 2009, ... In addition, a book by Save the Redwoods League called "The redwood forest: history, ecology, and conservation of the coast redwoods," lists Raymond as a contributor....alleged embezzlement is related to spotted owl research by Mad River Biologists...Co-conspirators LeValley and McAllister both work for the Eureka-based biology company...LeValley founded the company,he presently serves as treasurer of the Pacific Seabird Group, as an associate editor for Western Birds, and as California coordinator of the Pacific Coast Joint Venture." McAllister ...expertise in the field is with local threatened and endangered species, such as the Northern spotted owl."

Illegal immigrants and timber harvest deal, CFBF Friday Review of bills and laws 2/17/12

NEDC lawsuit could shut down eleven million acres of Oregon's privately owned forest land, by Senator Doug Whitsett, posted to KBC 2/10/12. "Those privately owned forests create timber product sales of nearly $12 billion and support private sector payrolls in excess of $4 billion...The direct consequence of litigation concerning the allegedly endangered Northern Spotted Owl is a 90 percent reduction in timber harvest from federal lands. That near elimination of federal timber harvest has resulted in virtual cultural genocide for many timber dependent rural communities."

Timber industry files lawsuit against murrelet designation, posted to KBC 1/31/12. "Because humans almost never see the bird, the FWS seems to think it can throw a net over millions of acres of federal timber land that not only aren't being used by the bird, but don't even have the characteristics it is looking for when it flies inland to lay its eggs. Someone has to speak up about this violation of the limits of the ESA."

New Forest Planning Rule Seeks to Restore the Nation's Forests through Science and Collaboration, 1/26/12

Oregon looks at private timberlands logging rules, H&N, posted to KBC 1/11/12.

Bipartisan plan creates jobs, helps forest, H&N, posted to KBC 1/4/12. Authors U.S. Representatives Greg Walden, Peter DeFazio and Kurt Schrader from Oregon.

Restoration of sustainable timber harvest on federal forest lands, Oregon Senator Whitsett, posted to KBC 12/29/11. "These unprecedented forest fuel loads have been the direct cause of uncontrollable wildfires that have consumed millions of acres of Oregon forest lands, and ironically, millions of acres of Northern Spotted Owl habitat."

Forest closes 5,000 miles of roads, trails to vehicles, H&N, posted to KBC 11/6/11. "We don't have a single trail out of this," Schenck said. "OHV enthusiasts attempted to work with forest officials this summer to develop some OHV specific trails, but nothing came from the efforts." " We did drop the ball..." Hupp said.

Ninth Circuit decision further hamstrings Oregon's economy, Oregonian posted to KBC 10/23/11. "The Court's decision potentially creates legal paralysis threatening 120,000 forest related jobs (with payroll totaling $4 billion) and $130 million in state income and severance tax revenues that pay for vital public services. The new court ruling will not achieve its intended environmental benefits. The uncertainty could force some forest landowners to convert their forests to other uses, like commercial or residential developments..."

Oregon Forest Mismanagement, Senator Doug Whitsett 9/16/11. "...left is an area of nearly 600 square miles mostly dominated by standing, gray, dead snags...no effort has been made to salvage this timber for any use.

Contract Dispute Grounds Firefighting Planes, Human Events, posted to KBC 9/14/11. "Nearly half of the federal government's firefighting air tankers are sitting idle at a California airport, grounded by the Obama administration in a contract dispute just weeks before wildfires swept through Texas killing a mother and her child, and destroying 100,000 acres."

Federal Management of Oregon's Forest Lands, Senator Doug Whitsett Newsletter 8/12/11. "federal district court ruled that the owl was threatened under the Endangered Species Act and that nearly unlimited critical habitat was required to preserve the bird from extinction...Oregon's annual timber harvest from federal lands plummeted from 60 percent to 12 percent. Nearly 300 timber mills closed and more than 30,000 family wage jobs were lost."

My Turn: Fish, frogs and owls didn't survive the Wallow Fire, by Douglas Brown, AZ 7/16/11

PRESS RELEASE: Reps. Gosar, Flake, and Pearce Introduce Forest Health Legislation Aimed at Removing Dead and Dying Trees Following Wallow Fire, posted to KBC 7/16/11.

One owl horning in on another, H&N, posted to KBC 7/7/11. "One of the potential removal methods involves shooting the barred owls." followed by: Owl plan hinges on killing rival; Spotted owls not recovering; may be linked to barred owl. (KBC NOTE: a few decades ago the federal government poisoned suckers, killing thousands of them. Now the plan is to kill little barred owls...?)Wildfires threaten protected habitats; wolves, owls among the endangered, H&N, posted to KBC 7/7/11. "Crown fires in overgrown forests have become the greatest cause of unusual losses for the (spotted owl) birds, and 73 protected nesting areas were burned in the fire,...The burned forest supports more than a dozen other endangered or threatened species, including snails, frogs and fish. Dozens of other species live in the forest that aren't rare, including bear, deer, antelope and a herd of elk that, at about 6,000, is among the state's biggest."

Timber officials want more public lands harvested, H&N, posted to KBC 7/7/11. "We have a lot of dead and dying timber...In our view, (not harvesting it) is wasting a … valuable resource."

Karuk Tribe, conservation groups win suit against US Forest Service, Indybay 6/17/11. (KBC NOTE: Same groups, same agenda, same folks are KBRA voting members with our farm leaders.)

Another smuggler corridor wildfire and the anger is flaring up, TucsonCitizen, followed by Climate Change Link to Fires Ignites Senate Committee, ClimateWire, posted to KBC 6/16/11

Judge rejects environmentalist bid to halt experiment, Capital Press 5/25/11

Help support requests to extend comment deadline for US Forest Service planning rule, posted to KBC 4/26/11

Timber company wins $6.9M, Agency failed to say the contracts would likely be targeted, Capital Press 4/14/11

"...MEMORANDUM* KLAMATH SISKIYOU WILDLANDS CENTER v. GRANTHAM
Plaintiffs appeal the district court's denial of their motion for preliminary injunction to halt post-fire salvage logging in Klamath National Forest" posted to KBC 3/29/11. (KBC NOTE: each plaintiff, KLAMATH SISKIYOU WILDLANDS CENTER; ENVIRONMENTAL PROTECTION INFORMATION CENTER; KLAMATH FOREST ALLIANCE; CENTER FOR BIOLOGICAL DIVERSITY" is supported by Earthjustice, supported by George Soros. They oppose salvage logging trees burnt up in a fire. Same force behind the NGO's in the KBRA.)

Ruling affirms environmental benefits of timber harvest, CFBF AgAlert, 3/2/11

New Spotted Owl Plan Would Hurt Rural Economy and Ignore Real Solutions, Forestry Groups Say, PR Newswire, posted to KBC 2/26/11

Medford and Coos Bay - BLM withdraws two timber sales, Mail Tribune, posted to KBC 2/5/11. (Another lawsuit against resource users by job-killers PCFFA / Pacific Coast Federation of Fishermen, Klamath Siskiyou Wildlands Center, and others that are not listed. PCFFA sued against the Klamath Irrigators power rate, to enforce TMDL's/water quality mandates that can not be met, against irrigators along with Yurok tribe in 2001 water takings case claiming irrigators don't own right to water on deeds with water signed by US President, Siskiyou County groundwater management, etc etc. PCFFA is at the table with a coalition of several other environmental groups as stakeholders on the KBRA with many federal agencies and a couple farm leaders.)

Oregonians for Food and Shelter 1/26/11
* DEQ Proposes Revisions for Water Quality Standards to Help Reduce Toxic Pollutants in State's Waterways; Comment deadline has been extended to Wednesday, February 23rd
* ODA offers three new publications
* Enviro's file another suit - this one effects the entire nation, not just the Northwest.
* Timber group sues FWS over 'secret meetings' on spotted owl

A timber revival for Oregon? U.S. lawmakers pledge to open more forestland for wood production, Agencies wait for policy revision, and, Endangered Species Act seen as obstacle, 1/22/11

On Timber Job Loss in Western Siskiyou County by Karuk Tribal member James A. Waddell, 10/26/10. "I have been trying to remember all the loggers, truckers, mill workers and related jobs lost due to hoaxes of ESA, wilderness activists and biased news and continuing failures of meetings and expeditious compromises. 916 jobs lost... that is nearly 1,000 jobs times $30,000 each equals $30 million dollars times economic dollar turnover of 8 equals 240 million dollars in economic business activity in Siskiyou County's west alone."

Oregon should reclaim federally owned forests; sixty percent of them are locked beyond reach of local management, Ben Shelton, H&N, posted to KBC 9/1/10

USFS Delays Timber Harvest After Owls Spotted In Area, OPB, posted to KBC 8/9/10

Conservation groups buy working forests, Capital Press, posted to KBC 12/30/09. (KBC Note: now that the nonprofit organizations have bankrupted the logging companies by shutting down timber harvest, the nonprofits are buying up the forests so they can log them. Also, the Klamath Tribe acquisition will include taking 92,000 acres off the tax rolls, possibly trading for National Forest Land, acquiring off-project land, building power plants since they want to tear out Klamath dams, and building a casino.)

Forest activists get win in court, Case deals with 2005 Biscuit fire protests in state, H&N, posted to KBC 10/30/09. (KBC NOTE: the protests were against harvesting the timber that would rot if it wasn't harvested)

Update on Federal Land Management: Congress Acts to Prevent Wildfire Management Funds From Going to DC Parks, U.S. Calif. Congressman Wally Herger 10/9/09

Forest Service unfair to four-wheel drive group, H&N letter to editor by Larry East Jr., posted to KBC 9/7/09
Wildlife part of roads discussion, OHV users say they are being scapegoated, H&N, posted to KBC 9/7/09

Congressman Greg Walden's Oregon Congressional Connection, Forest Health 9/2/09

Over 200,000 plants removed from Seiad Valley grow operation, Siskiyou Daily News, posted to KBC 8/25/09
From the archives: **44,000 pot plants seized in 2005, Last year, 27,000 marijuana plants were confiscated, followed by Billion dollar pot business takes hit, Liz Bowen, Pioneer Press posted to KBC 11/22/05
**25,151 marijuana plants confiscated in Siskiyou County, California, Pioneer Press 10/20/04. For more on local crops, go HERE. (Anyone want to guess why Klamath Forest Alliance wants to shut down our forests to logging and the public?)
HERE for more on crops

Winema-Fremont road proposal, H&N 7/31/08. "5,472 miles of roads considered maintenance level 1 will be closed to public use. 400 miles of usercreated trails and roads will be closed to public use."

Oregon forest plan pulled, Interior secretary scraps Bush administration's changes, H&N, posted to KBC 7/30/09

Activists block timber sale, H&N 7/7/09. " The blockade was the culmination of a nearby forest gathering of Earth First!"
For Klamath Dam Removal Earth First protest, go HERE

Preventing natural forest fires (and logging) not the greenest idea, The Dalles Chronicle, posted to KBC 6/27/09

Sacramento meeting to kick off overhaul of federal forests plan, SacBee 6/13/09, with comments to Bee. "The forest-plan makeover kicks off at a public meeting in Sacramento July 1, at which the U.S. Forest Service will launch a three-year process to revise the management plans for 14 national forests. All federal timberland from the Sequoia National Forest north to the Oregon border is involved."

(Oregon Senator) Wyden's forest-protection bill has no regard for biology, posted to KBC 5/28/09 Statesman Journal

Greg Walden to Al Gore: Come out to Oregon and see the condition of the forests, posted to KBC 4/26/09, letter and video.

Walden asks President Obama for help putting Oregonians back to work in the woods, Congressman Walden 3/30/09

PLF PRESS RELEASE: Supreme Court Is Right To Curb Lawsuits Against Sound Forest Management, posted to KBC 3/13/09

PRESS RELEASE: (U.S. Congressman from Oregon) Greg Walden helps lead bipartisan effort to reduce catastrophic wildfire, 3/10/09. HERE for AUDIO

Walden asks President Obama for help putting Oregonians back to work in the woods, Congressman Walden 3/30/09

A life in lumber, Claud Olsen, H&N, posted to KBC 2/22/09