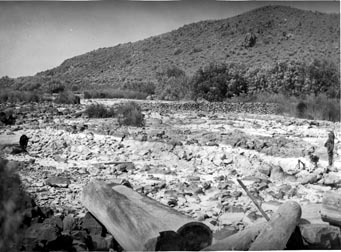 In this turn-of-the-century photo, before
the Klamath Project was built, Link River occasionally went dry.
No fish. No power.
Klamath Project Made Reliable, Regulated Flows Possible For Power
| | |
| --- | --- |
| The water over our houses on the previous Tule Lake was dead water; there was no outlet. More water was evaporated than we could ever use for growing crops. | |
The Klamath Project has allowed more water, than would have been naturally available, to flow down the Klamath River for reliable, affordable power, fish, and Indian and government demands.
Now our government, tribes, power companies and ecogroups want us to have no water for farms or 489 species of wildlife that live in our canals and farmland.