Tailoring wolf "science" to justify political ends, by Jim Beers, a retired US Fish & Wildlife Service Wildlife Biologist, Special Agent, Refuge Manager, Wetlands Biologist, and Congressional Fellow, posted 12/5/12.
Walloping Washington Wolves, by Jim Beers, posted to KBC 11/19/12. "...it is tough, especially in these states where the urban majorities and state bureaucracies are more and more used to imposing harmful conditions on rural minorities. There aren't any quick and easy answers here because everyone (like Germans in the 1930's) has been hiding in the hope that things would soon get better, only they have only gotten worse."
followed by
The Never Ending Fairytale, by Jim Beers, posted to KBC 11/19/12. "Wolves are spreading anthrax that periodically shows up in isolated locations all around where the wolves roam."
Calif. wolf comments due Sept 31
Siskiyou County's letter to the Fish and Game Commission on the proposed wolf listing posted to KBC 9/26/12.
Letter to Siskiyou County Board of Supervisors from Siskiyou ranchers Re: Petition to List Gray Wolf Under California's Endangered Species Act, posted to KBC 9/22/12
Soon-to-be former Siskiyou Supervisor Cook insults ranchers of "big bad wolf hysteria", preceded by response by local ranchers Woodson and Young, 9/20/12. "
Washington Wolf Attacks Mount, Capital Press, posted to KBC 9/20/12. "The wolves in the Wedge Wolf Pack are now dining almost exclusively on beef...They've taken all the game in this area and are just living on these cattle. McIrvin estimated the cost to his operation is approaching $100,000 in cattle kills, weight loss, injuries, extra labor and low conception rate. The department has $50,000 allotted for compensation to ranchers, $5,000 per ranch."
Tailoring wolf "science" to justify political ends, by Jim Beers, a retired US Fish & Wildlife Service Wildlife Biologist, Special Agent, Refuge Manager, Wetlands Biologist, and Congressional Fellow.
Wolf Collateral Damage, by Jess Carey, County Wolf Interaction Investigator, posted to KBC 9/9/12.
Psychological Impact Study of wolf introduction by James S. Thal, Ph.D., posted to KBC 9/9/12.
,

Group hopes to keep animals off California endangered species list,
H&N 9/9/12.
"The meeting will be at 6 p.m. Tuesday at the Dorris City Hall"
Gray wolves in California; an evaluation of historical information, current information, current conditions, potential natural recolonization and management implications, Cal. Dept. of Fish and Game Dec. 2011, posted to KBC 9/2/12.
Petition to the Calif. Fish and Game Commission by CBD / Center For Biological Diversity to list grey wolves as endangered in Calif, March 2012. KBC Editor: One wolf strayed into Calif. this past year, so CBD attorneys and CDFG are gearing up with models, wolf habitat, studies and planting wolves by our children, livestock and puppies.
Ranchers live in the shadow of wolves, Capital Press 8/24/12.
Rancher, wolf battle escalates, D Chieftain, posted to KBC 8/24/12. "After an overall estimated monetary loss of $16,000, of which about $3,500 has been compensated, Hulsey doesn't know if he can keep the business alive. 'Sooner or later they run everybody (the ranchers) down and they just give up,' Hulsey said. 'I don't think there is any answer. Several have quit because of the wolves...' "
(Modoc) County aims to take tough stand against wolves, Modoc County Record, posted to KBC 8/24/12.
Tehama comes out against wolf on endangered list, Red Bluff Daily, posted to KBC 8/24/12.
Wolf Delisting, Muley Crazy, posted to KBC 8/24/12. KBC: Earthjustice sued, and Judge Malloy "Made law instead of enforcing existing statutes."
Wolf Delisting, the legal battle part 2, Muley Crazy, posted to KBC 8/24/12.
WOLVES - Sustaining farmland no laughing matter, Christopher Young, H&N letter to the editor 8/16/12.
Two more calves found dead in Washington wolf country, Capital Press 8/16/12.
Wolf, elk populations a concern, H&N, posted to KBC 8/5/12.
(Modoc) County aims to take tough stand against wolf, Modoc Record June 2012
Wolf study probes effects on cattle, Capital Press, posted to KBC 6/9/12. "...the rancher was able to show only an 80 percent yield on calves... (he) estimated he lost between 65 to 70 animals out of 800 head, but he was able to confirm the loss of just 17."
Wolves - Stand up for rural California, Siskiyou Daily, 5/24/12. "OR7, the lone wolf "cash cow," arrived in California in late December...The Canadian gray wolf was never native to this region. How can anything be endangered when it didn't exist here?...Since re-introduction of the Canadian gray wolf, the money spent by the Federal Fish and Wildlife for study and management is reported to be well over $44 million."
Presentation of Wolves sponsored by Siskiyou County Ag Dept. May 10 at 6:30 p.m, Miners Inn convention center.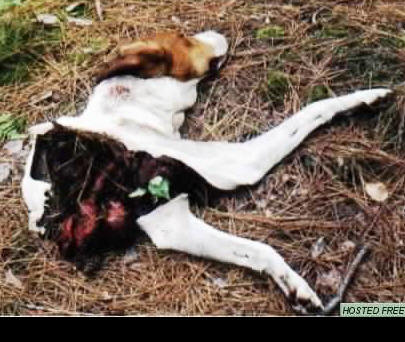 Why ranchers and pet/livestock owners oppose wolf protection, posted to KBC 5/2/12.
Presentation of Wolves sponsored by Siskiyou County Ag Dept. May 10, 2012 at 6:30 p.m. at the Miners Inn convention center. Expert Carter Niemeyer will discuss the potential impact of wolves on livestock and wildlife.
Northern Rockies wolf population rose in 2011, Capital Press 3/8/12. "The animal's numbers rose by more than 7 percent to 1,774 wolves, as state officials look for more ways to reduce the population...Montana had aimed to cut its wolf population by 25 percent in 2011, but the numbers actually rose 15 percent to at least 653 animals...That increase has prompted grumbling by county officials who say state Fish, Wildlife and Parks regulators aren't doing enough to take on the predator problem."
Lone wolf's arrival leads to protection petition, SF Chronicle, posted to KBC 3/1/12. "The petition was filed by the Center for Biological Diversity, Big Wildlife, the Environmental Protection Information Center and the Klamath-Siskiyou Wildlands Center amid intensive statewide interest in the first wolf to enter California in almost 90 years... OR7's former pack mates have killed 21 cows and calves over the past two years. .." followed by: Protection for OR-7 sought after Idaho wolf is poached, California listing would create need for recovery plan, H&N 2/28/12, ""It cited a 2001 study that ...the northeast corner of California could support as many as 470 wolves."
As of yesterday, 2/23, Wolf OR 7 was still in East Siskiyou County. HERE for CDFG updates .
Wolf may return to Oregon, Medford Mail Tribune, posted to KBC 2/23/12
Bamboozling America, Wolves, by Jim Beers, retired Fish and Wildlife biologist, ....
Wolf ecology by John L. Paradiso and Ronald M. Nowak, posted to KBC 1/12/11.
Wolf worries, Siskiyou Daily 1/11/12. "There is no allowance under the law for killing of a wolf that is going after or preying upon livestock, but there is an allowance if there is a direct threat to life and limb for humans."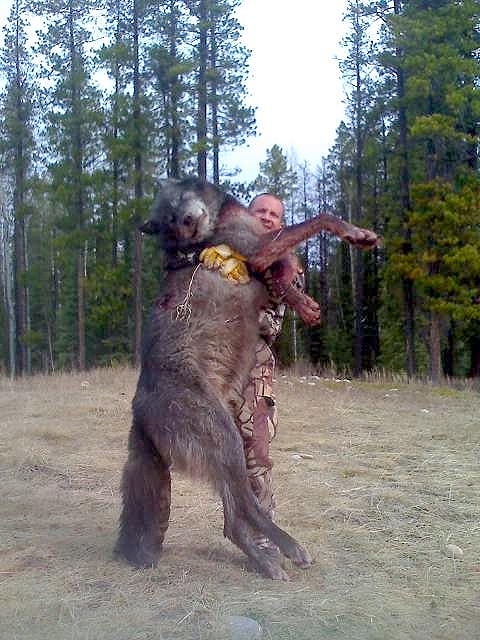 < Information concerning the Canadian Grey Wolf by Jim Foley, presented to Siskiyou Supervisors 1/10/12.
Comments to Siskiyou Supervisors regarding grey wolf in California by Jim Foley1/10/12. "There are 9500 dead elk in Yellowstone, no moose, 310 dead bighorn sheep and 1/10th the pronghorn that were once there."
Wolf OR7 Enters California, DFG 12/29/11
Klamath Falls - OR-7 puts area ranchers on edge; Should wolf predate livestock, Klamath County producers have little recourse under law, H&N 12/29/11
VIDEO: Wallawa County Wolves, 12/27/11. Ranchers tell about and show the devastation, maiming and brutal killing of their livestock by wolves on their property. (KBC NOTE: this takes awhile to load.)
Wolves attack Oregon livestock, Wolf from Eastern Oregon pack settles in near Fort Klamath, Some worry about effects on livestock, H&N 12/18/11
Collection of wolf articles and Siskiyou County resolution of predators, sent by Siskiyou County Supervisor Marcia Armstrong 12/11/11. "According to federal data, wolves killed 4,588 cattle and sheep across the Northern Rockies from 1995 through 2010. "The California Department of Fish and Game, for more than a year, has quietly worked on a plan to prepare for the eventual return of wolves. It expects to release the plan in January...Any wolves that enter California would be considered federally endangered, Stopher said."
Wolves Kill Teacher, Alaska Department of Fish and Game 12/7/11. "The investigators concluded that Ms. Berner was attacked and killed by wolves."
Wolves and the mess in the woods, Daily Interlake, posted to KBC 11/27/11
A Lone Wolf Travels Toward California, Cal Fish and Game 12/16/11. "Concerns about human safety are largely based on folklore and unsubstantiated in North America."